Christina Aguilera has been raving on about her curves so much recently that is was no surprise she was showing them off to the max at an awards bash last night.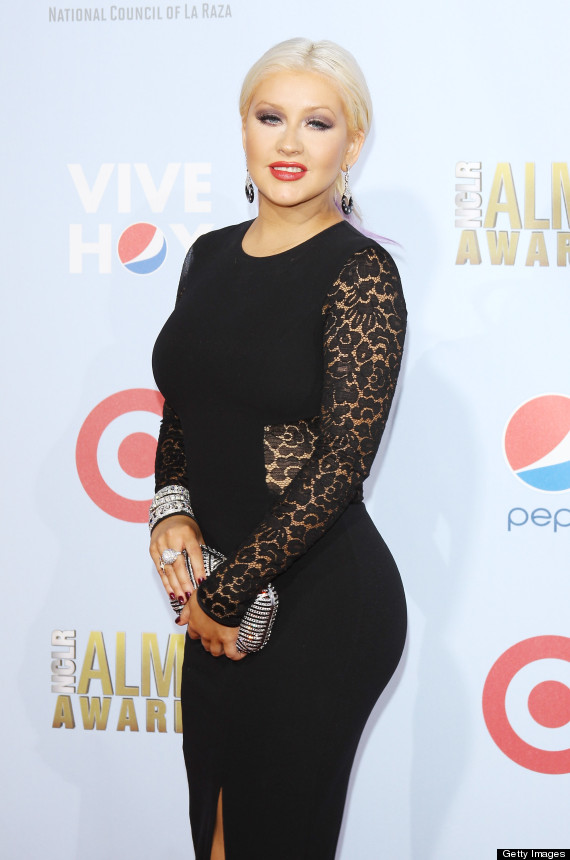 The singer - currently a judge on The Voice in America - poured her curves into a TBD (that's tight black dress) as she hit the NCLR ALMA awards last night.
The frock showed off her bootylicious behind which she accessorised with a My Little Pony purple ponytail.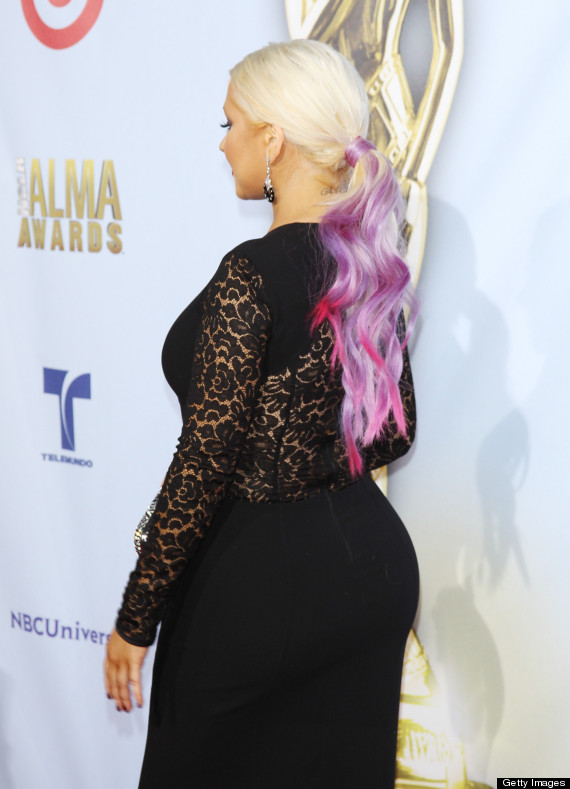 She was also honoured at the event, which celebrated the best American Latino contributions to music, film and television.
Christina recently opened up about her curvy figure after battling to stay thin.
She told Lucky magazine: "The challenge I've always had is being too thin, so I love that now I have a booty, and obviously I love showing my cleavage."
Good for her!
> IN PICS: BOOTYLICIOUS CELEBS

Loading Slideshow
Amber Rose

Shave-headed model Amber Rose has a notorious ample behind - one that she puts to good use in her numerous photo shoots and music videos. (Pic: Film Magic)

Beyonce

Second in the poll conducted by WENN was the lady who coined the term bootylicious, Miss Beyonce Knowles herself. When B and her Destiny's Child band mates sang 'is my body too bootylicious for ya babe', we doubt they knew what a phenomenon they were starting. (Pic: AP)

Holly Willoughby

Britain's own reigning queen of the big booty, Holly Willoughby used to show off both her generous cleavage and boot-i-ful derriere every week on <em>Dancing On Ice</em>. She's now more demure on <em>This Morning</em>, but still manages to flash her curves at any available opportunity. (Pic: FilmMagic)

Jennifer Lopez

A recent poll of the best bootys in showbiz put J-Lo in position numero uno. The original big booty girl, La Lopez changed the face (or behind) of celebrity by making the more curvaceous figure the most in demand on the red carpet. J-Lo also pioneered the famous over the shoulder pose now adopted by all the bootylicious ladies on our list. (Pic: Getty)

Kelly Brook

It would be hard not to notice Kelly Brook's pert rear seeing as she seems to spend very little time with her clothes on. However, when glamour model Kelly does get dressed, she still manages to show off her backside and the curves that have given her an army of lad mag-loving male fans the length and breadth of Britain. (Pic: bauergriffinonline.com)

Jennifer Metcalfe

Hollyoaks star Jennifer Metcalfe splashed out £2,000 on liposuction in June last year in order to remove excess fat from her upper thigh and bottom area. The actress, who plays Mercedes McQueen in the soap, went from a size 12 to a size 10 but managed to keep her famous shapely rear. (Pic: Wire Image)

Kim Kardashian

Reality star Kim Kardashian is famous for very little else apart from her sizeable derriere, being Paris Hilton's one-time bff, and an internet sex tape. The lynchpin of the now infamous Kardashian sisters (none of whom are lacking in behind) Kim has taken the big booty to new levels, proving you can be a global star just because of your backside. (Pic: FilmMagic)

Nicki Minaj

Wacky singer-songwriter Nicki Minaj featuring in a song called 'Bottoms Up' in 2011. Figures! (Pic: Film Magic)

Rihanna

A Barbadian native with a fierce body to be proud of (in her song 'I'm Not Stupid', she admits to never being a size 10 in her life), Rihanna isn't shy about showing off her shapely booty. Just witness the miniscule shorts she wears in her Rude Boy video, or the barely-there daring outfits she sports on stage on her current world tour. (Pic: Getty)

Serena Williams

When she's not blowing away lesser players on court, American tennis champion Serena Williams is partial to a fancy frock - like this booty-hugging number. (Pic: Getty)

Shakira

She shakes it around enough on stage and Colombian singing superstar Shakira is as famous for her booty as she is for her music. Take into account her mix of Latin beats, belly dancing and hip shaking, and it's no surprise Shakira was chosen to record and perform the official World Cup song last year. What better way to keep all those football-loving men happy? (Pic: bauergriffinonline.com)
Also on HuffPost: