Two and a Half Men star Jon Cryer feared he had suffered a serious injury in a bike accident on Sunday as he heard his helmet "cracking" when his head hit the road.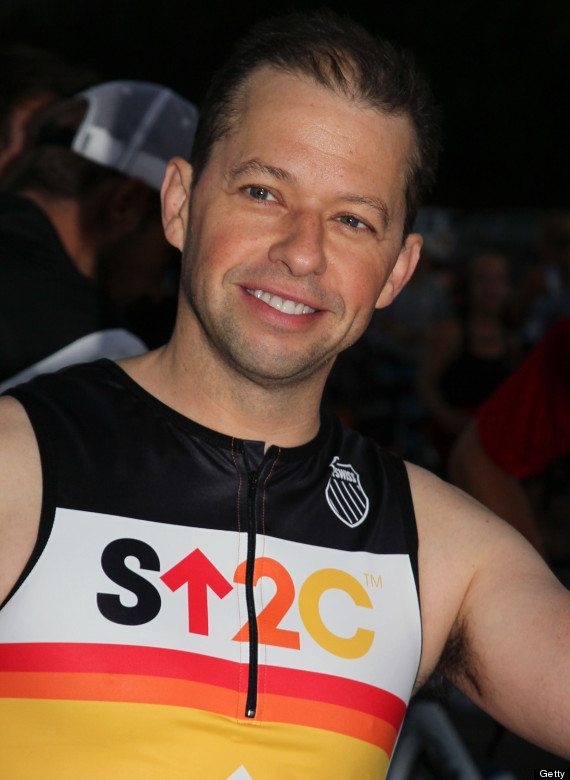 Jon Cryer is a keen triathlete

The actor was taking part in California's Nautica Malibu Triathlon, which includes an ocean swim, an 18-mile cycle ride and a four-mile (6.4-kilometre) run, but pulled out midway through the second challenge after falling off his bike.

Cryer was pictured looking bloodied and bruised following the accident, and he has now revealed his injuries could have been a lot worse.

He tells TMZ.com, "I have an awesome bike... it's what the pros use. Unfortunately I am not a pro cyclist... I decided to get super-aggressive as I was going down hill and I got to the bottom... going as fast I could possibly go, the wheel starts wobbling I over-corrected (it) and absolutely just ate it. I did the wobbling back skid where the bike just flies out from underneath you... I skidded probably like 15 feet on my skin... You know how cyclists wear the leotard that offers zero protection? I used that to break my fall."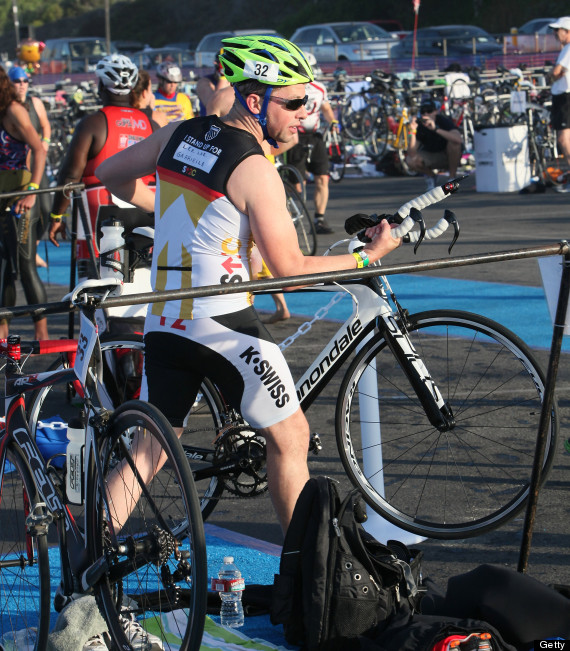 Cryer before the race

The star admits he is thankful to have been wearing a helmet because otherwise he would have suffered a nasty head injury:
"My helmet took the brunt of it thankfully. I could feel the helmet cracking as my head went back... I could feel the helmet giving way. I was like, I really don't want to buy it."

Cryer later visited his doctor and confirmed he hadn't sustained any lasting damage, adding, "I went to the doctor today and I didn't break anything, which is awesome but they can't tell if I have torn ligaments or anything like that...

"Interestingly I found the hardest thing to do when you have torn the skin off your shoulder and your leg is reach for the parking ticket at the doctor's office."
Extreme Celebrity Hobbies
Harrison Ford not only flies planes but also owns a helicopter, and has even offered up his services to local authorities near his Wyoming ranch. In 2000, he was credited with helping rescue some sick hikers with his helicopter.

Tom Cruise is an avid flier and has had his pilot's license since 1994.

Madonna's a fan of horseback riding ... and has been injured several times after falling from horses.

John Travolta has had his pilot's license for many years, and owns several aircrafts. However, things haven't always gone smoothly in the air. In 1992, a plane he was flying had an electrical failure and he was forced to make an emergency landing. Yikes!

He may play a surgeon on "Grey's Anatomy," but in his spare time, Patrick Dempsey likes to hit the road and race. He's competed in several auto races and is the owner of Dempsey Racing and co-owner of the Vision Racing IndyCar Series team.

Is there anything sexier than a hot guy on a motorcycle? No. Don't believe us? Just look at Bradley Cooper...

...or George Clooney.

Angelina Jolie is no stranger to the pilot's seat -- she's been flying small planes for years.

Just like Angie, Brad Pitt likes to take flight every once in a while.

He may not be an avid skydiver, but Bill Murray did take a leap of faith with a member of the U.S. Army parachute team, the Golden Knights, at the 50th Chicago Air and Water Show in 2008. (Really, we just couldn't pass up including a photo of Mr. Murray skydiving!)

Is there anyone cooler than Matthew McConaughey? Yes, and he's called Matthew McConaughy on a surfboard.