Tyra Banks isn't usually seen without her makeup anything less than perfect and without a hair from her perfectly thatched weave out of place.
But the America's Next Top Model was looking unbe-weave-ably different as she pounded the streets of New York yesterday without her trademark hair and slap.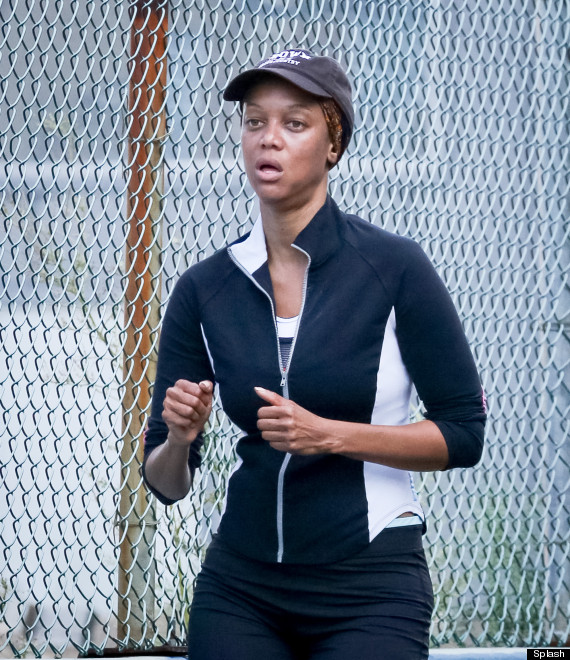 Hell, we don't even think there was a smize!
Tyra seemed to be taking her training pretty seriously on her run along the Hudson river - perhaps she's keeping in shape for new toyboy lover, 24-year-old model Robert Evans.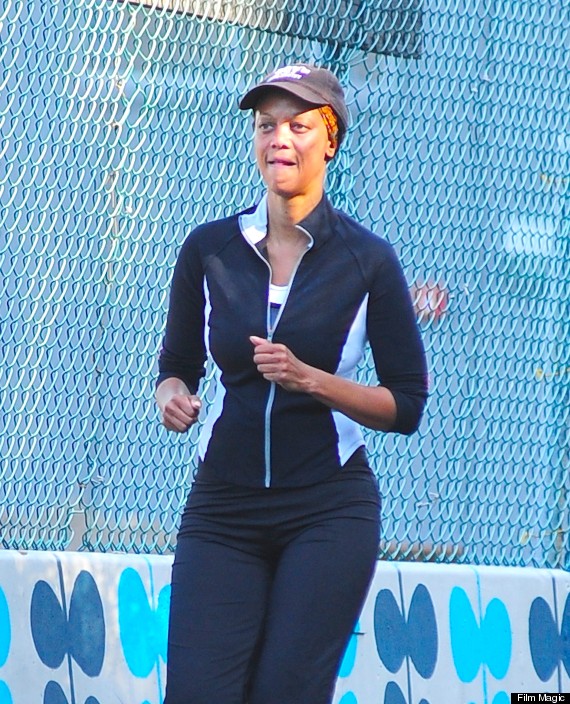 Tyra, 38, is rumoured to have been dating her Top Model co-star for a few months now, but is still to confirm the romance.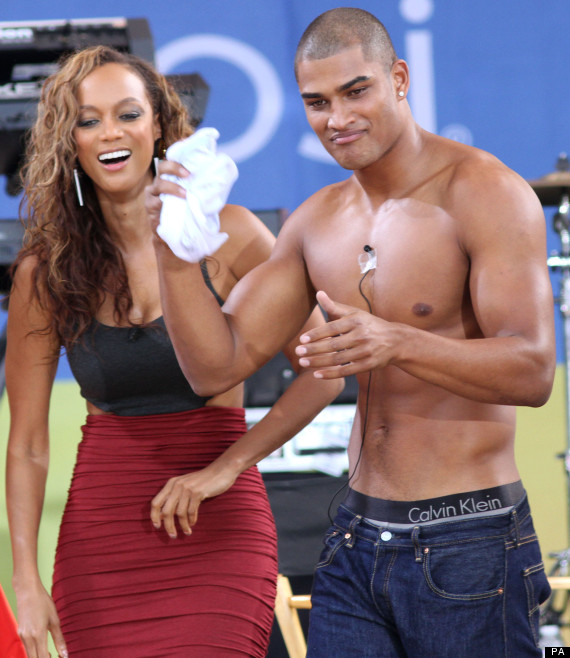 She has also been busy with a string of interviews about the new series of ANTM.
She has appeared on our American cousin's TV channel, Huffington Post Live, where she opened up about being bullied as a child for her skinny frame.
"When I was 11 years old, I grew three inches and lost 30 pounds in three months. So I went from being a mean bully, cute little chubby little girl to shooting up, weighing 98 pounds and just looking sick and frail," she said.
"I wasn't sick, but people thought there was something wrong with me. I was the brunt of every joke, every bad thing. I hated my reflection in the mirror. I would try to stuff food down my throat to gain weight," she added.
"Even though I later gained weight and became a supermodel, that girl always lived inside of me and I know what that felt like."
HUFFPOST UK CELEB ON FACEBOOK | FOLLOW US ON TWITTER
ENTER OUR COMPETITION TO WIN A CAMERA
> IN PICS: CELEB FITNESS FANS

Loading Slideshow
Celebrity Fitness Fans

Pippa Middleton (Pic: WENN)

Celebrity Fitness Fans

Adrian Chiles (Pic: WENN)

Celebrity Fitness Fans

Anna Friel (Pic: WENN)

Celebrity Fitness Fans

Denise Welch (Pic: WENN)

Celebrity Fitness Fans

Jake Gyllenhaal (Pic: WENN)

Celebrity Fitness Fans

Janice Dickinson (Pic: WENN)

Celebrity Fitness Fans

Jennifer Lopez (Pic: WENN)

Celebrity Fitness Fans

Peter Andre (Pic: WENN)

Celebrity Fitness Fans

Nicollette Sheridan (Pic: WENN)

Celebrity Fitness Fans

Geri Halliwell (Pic: WENN)

Celebrity Fitness Fans

Matthew McConaughey (Pic: WENN)

Celebrity Fitness Fans

Reese Witherspoon (Pic: WENN)

Celebrity Fitness Fans

Ricky Gervais (Pic: WENN)

Celebrity Fitness Fans

Gwen Stefani (Pic: WENN)