Liverpool captain Steven Gerrard and his Manchester United counterpart Nemanja Vidić will release 96 red balloons in tribute to the victims of the Hillsborough disaster prior to Sunday's Premier League match.
The game will be the first time Liverpool have played at Anfield since a 395-page report exonerated their supporters of any wrong-doing when 96 supporters died at the 1989 FA Cup semi-final.
The Anfield Road end, opposite to The Kop, will reveal '96' mosaic while the Centenary Stand will unveil an equivalent reading 'Justice'.
The Hillsborough Family Support Group, Hillsborough Justice Campaign and Hope for Hillsborough – the three groups who have tirelessly campaigned to expose the truth - will be honoured guests. Notable figureheads Trevor Hicks and Margaret Aspinall were in attendance for Everton's display of city solidarity against Newcastle United on Monday night.
Both Liverpool and United's chief executives have liaised as to what would prove to be an appropriate gesture ahead of the fiercest fixture in English football.
"It is our first opportunity we have had as a football club to pay tribute at Anfield to what everybody has done: the families, the fans and various other people like Andy Burnham MP," said Liverpool chief executive Ian Ayre.
"It is a chance for everybody to show their respects on the day."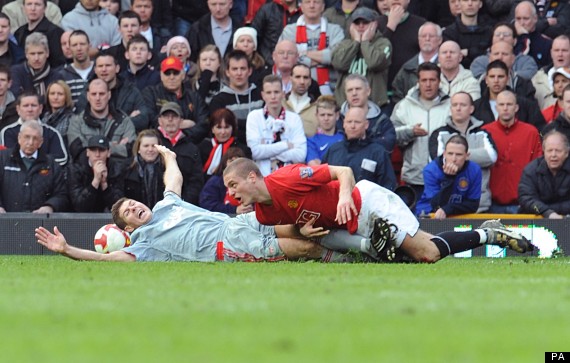 Vidic hauls Gerrard down to receive a red card in March 2009
The incendiary between the clubs will lurk however, irrespective of whether United fans show respect during the lunchtime fixture.
Patrice Evra will be making his second appearance on the red side of L4 since Liverpool striker Luis Suárez racially abused him in the corresponding fixture last season.
The Frenchman was roundly booed in the FA Cup fourth round tie in January and Suárez refused to shake his hand when the teams played each other at Old Trafford two weeks later.
A minority of United fans have also come under the microscope in light of a chant they aired against Wigan Athletic in the 4-0 home win at the weekend.
The "Always the victim, it's never your fault" song stemmed from the Suárez/Evra affair, but its timing compelled some media personnel to suggest it was made in reference to findings of the Hillsborough cover up last week.
United manager Sir Alex Ferguson, also at Goodison on Monday night, pledged Liverpool his and United's support for the "emotional" occasion.
Ferguson, then two-and-a-half-years into his tenure as United manager, visited the shrine at Anfield in the aftermath of the atrocity in April 1989.