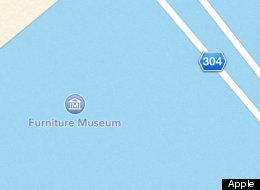 Last week Apple released its own Maps application as part of iOS 6. And in case you haven't tried it - and haven't seen any tech site all week - it's terrible
Users quickly realised that many places were misnamed, missing or misplaced, and one tech editor called the release the worst software update in Apple's history.
Ouch.
After the story broke we updated our iPads and found the 10 funniest fails on the Maps app.
But now it's been claimed that Apple is already fixing the errors, and working as quickly as it can to turn Maps around.
So how many of the fails we found have been fixed? Take a look to find out how hard Apple has been working this week...
Have iOS Maps Been Fixed?
Apple was just as distraught as you when Woolworths shut down. So they brought it back. Has It Been Fixed?: Nope, you can still buy a Woolworth's toilet brush in Apple world.

Apple removed public transport search from its new Map app - but included Aldwych Station which has been closed since 1994. Has It Been Fixed?: Nope, Aldwych station's revival continues for another week.

Apple's new maps seem to not know that Shakespeare's birth place exists. Has It Been Fixed?: Sadly no - if you search for the town you'll find it - but it's not labelled.

Apple Maps list none of the roads, towns and other details which exist on the disputed islands. Has It Been Fixed?: No - still blank.

Apple turned the ancient spires and colleges of Cambridge into a wasteland with its recent Maps app - and put Downing College in the wrong place. Has It Been Fixed?: No - Cambridge is still a wasteland.

This greengrocers is listed on Apple's maps - but has been closed for 15 years. Has It Been Fixed?: Still there. Sorry, Apple.

This man's 35-acre city farm is named Airfield. It is not an airfield- but Apple has decided otherwise. Has It Been Fixed?: No - still an airfield. According to Apple.

The Apple store in Sydney is listed as being on the wrong side of the road than it really is. Has It Been Fixed?: No.

The marina of St. Katherine's Dock is now filled with cement, according to Apple. Has It Been Fixed?: Nope.

The town of Hagley was listed as being the town of Dudley - at least seven miles away. Has It Been Fixed?: Yes! Hagley now appears where it should.