The Nasa shuttle Endeavour made a final, dramatic flyover across California on Friday giving Americans a chance to wave it goodbye before it was officially put into retirement.
The shuttle, which follows the Discovery in being retired this year, flew from the Edwards Air Force Base, before heading over famous landmarks such as the Golden Gate Bridge and the Hollywood sign on its way to the California Science Center, where it will spend the rest of its days on display.
Hundreds came out onto the street to watch as the shuttle, piggy-backing a Boeing 747, flew over for the last time.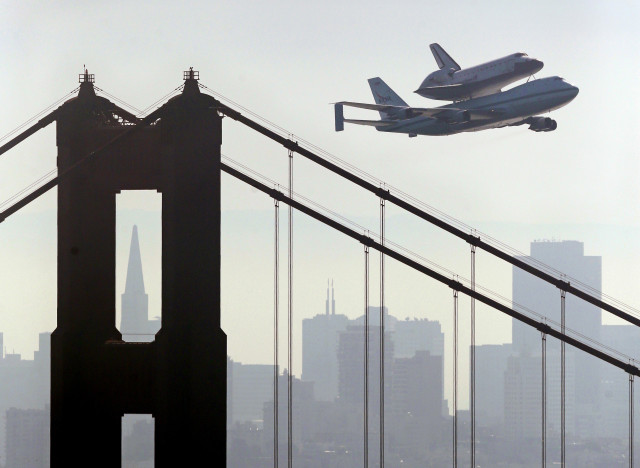 The Endeavour flies over San Francisco before its official retirement
Made in 1986 to replace the Challenger shuttle, the Endeavour, one of five made, has racked up more than 100 million miles on its 25 missions.
America has ended its shuttle program and, after retiring the Discovery, only has the Atlantis left to shut down.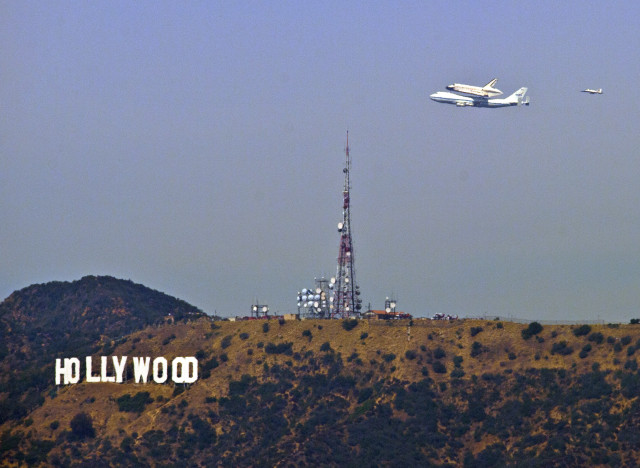 The shuttle passes over the Hollywood sign on its final flight
The Discovery now sits at the Smithsonian Institute in Virginia, while the Atlantis is set to remain in Florida.
The shuttle will become a permanent exhibit at the Kennedy Space Centre.
To see the best of the photos from the shuttle's final flight, click through the slideshow below...
Loading Slideshow
Space Shuttle Endeavour Arrives In L.A. Atop Transport Plane

LOS ANGELES, CA - SEPTEMBER 21: Space Shuttle Endeavour arrives in L.A. over Santa Monica beach atop a NASA transport plane on September 21, 2012 in Los Angeles, California. (Photo by Jason Merritt/Getty Images)

Space Shuttle Endeavour Arrives In L.A. Atop Transport Plane

LOS ANGELES, CA - SEPTEMBER 21: Space Shuttle Endeavour arrives in L.A. over Santa Monica beach atop a NASA transport plane on September 21, 2012 in Los Angeles, California. (Photo by Jason Merritt/Getty Images)

Space Shuttle Endeavor

LOS ANGELES, CA - SEPTEMBER 21: Space shuttle Endeavour, sitting on top of NASA's Shuttle Carrier Aircraft or SCA, lands at Los Angeles International Airport on September 21, 2012 in Los Angeles, California. The Space Shuttle Endeavour will be placed on public display at the California Science Center. This is the final ferry flight scheduled in the Space Shuttle Program era. Photo by Jeff Gritchen-Pool/Getty Images)

US-SPACE-SHUTTLE-ENDEAVOUR

Space Shuttle Endeavour, mounted atop NASA's modified Boeing 747, flies over the Hollywood Sign in Hollywood, California on its final flight, on September 21, 2012. The retired space shuttle is spending it's last day in the air on a 5-hour flyover before landing at the Los Angeles International Airport, where it will stay for a few weeks before taking a slow-speed land journey across town through neighborhoods to its final museum home, the California Science Center. AFP PHOTO / Robyn Beck (Photo credit should read ROBYN BECK/AFP/GettyImages)

Space Shuttle Endeavour Arrives In L.A. Atop Transport Plane

LOS ANGELES, CA - SEPTEMBER 21: The space shuttle Endeavour, sitting on top of NASA's Shuttle Carrier Aircraft or SCA, lands at Los Angeles International Airport on September 21, 2012 in Los Angeles, California. The Space Shuttle Endeavour will be placed on public display at the California Science Center. This is the final ferry flight scheduled in the Space Shuttle program era. (Photo by Kevork Djansezian/Getty Images)

Space Shuttle Endeavour Arrives In L.A. Atop Transport Plane

LOS ANGELES, CA - SEPTEMBER 21: The space shuttle Endeavour, sitting on top of NASA's Shuttle Carrier Aircraft or SCA, lands at Los Angeles International Airport on September 21, 2012 in Los Angeles, California. The Space Shuttle Endeavour will be placed on public display at the California Science Center. This is the final ferry flight scheduled in the Space Shuttle program era. (Photo by Kevork Djansezian/Getty Images)

Space Shuttle Endeavor

LOS ANGELES, CA - SEPTEMBER 21: Space shuttle Endeavour, sitting on top of NASA's Shuttle Carrier Aircraft or SCA, lands at Los Angeles International Airport on September 21, 2012 in Los Angeles, California. The Space Shuttle Endeavour will be placed on public display at the California Science Center. This is the final ferry flight scheduled in the Space Shuttle Program era. Photo by Jeff Gritchen-Pool/Getty Images)

Space Shuttle Endeavour Arrives In L.A. Atop Transport Plane

LOS ANGELES, CA - SEPTEMBER 21: The space shuttle Endeavour, sitting on top of NASA's Shuttle Carrier Aircraft or SCA, lands at Los Angeles International Airport on September 21, 2012 in Los Angeles, California. The Space Shuttle Endeavour will be placed on public display at the California Science Center. This is the final ferry flight scheduled in the Space Shuttle program era. (Photo by Kevork Djansezian/Getty Images)

Space Shuttle Endeavour Arrives In L.A. Atop Transport Plane

LOS ANGELES, CA - SEPTEMBER 21: The space shuttle Endeavour, sitting on top of NASA's Shuttle Carrier Aircraft or SCA, lands at Los Angeles International Airport on September 21, 2012 in Los Angeles, California. The Space Shuttle Endeavour will be placed on public display at the California Science Center. This is the final ferry flight scheduled in the Space Shuttle Program era. (Photo by Kevork Djansezian/Getty Images)

Space Shuttle Endeavour Arrives In L.A. Atop Transport Plane

LOS ANGELES, CA - SEPTEMBER 21: Space Shuttle Endeavour, sitting on top of NASA's Shuttle Carrier Aircraft (SCA), makes its final approach before landing at Los Angeles International Airport on September 21, 2012 in Los Angeles, California. The Space Shuttle Endeavour will be placed on public display at the California Science Center. This is the final ferry flight scheduled in the Space Shuttle Program era. (Photo by Kevork Djansezian/Getty Images)

US-SPACE-SHUTTLE-ENDEAVOUR

The Space Shuttle Endeavour, mounted atop NASA's modified Boeing 747, flies near the Griffith Park Observatory in Los Angeles on its final flight, September 21, 2012. The retired space shuttle is spending it's last day in the air on a 5-hour flyover before landing at the Los Angeles International Airport, where it will stay for a few weeks before taking a slow-speed land journey across town through neighborhoods to its final museum home, the California Science Center.AFP PHOTO/JOE KLAMAR (Photo credit should read JOE KLAMAR/AFP/GettyImages)

US-SPACE-SHUTTLE-ENDEAVOUR

The Space Shuttle Endeavour, mounted atop NASA's modified Boeing 747, flies near the Griffith Park Observatory in Los Angeles on its final flight, September 21, 2012. The retired space shuttle is spending it's last day in the air on a 5-hour flyover before landing at the Los Angeles International Airport, where it will stay for a few weeks before taking a slow-speed land journey across town through neighborhoods to its final museum home, the California Science Center.AFP PHOTO/JOE KLAMAR (Photo credit should read JOE KLAMAR/AFP/GettyImages)

Space Shuttle Endeavour Arrives In L.A. Atop Transport Plane

LOS ANGELES, CA - SEPTEMBER 21: The space shuttle Endeavour, sitting on top of NASA's Shuttle Carrier Aircraft or SCA, lands at Los Angeles International Airport on September 21, 2012 in Los Angeles, California. The Space Shuttle Endeavour will be placed on public display at the California Science Center. This is the final ferry flight scheduled in the Space Shuttle Program era. (Photo by Kevork Djansezian/Getty Images)

Space Shuttle Endeavour Flies Over Disneyland in California

ANAHEIM, CA - SEPTEMBER 21: In this handout photo provided by Disney Parks, en route to its new home at the California Science Center, the space shuttle Endeavor flies over Disney California Adventure park on September 21, 2012 in Anaheim, California. Endeavour, mounted atop NASA's modified 747 Shuttle Carrier Aircraft (SCA), departed from Kennedy Space Center in Florida on Wednesday, September 19, 2012 and flew over a number of U.S. landmarks, including the Magic Kingdom at Walt Disney World. (Photo by Kevin Bohn/Disney Parks via Getty Images)

Space Shuttle Endeavour Arrives In L.A. Atop Transport Plane

LOS ANGELES, CA - SEPTEMBER 21: Space Shuttle Endeavour, sitting on top of NASA's Shuttle Carrier Aircraft (SCA), performs a flyover before landing at Los Angeles International Airport on September 21, 2012 in Los Angeles, California. The Space Shuttle Endeavour will be placed on public display at the California Science Center. This is the final ferry flight scheduled in the Space Shuttle Program era. (Photo by Kevork Djansezian/Getty Images)

Space Shuttle Endeavour Arrives In L.A. Atop Transport Plane

LOS ANGELES, CA - SEPTEMBER 21: Space shuttle Endeavour, sitting on top of NASA's Shuttle Carrier Aircraft or SCA, lands at Los Angeles International Airport on September 21, 2012 in Los Angeles, California. The Space Shuttle Endeavour will be placed on public display at the California Science Center. This is the final ferry flight scheduled in the Space Shuttle Program era. (Photo by Kevork Djansezian-Pool/Getty Images)

Space Shuttle Endeavour Makes Pass Over Bay Area Before Final Landing In LA

SAN FRANCISCO, CA - SEPTEMBER 21: (EDITORS NOTE: Image has been converted to black and white.) The space shuttle Endeavour makes a pass over San Francisco before making its final landing in Los Angeles on September 21, 2012 in San Francisco, California. (Photo by Ezra Shaw/Getty Images)

US - SPACE - SHUTTLE - ENDEAVOUR

A rider waits to watch The Space Shuttle Endeavour, mounted atop NASA's modified Boeing 747,as it was flying over Griffith Park in Los Angeles on its final flight, September 21, 2012. The retired space shuttle is spending it's last day in the air on a 5-hour flyover before landing at the Los Angeles International Airport, where it will stay for a few weeks before taking a slow-speed land journey across town through neighborhoods to its final museum home, the California Space Center. AFP PHOTO/JOE KLAMAR (Photo credit should read JOE KLAMAR/AFP/GettyImages)

Space Shuttle Endeavour Arrives In L.A. Atop Transport Plane

SANTA MONICA, CA - SEPTEMBER 21: Space shuttle Endeavour, sitting on top of NASA's Shuttle Carrier Aircraft or SCA flies past Santa Monica Pier on September 21, 2012 in Santa Monica, California. The Space Shuttle Endeavour will be placed on public display at the California Science Center. This is the final ferry flight scheduled in the Space Shuttle Program era. (Photo by Stephen Dunn/Getty Images)

Space Shuttle Endeavour Arrives In L.A. Atop Transport Plane

SANTA MONICA, CA - SEPTEMBER 21: Space shuttle Endeavour, sitting on top of NASA's Shuttle Carrier Aircraft or SCA flies over Palisades Park on September 21, 2012 in Santa Monica, California. The Space Shuttle Endeavour will be placed on public display at the California Science Center. This is the final ferry flight scheduled in the Space Shuttle Program era. (Photo by Stephen Dunn/Getty Images)

US - SPACE - SHUTTLE - ENDEAVOUR

The Space Shuttle Endeavour, mounted atop NASA's modified Boeing 747, flies near the Griffith Park Observatory in Los Angeles on its final flight, September 21, 2012. The retired space shuttle is spending it's last day in the air on a 5-hour flyover before landing at the Los Angeles International Airport, where it will stay for a few weeks before taking a slow-speed land journey across town through neighborhoods to its final museum home, the California Space Center.AFP PHOTO/JOE KLAMAR (Photo credit should read JOE KLAMAR/AFP/GettyImages)

Space Shuttle Endeavour Arrives In L.A. Atop Transport Plane

SANTA MONICA, CA - SEPTEMBER 21: Space shuttle Endeavour, sitting on top of NASA's Shuttle Carrier Aircraft or SCA flies over Palidades Park on September 21, 2012 in Santa Monica, California. The Space Shuttle Endeavour will be placed on public display at the California Science Center. This is the final ferry flight scheduled in the Space Shuttle Program era. (Photo by Stephen Dunn/Getty Images)

Space Shuttle Endeavour Arrives In L.A. Atop Transport Plane

SANTA MONICA, CA - SEPTEMBER 21: Space shuttle Endeavour, sitting on top of NASA's Shuttle Carrier Aircraft or SCA flies over Palidades Park on September 21, 2012 in Santa Monica, California. The Space Shuttle Endeavour will be placed on public display at the California Science Center. This is the final ferry flight scheduled in the Space Shuttle Program era. (Photo by Stephen Dunn/Getty Images)

US - SPACE - SHUTTLE - ENDEAVOUR

A rider waits to watch US space shuttle Endeavour, mounted atop NASA's modified Boeing 747,as it was flying over Griffith Park in Los Angeles on its final flight, September 21, 2012. The retired space shuttle is spending it's last day in the air on a 5-hour flyover before landing at the Los Angeles International Airport, where it will stay for a few weeks before taking a slow-speed land journey across town through neighborhoods to its final museum home, the California Space Center.AFP PHOTO/JOE KLAMAR (Photo credit should read JOE KLAMAR/AFP/GettyImages)

space shuttle Endeavour Arrives In L.A. Atop Transport Plane

LOS ANGELES, CA - SEPTEMBER 21: The space shuttle Endeavour, on top of NASA's Shuttle Carrier Aircraft or SCA, flies over the Griffith Park Obervatory on September 21, 2012 in Los Angeles, California. The space shuttle Endeavour did a 4-1/2 hour tour over California landmarks before heading to Los Angeles International Airport where it will be prepared to be moved to its new permanent home at the California Science Center in downtown Los Angeles. The shuttle will be on public display starting October 30. (Photo by Sandy Huffaker/Getty Images)

Space Shuttle Endeavour Arrives In L.A. Atop Transport Plane

LOS ANGELES, CA - SEPTEMBER 21: Space shuttle Endeavour, sitting on top of NASA's Shuttle Carrier Aircraft or SCA, lands at Los Angeles International Airport on September 21, 2012 in Los Angeles, California. The Space Shuttle Endeavour will be placed on public display at the California Science Center. This is the final ferry flight scheduled in the Space Shuttle Program era. (Photo by Kevork Djansezian/Getty Images)

US - SPACE - SHUTTLE - ENDEAVOUR

The US space shuttle Endeavour, mounted atop NASA's modified Boeing 747, flies over downtown in Los Angeles on its final flight, September 21, 2012. The retired space shuttle is spending it's last day in the air on a 5-hour flyover before landing at the Los Angeles International Airport, where it will stay for a few weeks before taking a slow-speed land journey across town through neighborhoods to its final museum home, the California Space Center.AFP PHOTO/JOE KLAMAR (Photo credit should read JOE KLAMAR/AFP/GettyImages)

US - SPACE - SHUTTLE - ENDEAVOUR

The US space shuttle Endeavour, mounted atop NASA's modified Boeing 747, flies over downtown in Los Angeles on its final flight, September 21, 2012. The retired space shuttle is spending it's last day in the air on a 5-hour flyover before landing at the Los Angeles International Airport, where it will stay for a few weeks before taking a slow-speed land journey across town through neighborhoods to its final museum home, the California Space Center.AFP PHOTO/JOE KLAMAR (Photo credit should read JOE KLAMAR/AFP/GettyImages)

Space Shuttle Endeavour Arrives In L.A. Atop Transport Plane

LOS ANGELES, CA - SEPTEMBER 21: Space shuttle Endeavour, sitting on top of NASA's Shuttle Carrier Aircraft or SCA, lands at Los Angeles International Airport on September 21, 2012 in Los Angeles, California. The Space Shuttle Endeavour will be placed on public display at the California Science Center. This is the final ferry flight scheduled in the Space Shuttle Program era. (Photo by Kevork Djansezian/Getty Images)

US - SPACE - SHUTTLE - ENDEAVOUR

The US space shuttle Endeavour, mounted atop NASA's modified Boeing 747, flies near the Griffith Park Observatory in Los Angeles on its final flight, September 21, 2012. The retired space shuttle is spending it's last day in the air on a 5-hour flyover before landing at the Los Angeles International Airport, where it will stay for a few weeks before taking a slow-speed land journey across town through neighborhoods to its final museum home, the California Space Center. AFP PHOTO/JOE KLAMAR (Photo credit should read JOE KLAMAR/AFP/GettyImages)

US-SPACE-SHUTTLE-ENDEAVOUR

The Space Shuttle Endeavour, mounted atop NASA's modified Boeing 747, flies near the Griffith Park Observatory in Los Angeles on its final flight, September 21, 2012. The retired space shuttle is spending it's last day in the air on a 5-hour flyover before landing at the Los Angeles International Airport, where it will stay for a few weeks before taking a slow-speed land journey across town through neighborhoods to its final museum home, the California Space Center. AFP PHOTO/JOE KLAMAR (Photo credit should read JOE KLAMAR/AFP/GettyImages)

US-SPACE-SHUTTLE-ENDEAVOUR

The Space Shuttle Endeavour, mounted atop NASA's modified Boeing 747, flies over downtown in Los Angeles on its final flight, September 21, 2012. The retired space shuttle is spending it's last day in the air on a 5-hour flyover before landing at the Los Angeles International Airport, where it will stay for a few weeks before taking a slow-speed land journey across town through neighborhoods to its final museum home, the California Space Center. AFP PHOTO/JOE KLAMAR (Photo credit should read JOE KLAMAR/AFP/GettyImages)

US-SPACE-SHUTTLE-ENDEAVOUR

The Space Shuttle Endeavour, mounted atop NASA's modified Boeing 747, flies near the Griffith Park Observatory in Los Angeles on its final flight, September 21, 2012. The retired space shuttle is spending it's last day in the air on a 5-hour flyover before landing at the Los Angeles International Airport, where it will stay for a few weeks before taking a slow-speed land journey across town through neighborhoods to its final museum home, the California Space Center. AFP PHOTO/JOE KLAMAR (Photo credit should read JOE KLAMAR/AFP/GettyImages)

US-SPACE-SHUTTLE-ENDEAVOUR

The Space Shuttle Endeavour, mounted atop NASA's modified Boeing 747, flies near the Griffith Park Observatory in Los Angeles on its final flight, September 21, 2012. The retired space shuttle is spending it's last day in the air on a 5-hour flyover before landing at the Los Angeles International Airport, where it will stay for a few weeks before taking a slow-speed land journey across town through neighborhoods to its final museum home, the California Space Center. AFP PHOTO/JOE KLAMAR (Photo credit should read JOE KLAMAR/AFP/GettyImages)

US - SPACE - SHUTTLE - ENDEAVOUR

The Space Shuttle Endeavour, mounted atop NASA's modified Boeing 747, flies near the Griffith Park Observatory in Los Angeles on its final flight, September 21, 2012. The retired space shuttle is spending it's last day in the air on a 5-hour flyover before landing at the Los Angeles International Airport, where it will stay for a few weeks before taking a slow-speed land journey across town through neighborhoods to its final museum home, the California Space Center.AFP PHOTO/JOE KLAMAR (Photo credit should read JOE KLAMAR/AFP/GettyImages)

Space Shuttle Endeavour Arrives In L.A. Atop Transport Plane

LOS ANGELES, CA - SEPTEMBER 21: In this photo provided by NASA, The space shuttle Endeavour, atop the Shuttle Carrier Aircraft, or SCA, lands at Los Angeles International Airport on Tuesday, Sept. 21, 2012 in Los Angeles where it will be placed on public display at the California Science Center. Today's flight marks the final scheduled ferry flight of the Space Shuttle Program. (Photo by NASA/Matt Hedges via Getty Images)

Space Shuttle Endeavour Flies Over Disneyland in California

ANAHEIM, CA - SEPTEMBER 21: In this handout photo provided by Disney Parks, en route to its new home at the California Science Center, the space shuttle Endeavor flies over Disney California Adventure park on September 21, 2012 in Anaheim, California. Endeavour, mounted atop NASA's modified 747 Shuttle Carrier Aircraft (SCA), departed from Kennedy Space Center in Florida on Wednesday, September 19, 2012 and flew over a number of U.S. landmarks, including the Magic Kingdom at Walt Disney World. (Photo by Paul Hiffmeyer/Disney Parks via Getty Images)

Space Shuttle Endeavour Flies Over Disneyland in California

ANAHEIM, CA - SEPTEMBER 21: In this handout photo provided by Disney Parks, en route to its new home at the California Science Center, the space shuttle Endeavor flies over Disney California Adventure park on September 21, 2012 in Anaheim, California. Endeavour, mounted atop NASA's modified 747 Shuttle Carrier Aircraft (SCA), departed from Kennedy Space Center in Florida on Wednesday, September 19, 2012 and flew over a number of U.S. landmarks, including the Magic Kingdom at Walt Disney World. (Photo by Paul Hiffmeyer/Disney Parks via Getty Images)

Space Shuttle Endeavour Flies Over Disneyland in California

ANAHEIM, CA - SEPTEMBER 21: In this handout photo provided by Disney Parks, en route to its new home at the California Science Center, the space shuttle Endeavor flies over Disney California Adventure park on September 21, 2012 in Anaheim, California. Endeavour, mounted atop NASA's modified 747 Shuttle Carrier Aircraft (SCA), departed from Kennedy Space Center in Florida on Wednesday, September 19, 2012 and flew over a number of U.S. landmarks, including the Magic Kingdom at Walt Disney World. (Photo by Kevin Bohn/Disney Parks via Getty Images)

Space Shuttle Endeavour Flies Over Disneyland in California

ANAHEIM, CA - SEPTEMBER 21: In this handout photo provided by Disney Parks, en route to its new home at the California Science Center, the space shuttle Endeavor flies over Disney California Adventure park on September 21, 2012 in Anaheim, California. Endeavour, mounted atop NASA's modified 747 Shuttle Carrier Aircraft (SCA), departed from Kennedy Space Center in Florida on Wednesday, September 19, 2012 and flew over a number of U.S. landmarks, including the Magic Kingdom at Walt Disney World. (Photo by Paul Hiffmeyer/Disney Parks via Getty Images)

Space Shuttle Endeavour Flies Over Disneyland in California

ANAHEIM, CA - SEPTEMBER 21: In this handout photo provided by Disney Parks, en route to its new home at the California Science Center, the space shuttle Endeavor flies over Disney California Adventure park on September 21, 2012 in Anaheim, California. Endeavour, mounted atop NASA's modified 747 Shuttle Carrier Aircraft (SCA), departed from Kennedy Space Center in Florida on Wednesday, September 19, 2012 and flew over a number of U.S. landmarks, including the Magic Kingdom at Walt Disney World. (Photo by Kevin Bohn/Disney Parks via Getty Images)

Space Shuttle Endeavour Arrives In L.A. Atop Transport Plane

LOS ANGELES, CA - SEPTEMBER 21: Space Shuttle Endeavour, sitting on top of NASA's Shuttle Carrier Aircraft (SCA), enters the Los Angeles airspace as it flys behind the air control traffic tower of Los Angeles International Airport before landing on September 21, 2012 in Los Angeles, California. The Space Shuttle Endeavour will be placed on public display at the California Science Center. This is the final ferry flight scheduled in the Space Shuttle Program era. (Photo by Kevork Djansezian/Getty Images)

Space Shuttle Endeavour Arrives In L.A. Atop Transport Plane

LOS ANGELES, CA - SEPTEMBER 21: Space Shuttle Endeavour, sitting on top of NASA's Shuttle Carrier Aircraft (SCA), performs a flyover before landing at Los Angeles International Airport on September 21, 2012 in Los Angeles, California. The Space Shuttle Endeavour will be placed on public display at the California Science Center. This is the final ferry flight scheduled in the Space Shuttle Program era. (Photo by Kevork Djansezian/Getty Images)

Space Shuttle Endeavour Arrives In L.A. Atop Transport Plane

LOS ANGELES, CA - SEPTEMBER 21: Space Shuttle Endeavour, sitting on top of NASA's Shuttle Carrier Aircraft (SCA), makes its final approach before landing at Los Angeles International Airport on September 21, 2012 in Los Angeles, California. The Space Shuttle Endeavour will be placed on public display at the California Science Center. This is the final ferry flight scheduled in the Space Shuttle Program era. (Photo by Kevork Djansezian/Getty Images)

Space Shuttle Endeavour Arrives In L.A. Atop Transport Plane

LOS ANGELES, CA - SEPTEMBER 21: Space shuttle Endeavour, sitting on top of NASA's Shuttle Carrier Aircraft or SCA, lands at Los Angeles International Airport on September 21, 2012 in Los Angeles, California. The Space Shuttle Endeavour will be placed on public display at the California Science Center. This is the final ferry flight scheduled in the Space Shuttle Program era. (Photo by Kevork Djansezian/Getty Images)

Space Shuttle Endeavour Flies Over Disneyland in California

ANAHEIM, CA - SEPTEMBER 21: In this handout photo provided by Disney Parks, en route to its new home at the California Science Center, the space shuttle Endeavor flies over Disney California Adventure park on September 21, 2012 in Anaheim, California. Endeavour, mounted atop NASA's modified 747 Shuttle Carrier Aircraft (SCA), departed from Kennedy Space Center in Florida on Wednesday, September 19, 2012 and flew over a number of U.S. landmarks, including the Magic Kingdom at Walt Disney World. (Photo by Kevin Bohn/Disney Parks via Getty Images)

US - SPACE - SHUTTLE - ENDEAVOUR

The Space Shuttle Endeavour, mounted atop NASA's modified Boeing 747, flies near the Griffith Park Observatory in Los Angeles on its final flight, September 21, 2012. The retired space shuttle is spending it's last day in the air on a 5-hour flyover before landing at the Los Angeles International Airport, where it will stay for a few weeks before taking a slow-speed land journey across town through neighborhoods to its final museum home, the California Space Center.AFP PHOTO/JOE KLAMAR (Photo credit should read JOE KLAMAR/AFP/GettyImages)

Space Shuttle Endeavour Arrives In L.A. Atop Transport Plane

LOS ANGELES, CA - SEPTEMBER 21: In this photo provided by NASA, The space shuttle Endeavour, atop the Shuttle Carrier Aircraft, or SCA, lands at Los Angeles International Airport on Tuesday, Sept. 21, 2012 in Los Angeles where it will be placed on public display at the California Science Center. Today's flight marks the final scheduled ferry flight of the Space Shuttle Program. (Photo by NASA/Joel Kowsky via Getty Images)

Space Shuttle Endeavour Arrives In L.A. Atop Transport Plane

LOS ANGELES, CA - SEPTEMBER 21: In this photo provided by NASA, The space shuttle Endeavour, atop the Shuttle Carrier Aircraft, or SCA, lands at Los Angeles International Airport on Tuesday, Sept. 21, 2012 in Los Angeles where it will be placed on public display at the California Science Center. The shadow of a NASA F-18 chase jet wing is shown in the foreground. Today's flight marks the final scheduled ferry flight of the Space Shuttle Program. (Photo by NASA/Bill Ingalls via Getty Images)

Space Shuttle Endeavour Arrives In L.A. Atop Transport Plane

LOS ANGELES, CA - SEPTEMBER 21: Spectators wait to see the Space Shuttle Endeavor fly over the Los Angeles International Airport on September 21, 2012 in Los Angeles. The Shuttle is on the last leg of its U.S. tour. (Photo by Michal Czerwonka/Getty Images)

Space Shuttle Endeavour Arrives In L.A. Atop Transport Plane

LOS ANGELES, CA - SEPTEMBER 21: Spectators wait to see the Space Shuttle Endeavor fly over the Los Angeles International Airport on September 21, 2012 in Los Angeles. The Shuttle is on the last leg of its U.S. tour. (Photo by Michal Czerwonka/Getty Images)