Scroll down for some of the best news and sports pictures from around the world, brought to you by the Huffington Post's own picture editors Elliot Wagland, Matthew Tucker and Tahira Mirza:
25/09/2012 17:00 BST
OBAMA AT THE UNITED NATIONS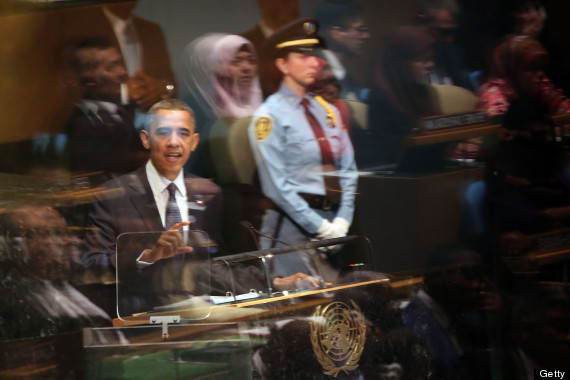 US President Barack Obama addresses world leaders at the United Nations General Assembly on September 25, 2012 in New York City.
25/09/2012 15:47 BST
TASMANIAN DEVIL DELIGHT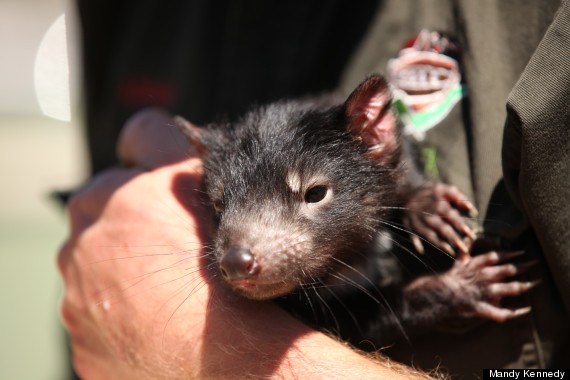 Pouch checking at Devil Ark in Australia has revealed a delightful discovery – the sanctuary have a total of 40 baby Tasmanian devils born this year.
25/09/2012 15:01 BST
SPAIN FIRES STABILIZED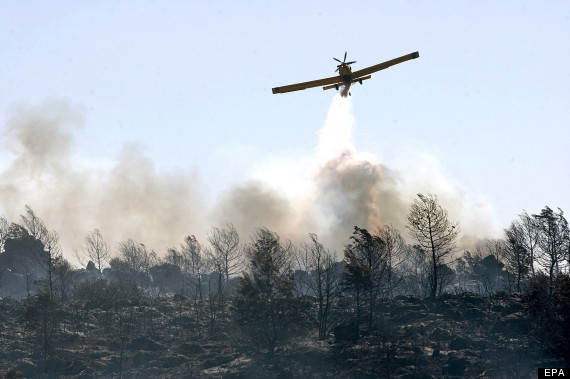 A plane releases a load of extinguishing water to fight a fire which broke in Benicolet, La Vall d'Albaida, Spain, 25 September 2012. Spanish firefighters have stabilized a wildfire which forced the evacuation of about 2,000 people in the east of the country, emergency services 25 September. The fire has destroyed about 5,500 hectares of forest at a distance of 60 kilometres north-west of the city of Valencia. Most of the 2,000 people who were evacuated from six villages were able to return home.
25/09/2012 14:41 BST
OFF THEY GO!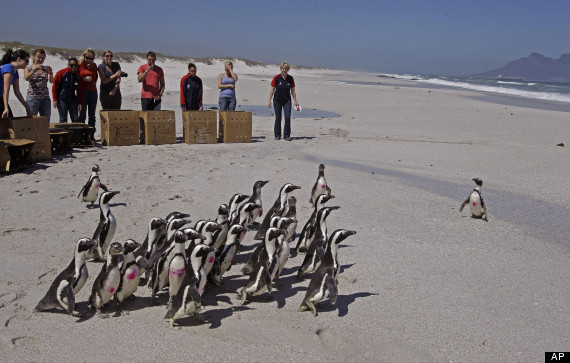 Penguins walk to the ocean with Table Mountain, back right, as backdrop, during their release by workers from the South African Foundation for the Conservation of Coastal Birds, SANCCOB, on the outskirts of the city of Cape Town, South Africa, Tuesday, Sept 25, 2012. Over two hundred penguins found covered in oil following a spillage by a stricken bulk carrier the Seli 1 were washed clean of oil, fed and restored to health. Thirty birds released Tuesday. (AP Photo/Schalk van Zuydam)
25/09/2012 14:12 BST
The Ryder Cup 2012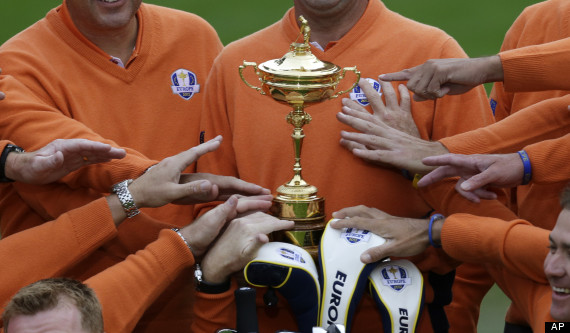 European players reach for the trophy during the team photo at the Ryder Cup PGA golf tournament Tuesday, Sept. 25, 2012, at the Medinah Country Club in Medinah, Ill. (AP Photo/David J. Phillip)
25/09/2012 13:42 BST
VIGIL FOR FALLEN POLICE WOMEN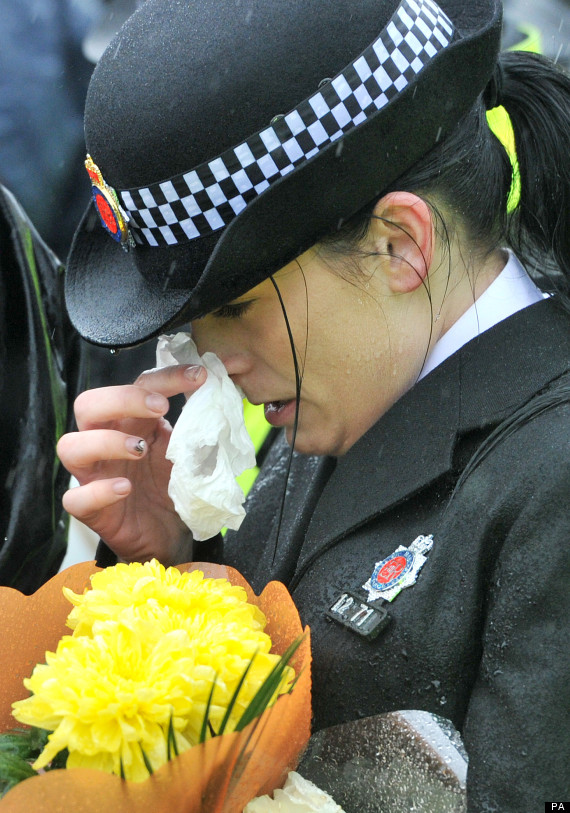 A police officer bows her head during a vigil near Abbey Gardens, Hattersley, Greater Manchester, for Pcs Fiona Bone, 32, and Nicola Hughes, 23, who were murdered last week.
Picture date: Tuesday September 25, 2012. Hundreds of people gathered and observed a minute's silence at 10.58am to mark a week since the attack.
25/09/2012 11:05 BST
MR AND MRS OBAMA ON THE VIEW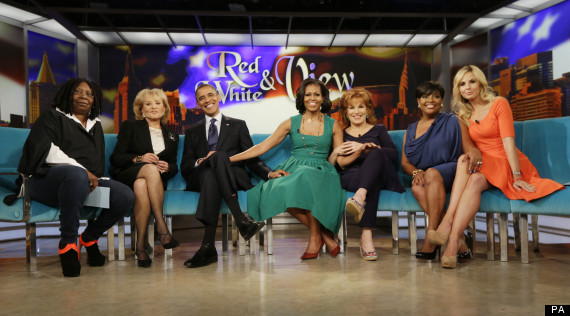 President Barack Obama and first lady Michelle Obama appear on the ABC's television show The View in New York, Monday, Sept. 24, 2012, From left are, Whoopi Goldberg, Barbara Walters, president and first lady, Joy Behar, Sherri Shepherd and Elisabeth Hasselbeck. (AP Photo/Pablo Martinez Monsivais)
25/09/2012 10:52 BST
RAIN, RAIN, GO AWAY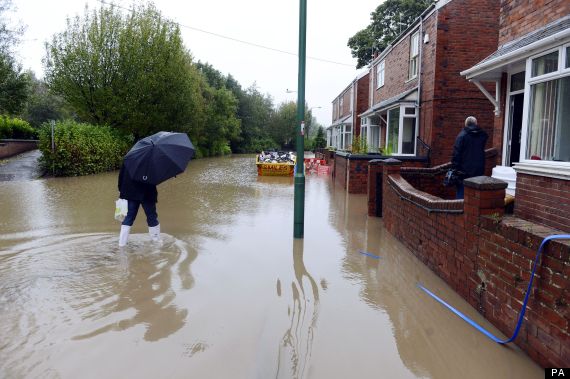 Residents make their way through flood water in Chester-Le-Street, as persistent heavy downpours continued, causing some areas to experience a whole month's rainfall in just 24 hours. (PA)
25/09/2012 10:36 BST
CAN I CALL YOU BACK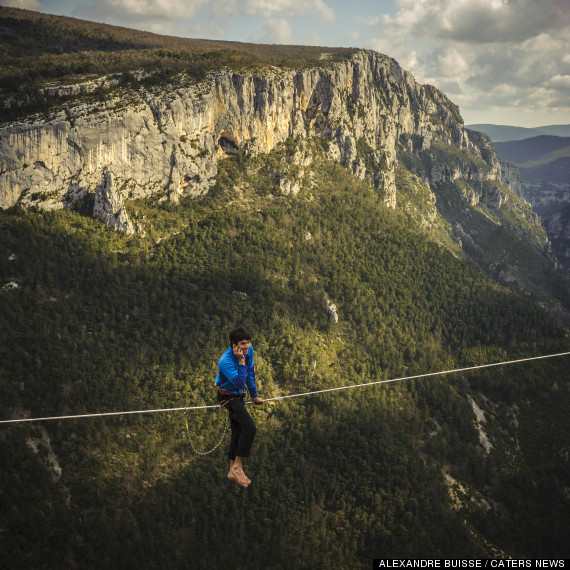 Tancrede Melet takes a call on a highline in the Dalles Grises sector of France's Verdon Gorges) - Can I call you back?', this is the hilarious moment a daredevil highliner perched nearly 1,000 foot up on a rope took time out to answer the PHONE. Vertigo free Tancrede Melet was caught on camera during a dizzying stunt to cross a 20 metre gap on nothing but a narrow wire. As the brave Frenchman crossed the line between two cliffs in the Dalles Grises region of the Verdon Gorges, France, he noticed his phone start ringing. But rather than act like most sane-minded people Tancrede's amazing nerves of steel meant he stopped to answer the call - and then chatted for 20 minutes 948 feet in the air
25/09/2012 09:58 BST
THE WORLD'S LARGEST SALAD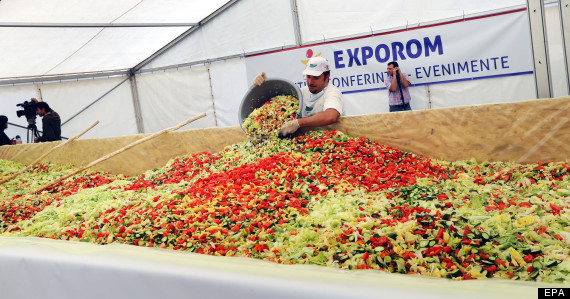 Romanian volunteers throw vegetables to create the world s biggest salad during their successful attempt to broke the Guinness World Record in Pantelimon near Bucharest Romania 23 September 2012. The salad made from 19 050 Kg of tomatoes cabbage onions carrots cucumbers olives red peppers green salad salt and olive oil was prepared by 1000 volunteers in about eight hours (EPA)
SUBSCRIBE TO & FOLLOW UK DAILY BRIEF