Jonjo Shelvey's red card during Liverpool's 2-1 home defeat against Manchester United was followed by the England Under-21 international exclaiming "That was you! You did that!" at Sir Alex Ferguson.
Ferguson couldn't help but see the funny side as the former Charlton Athletic midfielder disappeared into the tunnel, having handed United the initiative in a game they were struggling to impose themselves in.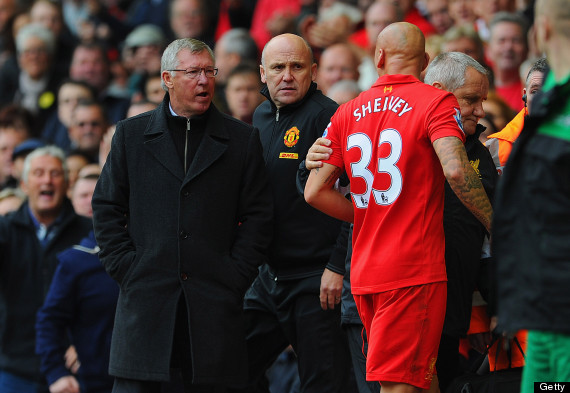 Shelvey said to Ferguson: "That was you! You did that!"
Shelvey is just another member of the footballing community to have had a run-in with the Scot, though. The best, of course, have happened behind closed doors, but occasionally Ferguson will provoke, or become provoked, ferocity in public.
JOSÉ MOURINHO
Mourinho first came to the wider British public's attention in the first leg of Porto's Champions League knockout tie with United in 2004. Two-one victors on the night courtesy of a Benni McCarthy double, Ferguson was incensed by the Portuguese side's gamesmanship and play-acting when he shook hands with a baffled Mourinho at full-time.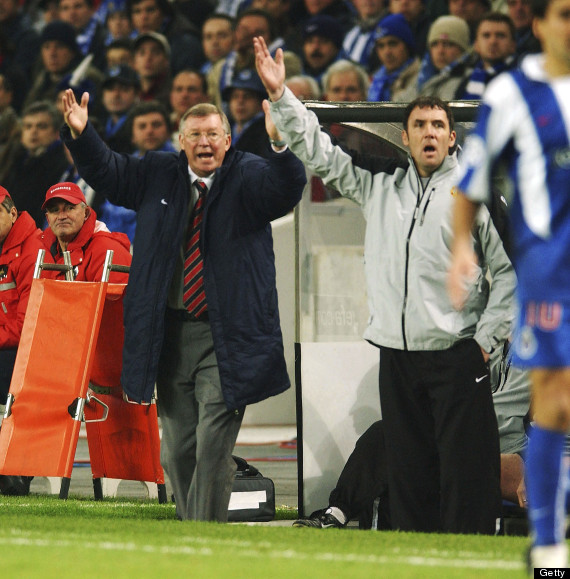 Ferguson becomes irate during United's defeat in Oporto
"I understand why he [Ferguson] is a bit emotional. He has some top players in the world and they should be doing a lot better than that… You would be sad if your team gets as clearly dominated by opponents who have been built on 10% of the budget," Mourinho said after the game.
ARSÈNE WENGER
At the height of the clubs' rivalry in 2004, Arsenal and United's Premier League clash at Highbury in March was an inconsequential affair with the title all-but-won by the Invincibles. It didn't impede Ferguson's competitiveness however, as he and Wenger had to be kept apart by fourth official Rob Styles.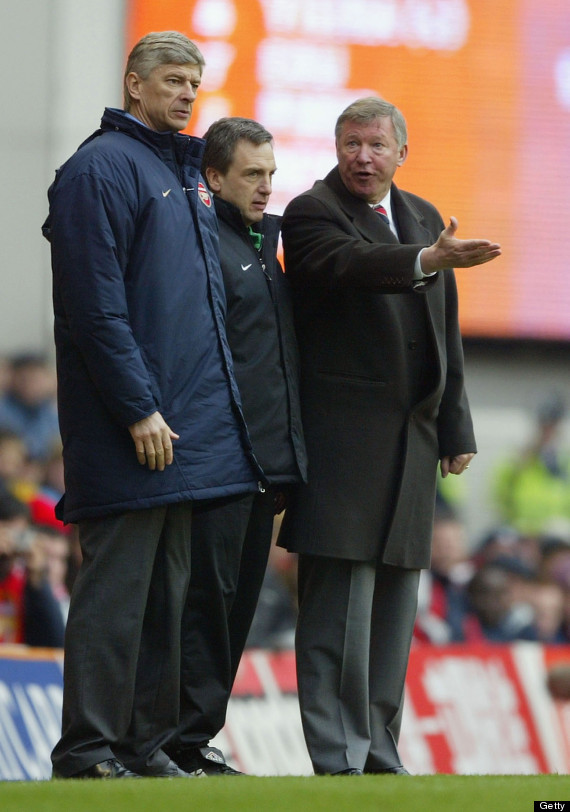 Ferguson and Wenger engage in a debate
GARY NEVILLE
Chaos ensued in Lille after Ryan Giggs gave United the lead with a quickly taken free-kick in a Champions League knockout match in 2007. Lille booted the ball out straight from the re-start, as their goalkeeping coach Jean Noel Duse appeared to beckon them off the pitch in protest. Gary Neville became involved, much to Ferguson's chagrin. "F**k off," his captain replied. Neville was dropped for the next two matches.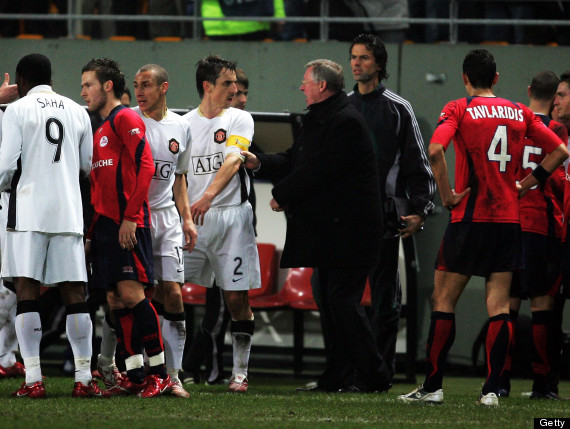 Gary Neville incurs the wrath of his manager of 15 years
MIKE DEAN
United were 4-2 up against Hull City when the already booked defender Michael Turner scythed down Michael Carrick, denying him a clear goalscoring opportunity. However referee Mike Dean neglected to either brandish a second yellow or a straight red card, and Hull scored again thanks to a Geovanni penalty. United eventually held on but a furious Ferguson stormed onto the pitch to confront the referee for failing to dismiss Turner. He was slapped with a £10,000 fine and two-match touchline ban.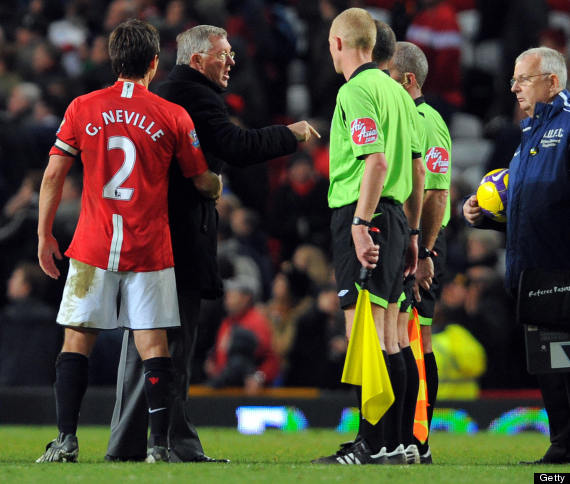 Ferguson confronts Dean after a narrow win against Hull City
ROBERTO MANCINI
As his players struggled to muster any fight in the crucial top-of-the-table clash against their neighbours, Ferguson decided to show some against his opposite number after Nigel de Jong's foul on Danny Welbeck. Mancini, unlike many others, was not intimidated and was equally verbal in expressing his opinions.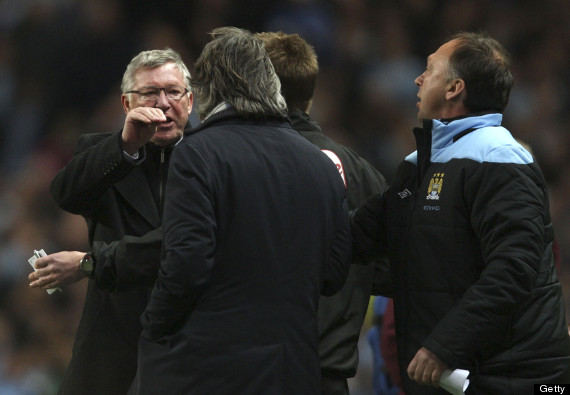 Ferguson gestures to Mancini during the 1-0 derby defeat in April