A vaginal whitening wash has hit the market in Thailand – promising to make your privates "safely fairer within four weeks".
An ad for Lactacyd White Intimate shows an attractive, fair-skinned woman sorrowfully lamenting how "everyone wants to look good – but tight shorts can leave your skin darker."
Never fear though, for this little miss has been vigilantly whitening her vagina – and to prove her point, off she bounds in a miniscule, skin-tight pair of white shorts.
According to The Guardian, the Thai market is already saturated with face, body, armpit and other skin-whitening products, but this is the first vaginal wash to hit shelves in the country.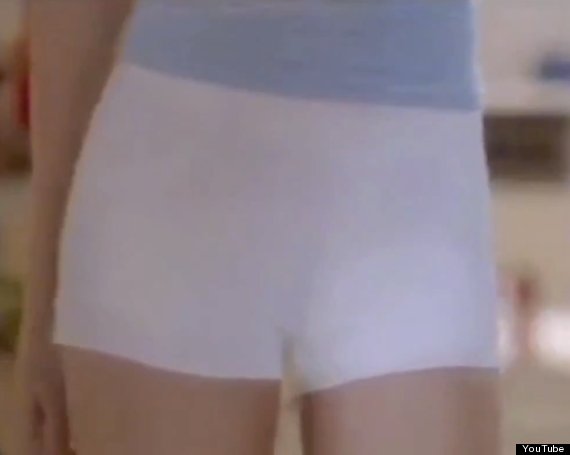 Tighty whiteys: The ad for Lactacyd White Intimate says such garments 'can leave your skin darker'
Online literature for the product ominously informs us: "Sweat and excessive friction from tight clothing can darken the skin around the intimate area, causing self-consciousness, decreased confidence or inhibiting intimacy."
So far so absurd, but in a world where cosmetics companies promise to "brighten" and even tighten our vaginas, little white vulvas appear to be big business.
Take India's 18 Again "tightening and rejuvenating" cream, advertised through the medium of song and dance.
Featuring an attractive woman in a pink sari, the message sees her crooning "oooh I feel like a virgin" as she dances through a courtyard, outraging her elders as she sings of her newly acquired "tightness".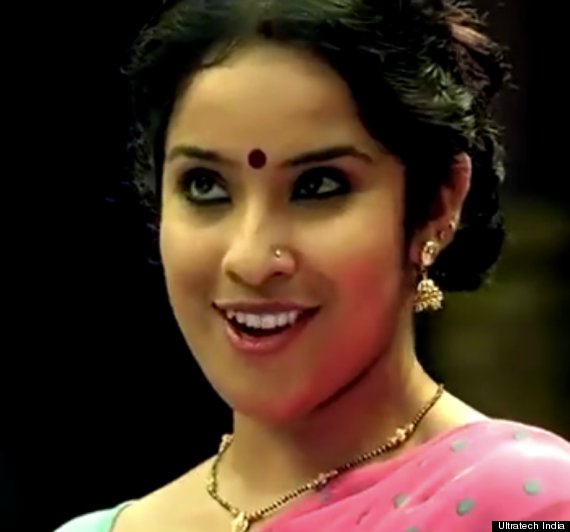 'Oooh I feel like a virgin': A sari-clad Indian woman extolls the benefits of '18 Again'
Our heroine meets with her sweetheart, squealing "oooh yes it's true!", to which he replies "oooh yes you do!"
She then appears to borrow a line from Madonna as she trills, presumably in reference to their love-making, "feels like the very first time".
The exuberant jig continues as a voiceover announces the product.
Salsa dancing with delight at the condition of one's vagina may raise eyebrows among some, but Rishi Bhatia, chairman and managing director of Ultratech India, insists the message is an empowering one.
He told Campaign India: "18 Again is a first-of-its-kind product for women in India. This product is being launched in India post clinical trials conducted amongst women of all age groups under dermatological control.
SEE ALSO:
"18 Again has the power and the potential to break the shackles and redefine the meaning of women empowerment altogether."
The advert comes after a commercial earlier this year that promoted a product which promised to "brighten" the skin around the vagina.
The advert was received as an uncomfortable nod to the hierarchy of skin tone in India's social caste system.
Dalits, formerly known as the Untouchables, are said to be the bottom of the social hierarchy and are often ostracised and forced into menial jobs.
Brahmins are generally considered to be the highest caste group, although laws banning discrimination on these terms have failed to make much difference.
Loading Slideshow
Levis.

Saatchi and Saatchi's campaign for The Conservative Party ahead of the 1979 general election.

Durex.

Sisley fashion brand.

Sean John's Unforgivable Woman fragrance.

Linford Christie stars in Kleenex's tissue advert.

Wonderbra's infamous advert.

Lynx.

BMW.

BaF's anti-domestic violence ad.

Red Tape menswear fashion brand.

Controversial French anti-smoking advert,

MacDonald's.

QSOL service provider.

NSPCC

A German MacDonald's advert.

Heinz.

Cadbury's.

Miquita Oliver in Women's Aid advert.

Advert for Chicolate chocolate substitute.

Skin Burn, anti-smoking ad

Barnardo's.

Tipalet cigarette advert.

Benetton

TG4 television program entitled 'Paisean Faisean'.

Courage beer.

Budweiser.

Barcardi rum.

Amnesty International

Skyy alcoholic drink.

Amnesty International

Amnesty International

Anti binge-drinking advert

Van Heusen

BMW

Pitney-Bowes Postage Meter

Government anti-drug driving advert

Anti-abortion advert

Advert against verbal abuse

Fabrica

Benson & Hedges

American Apparel

Amnesty International

Post-It