It was a picture that touched countless hearts across the world.
An owner tenderly cradling his arthritic dog in the warm waters of a lake to lull him to sleep went viral and prompted a staggering outpouring of love.
The tale behind the snap – namely John Unger's determination to ensure the comfort of Schoep, whose suffering meant he had trouble sleeping, melted hearts.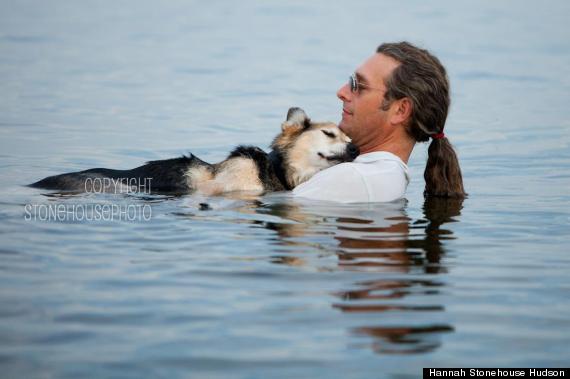 Tender: John Unger gently cradles Schoep in the warm waters of Lake Superior
Such was the reaction to Schoep's condition and John's unrivalled love for his pet, that touched readers were prompted to send gifts, artwork, cards and money from across the world.
What's more, the kindness of all who have donated has resulted in a new lease of life for 19-year-old Schoep, who went from facing euthanisation to receiving weekly laser therapy, pain medication and glucosamine, with encouraging results.
Without the funds to pay for his dog's medication and vet bills and unable to witness the pain his faithful companion was going through, John had planned to say farewell to Schoep in the fortnight after the August picture was taken.
Schoep's vet Erik Haukaas, at the Bay Area Animal Hospital, confirmed this, telling TwinCities.com: "In July, euthanisation was an option we talked about.
"It's no longer an option we talk about. When we started him on pain medicine and glucosamine and laser therapy, we were hoping to make an improvement.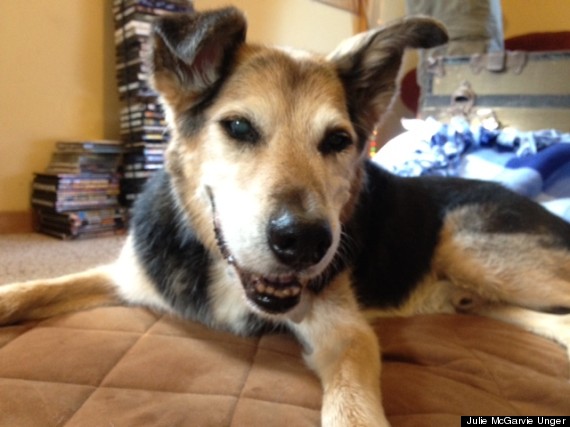 Schoep, who was set to be euthanised, now has a new lease of life
"It doesn't always. It is just one more thing we try instead of putting a dog to sleep. In this case, it all worked out tremendously."
John explained "I was walking him two nights ago and realised his back legs are not dragging at all.
"They were dragging for over a year, close to two years, because he couldn't lift them up. That's not happening anymore.
"It's absolutely astonishing that this therapy – laser treatments and glucosamine and the pain pills – is doing this."
Among Schoep's gifts were a selection of specially-elevated dog bowls, meaning he does not have to strain his neck and back as he bends down to eat, and a tempurpedic dog bed, which cushions his joints, provides support and helps regulate his body temperature.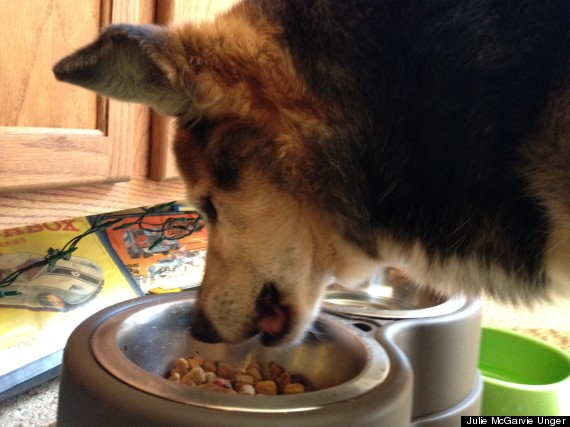 Specially elevated dog bowls mean Schoep doesn't have to strain his neck and back when he eats
With donated funds now topping $25,000, the sum ensures the cost of Schoep's care will be met for the rest of his life, with remaining funds earmarked to start Schoep's Legacy Foundation – a programme to help other animals in need.
John told Huffington Post UK: "I feel such overwhelming gratitude - Schoep wouldn't be here today, if it weren't for all these people who offered support. People from all around the world are opening their hearts to us.
"It is nothing but amazing! We want to thank everyone for their generous support and for helping us start Schoep's Legacy Foundation which will allow us to help many more animals and families. Schoep and I can't thank you enough!"
It all began when photographer Hannah Stonehouse Hudson caught the touching snap and posted it on Facebook.
Explaining the circumstances of the picture, she wrote: "This is 19-year-old Shoep being cradled in his father's arms last night in Lake Superior.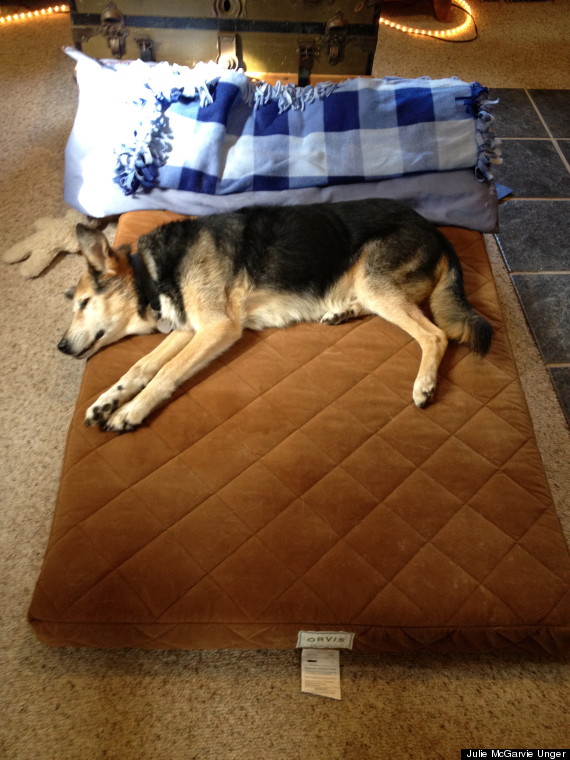 Schoep's tempurpedic dog bed was a further gift from a fellow dog-owner
"Shoep falls asleep every night when he is carried into the lake. The buoyancy of the water soothes his arthritic bones. Lake Superior is very warm right now, so the temp of the water is perfect. I was so happy I got to capture this moment for John. By the way, John rescued Shoep as an 8-month-old puppy, and he's been by his side through many adventures."
SEE ALSO:
The picture quickly went viral, with John speaking of his bond with his dog to the Duluth News Tribune. He recounted how a break-up with his then-fianceé left him feeling suicidal, and even lead him to the water's edge in Lake Michigan.
He said: "To be honest with you, I don't think I'd be here if I didn't have Schoep with me (that night). He just snapped me out of it. I don't know how to explain it. He just snapped me out of it. … I just want to do whatever I can for this dog because he basically saved my ass."
13 Awesome Animal-Human Reunions
Ban was reunited with her owner in tsunami-ravaged Japan after a news channel aired dramatic footage of her being rescued from the sea. This is pure joy.

Joplin's owner was incarcerated for 3.5 years. Would Joplin still remember her after all that time apart? (The answer, of course, is yes, but don't let that stop you from watching this beautiful video)

The video NEVER gets old. From the video's description on YouTube: "In 1969 a young Australian, John Rendall and his friend Ace Bourke, bought a small lion cub from Harrods pet department, which was then legal. 'Christian' was kept in the basement of a furniture shop on the Kings Road in Chelsea, the heart of the swinging sixties. Loved by all, the affectionate cub ate in a local restaurant, played in a nearby graveyard, but was growing fast... ...Then in 1971 he was flown to Kenya, his ancestral home, and returned to the wild by lion-man George Adamson. Nine months later in 1972, John and Ace returned to Kora in Kenya. This clip is of their reunion at that time. It was an emotional reunion: "He ran towards us, threw himself onto us, knocked us over and hugged us, with his paws on our shoulders." John Rendall"

Chuck got lost and spent 4.5 years on the streets. Forty pounds lighter, but still wearing the same dog tag, he was reunited with his family.

Anita spent two years socializing with these wolves. This is their reunion after two months apart. If you've never seen wolves act like puppies, this is your chance.

The Stewart family was forced to leave their five dogs behind to make room for other families when they fled New Orleans by boat during Hurricane Katrina. In this video, 15-year-old Tyrone is reunited with his dog CiCi.

Greg Cook hugs his dog Coco after finding her inside his destroyed home in Alabama following the tornado in March 2012.

Conservationist Damian Aspinall is searching for Kwibi, a lowland gorilla he hasn't seen for 5 years. Kwibi grew up with Damian at an animal park in England, but was later released into the forests of Gabon. Now Kwibi is 10 years old. Watch what happens at their reunion..

For 16 days, Lavern, a 13-year-old cat, was buried beneath the rubble of a house in Joplin, Mo. Her owner, Terrla Cruse, assumed her cat had died. But when she and her sister returned to the house to look for some papers, they heard meowing and began to dig frantically. Lavern's head soon emerged and Terrla's sister was quick to take a photo of the moment.

Chuck's dad is a soldier returning from service. If there was an award for happiest dog on the Internet, Chuck, who is a boxer, would be the clear winner.

Clyde had been missing for 12 days before someone found him and returned him while 10-year-old Jared was at school. Jared's mom decided to surprise him, and a lovely, tearful reunion followed.

Maynard was reunited with his owners after a series of minor miracles just before Christmas in 2009. He'd been missing for two years before that!

Okay, so this isn't exactly an animal-human reunion. But it is heartbreaking and amazing. Karma is reunited with her calf after they've both been rescued. Yes, it's okay to cry now.