Kim Kardashian, as we are all well aware, is not shy when it comes to shedding her clothes for a photo opp but could that all be about to change?
According to reports, Kim's boyfriend Kanye West wants her to start dressing a little more conservatively - you know, like Kate Middleton.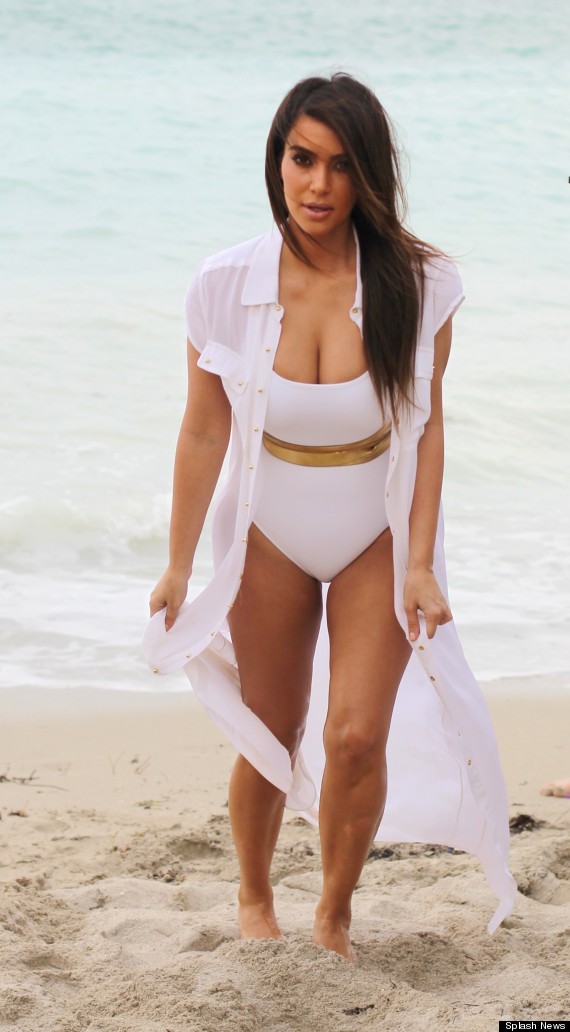 Kim's make-up artist, Rob Scheppy, told the Daily Star: "Kanye does like to get involved with Kim's look.
"Kanye's not afraid to say what he likes. He definitely likes the less-is-more look. Everyone wants to look good for their man, so Kim will listen and say: 'OK. I'll go with what my boyfriend says.'
"Kate Middleton has influenced her look while in London. Kate's amazing. We watched her wedding and we thought it was beautiful."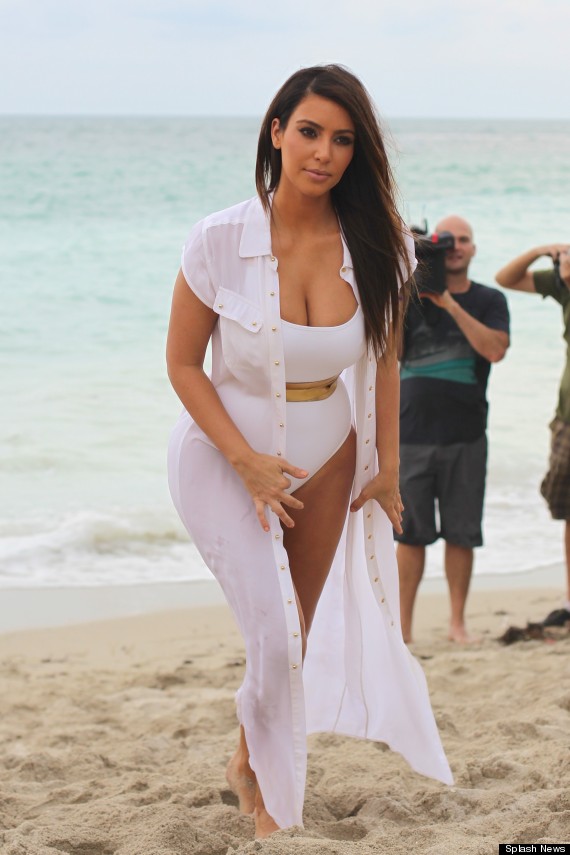 Well, if these pics of Kim filming her reality show on the beach in Miami are anything to go by - she's made a start.
Well, if you can call wearing a see-through, oversized shirt over a white one-piece covering up.
Somehow we doubt we'll be seeing the Duchess of Cambridge wearing anything similar anytime soon.
HUFFPOST UK CELEB ON FACEBOOK | FOLLOW US ON TWITTER
ENTER OUR COMPETITION TO WIN A CAMERA
> IN PICS: KIM'S STYLE EVOLUTION

Loading Slideshow
2007

Kim Kardashian walks the runway.

2008

Kim Kardashian wears wide leg trousers and black vest.

2008

Kim Kardashian wears a yellow top and shoes with jeans.

2008

Kim Kardashian wears a green print dress.

2008

TV Personnality Kim Kardashian wears a printer top over jeans.

2009

Kim Kardashian poses wearing a white waistcoat and trousers.

2009

Kim Kardashian wears denim shorts and a zebra print jacket.

2009

Kim Kardashian wearing a pink animal print dress.

2010

Kim Kardashian walks the runway at the Heart Truth Fall 2010 Fashion Show.

2010

Kim Kardashian and her mother Kris Jenner are seen in Italy. Kim wears a purple playsuit.

2010

Khloe and Kim Kardashian a basketball match. Kim wears an all black outfit with a fur sleeve.

2010

Kim Kardashian attends Heidi Klum's 2010 Halloween Party.

2010

Kim Kardashian promotes her new book <em>Kardashian Konfidential</em> wearing a statement necklace.

2011

Kardashian attends adds attitude to her dainty floral skirt with black jacket, tights and boots.

2011

Kim Kardashian wears a gold number with Louboutin heels at the Grammy Awards.

2011

Kim Kardashian wears a black fishtail gown.

2011

Kim Kardashian wearing wet-look leggings and cream jacket.

2011

Kim Kardashian wears a black playsuit with embellished shoulder detail.

2011

Kim Kardashian wears a waterfall cream jacket with thigh-high boots.

2011

Kim and Kourtney Kardashian in New York.

2011

Kim Kardashian attends the Vera Wang Spring 2012 fashion show wearing blue dress with red lips.

2011

Kim Kardashian wears a short gold dress to a birthday party.

2012

TV personality Kim Kardashian wears a silver dress.

2012

Kim Kardashian arrives at the annual White House Correspondents' Association dinner wearing a green dress with embellished shoulder detail.

2012

Kim Kardashian wears a figure hugging navy dress with thin straps.

2006

Kim Kardashian arrives at launch wearing a floral print dress.

2012

Kim Kardashian wears a floor-length yellow gown with thigh-high split.

2012