The Ryder Cup is not only one of the sport's great team events, but it is a biannual occasion when the sport risks harming its reputation due to the conduct of, often, the American team.
Europe have experienced some tough crowds Stateside, but most memorably and infamously at Brookline in 1999 and Valhalla in 2008. Care to remember them?
JUSTIN LEONARD'S CELEBRATION, 1999
'The Battle of Brookline' saw the Americans eventually prevail 14½ to 13½ in the closest ever scoreline for the matchplay tournament. The clincher came, eventually, via Justin Leonard when he levelled his singles match with this year's European captain José María Olazábal.The U.S. team, wearing that awful tribute dressing, raucously invaded the 17th green even though Olazábal had his putt to keep alive Europe's hopes. He missed, but the memory alone will fuel the Spaniard's determination to skipper Europe to their ninth win.

PAUL AZINGER, 2008
The USA captain appeared on stage at a nearby bar in the week of the Valhalla-hosted 37th Ryder Cup to urge American fans to boo Europeans. Lee Westwood, who had a supporter dressed as a would-be ghost in a bed sheet cry 'boo' at him, attributed the crowd's behaviour to Azinger whipping them into a frenzy.

BOO WEEKLEY, 2008
It was bad enough hearing Americans yell "BOOOOOOOOO" endlessly at Valhalla, even worse was Weekley's giddyup antics. Clownish and idiotic, the home galleries nevertheless lapped it up.

ANTHONY KIM, 2008
Rookie Kim wasn't even playing when he decided to body-check Ian Poulter on the 14th, while he was playing with Graeme McDowell against Jim Furyk and Kenny Perry in the afternoon fourballs. Kim denied he did it on purpose.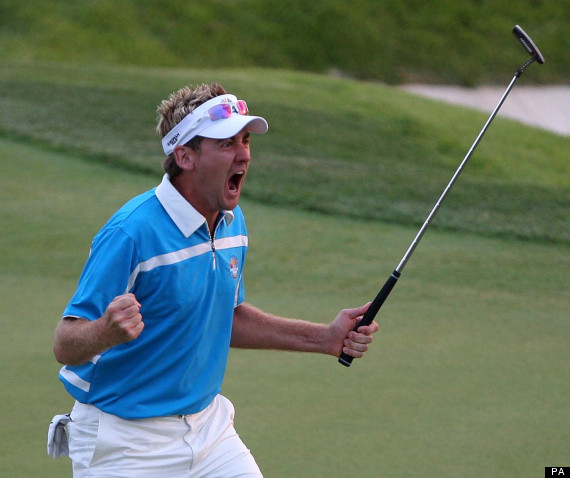 Poulter was pumped up in 2008 and earned six points for Europe