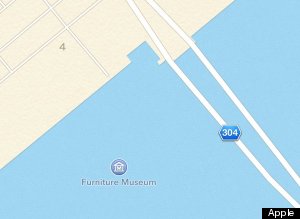 Apple CEO Tim Cook has published an extraordinary and unprecedented apology for his company's bungled release of its new mobile Maps application.
The company unveiled its Maps app last week as part of iOS 6, the latest operating system release for iPad, iPhone and iPod Touch.
Apple's Maps were timed to coincide with the release of the iPhone 5, and added turn-by-turn navigation and 3D 'flyovers' among other features.
But the release was widely derided for featuring inaccurate and missing data, as well as removing features like Street View which had been part of the previous Google-powered Maps app.
Landmarks were moved, whole towns ceased to exist and greengrocers that had been closed for 15 years suddenly sprung back into business. In the UK whole towns, including Stratford-Upon-Avon, were missing, and tube stations which had been closed for almost 20 years were including in transport listings. One tech editor even said Maps was the worst software update in Apple's history.
In his letter to Apple customers, published on Apple's website, Cook said he was "extremely sorry for the frustration this has caused our customers and we are doing everything we can to make Maps better".
He explained that Apple "had" to make its own Maps "from the ground up" to add new features, but had failed to do so effectively.
Incredibly, Cook recommended that users try alternative apps - even those made by Microsoft, Google and Nokia - while they work on improving their own version.
"While we're improving Maps, you can try alternatives by downloading map apps from the App Store like Bing, MapQuest and Waze, or use Google or Nokia maps by going to their websites and creating an icon on your home screen to their web app."
But Cook, who took over from Steve Jobs after his death last year, did note the app's successful launch and high number of users:
"There are already more than 100 million iOS devices using the new Apple Maps, with more and more joining us every day. In just over a week, iOS users with the new Maps have already searched for nearly half a billion locations. The more our customers use our Maps the better it will get and we greatly appreciate all of the feedback we have received from you."
"Everything we do at Apple is aimed at making our products the best in the world," Cook said. "We know that you expect that from us, and we will keep working non-stop until Maps lives up to the same incredibly high standard."
The move to advise users to switch to competing services is an extremely unusual - almost unprecedented - move by the CEO of a major tech company.
The apology recalls that written by Steve Jobs when Apple dropped the price of the original iPhone after just three months in 2007.
But coming just a week after the release of iOS 6, Cook's letter exhibits Apple's huge concern over the potential impact the Maps debacle has had on customers' image of the company - and possibly the sales of its new flagship device.
On Monday Apple announced it had sold 5 million iPhone 5's in just 48 hours - a new record, but one which represents slowing growth for the company which has become used to setting records since its rebirth under Jobs in the last decade.
Meanwhile Google has announced new updates to its own mapping service, including the addition of high-resolution satellite imagery, and 45-degree photos for 51 cities.
Have iOS Maps Been Fixed?
Apple was just as distraught as you when Woolworths shut down. So they brought it back. Has It Been Fixed?: Nope, you can still buy a Woolworth's toilet brush in Apple world.

Apple removed public transport search from its new Map app - but included Aldwych Station which has been closed since 1994. Has It Been Fixed?: Nope, Aldwych station's revival continues for another week.

Apple's new maps seem to not know that Shakespeare's birth place exists. Has It Been Fixed?: Sadly no - if you search for the town you'll find it - but it's not labelled.

Apple Maps list none of the roads, towns and other details which exist on the disputed islands. Has It Been Fixed?: No - still blank.

Apple turned the ancient spires and colleges of Cambridge into a wasteland with its recent Maps app - and put Downing College in the wrong place. Has It Been Fixed?: No - Cambridge is still a wasteland.

This greengrocers is listed on Apple's maps - but has been closed for 15 years. Has It Been Fixed?: Still there. Sorry, Apple.

This man's 35-acre city farm is named Airfield. It is not an airfield- but Apple has decided otherwise. Has It Been Fixed?: No - still an airfield. According to Apple.

The Apple store in Sydney is listed as being on the wrong side of the road than it really is. Has It Been Fixed?: No.

The marina of St. Katherine's Dock is now filled with cement, according to Apple. Has It Been Fixed?: Nope.

The town of Hagley was listed as being the town of Dudley - at least seven miles away. Has It Been Fixed?: Yes! Hagley now appears where it should.
To our customers,

At Apple, we strive to make world-class products that deliver the best experience possible to our customers. With the launch of our new Maps last week, we fell short on this commitment. We are extremely sorry for the frustration this has caused our customers and we are doing everything we can to make Maps better.

We launched Maps initially with the first version of iOS. As time progressed, we wanted to provide our customers with even better Maps including features such as turn-by-turn directions, voice integration, Flyover and vector-based maps. In order to do this, we had to create a new version of Maps from the ground up.

There are already more than 100 million iOS devices using the new Apple Maps, with more and more joining us every day. In just over a week, iOS users with the new Maps have already searched for nearly half a billion locations. The more our customers use our Maps the better it will get and we greatly appreciate all of the feedback we have received from you.

While we're improving Maps, you can try alternatives by downloading map apps from the App Store like Bing, MapQuest and Waze, or use Google or Nokia maps by going to their websites and creating an icon on your home screen to their web app.

Everything we do at Apple is aimed at making our products the best in the world. We know that you expect that from us, and we will keep working non-stop until Maps lives up to the same incredibly high standard.

Tim Cook
Apple's CEO