Scroll down for some of the best news, entertainment, culture and sports pictures from around the world, brought to you by The Huffington Post's Picture Editors Elliot Wagland, Matthew Tucker and Tahira Mirza:
28/09/2012 16:48 BST
TATTOO CONVENTION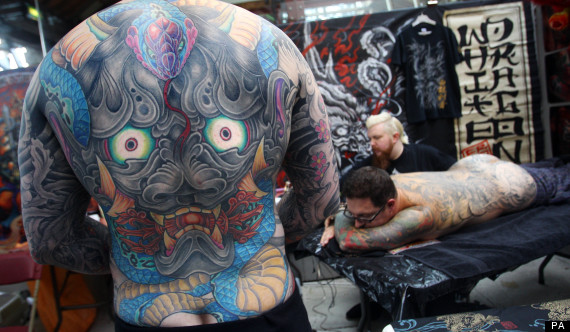 A tattooed man looks on as another man gets a tattoo done at the Eighth London International Tattoo Convention in Wapping, east London.
28/09/2012 16:41 BST
ON HIGHER GROUND

Camels move to higher grounds in flooded areas of Shahdadkot Sindh province Pakistan 28 September 2012. The death toll from torrential rains and subsequent flooding across Pakistan has risen to 372 disaster authorities said on 25 September.EPA/WAQAR HUSSEIN
28/09/2012 16:38 BST
WHO ARE YOU LOOKING AT?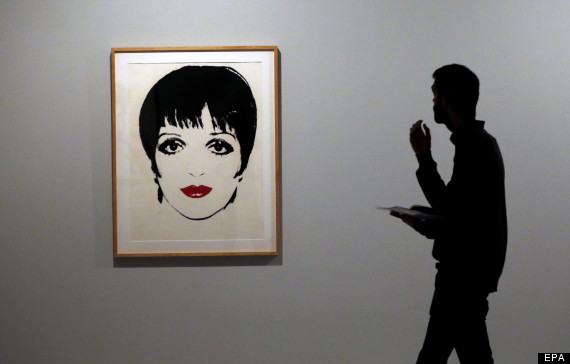 A visitor looks at the portrait Liza Minnelli by US artist Andy Warhol during the opening of the exhibition Andy Warhol Superstar at the Cultural Center in Valencia Spain 28 September 2012. The exhibition which shows a selection of 63 silk-screen prints of the artist will run until 05 January 2013. EPA/KAI FOERSTERLING
28/09/2012 16:35 BST
GONE FISHING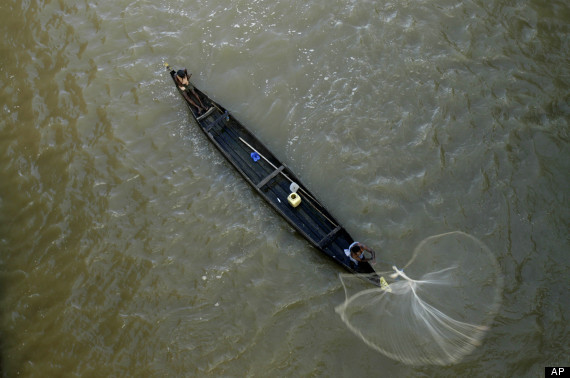 A fisherman throws a fishing net into the Kathajodi River, riding on a country boat on the outskirts of the eastern Indian city of Bhubaneswar, Friday, Sept. 28, 2012. (AP Photo/Biswaranjan Rout)
28/09/2012 16:33 BST
GANESHA GOD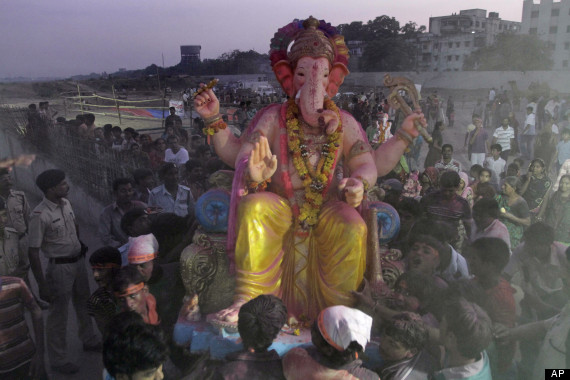 Indian devotees carry an idol of elephant-headed Hindu god Ganesha for immersion during Ganesh Chaturthi festival in Ahmadabad, India, Friday, Sept. 28, 2012. The 10-day festival, dedicated to the worship of Ganesha, ends Saturday. (AP Photo/Ajit Solanki)
28/09/2012 16:31 BST
FIST BUMP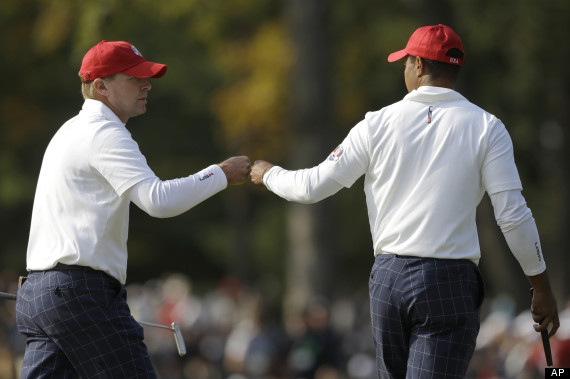 USA's Tiger Woods, right, and Steve Stricker react after saving par on the seventh hole during a foursomes match at the Ryder Cup PGA golf tournament Friday, Sept. 28, 2012, at the Medinah Country Club in Medinah, Ill. (AP Photo/Chris Carlson)
28/09/2012 15:49 BST
INDONESIA TERROR SUSPECT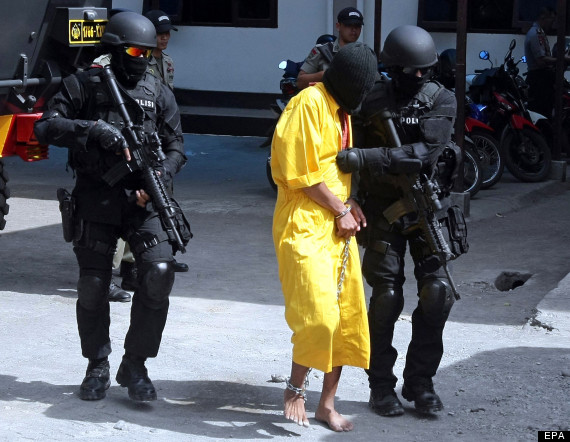 Indonesias special counter-terrorist unit Densus 88 escorted a terrorist suspect as they carry them to the capital in Jakarta Indonesia 28 September 2012. Indonesias special counter-terrorist unit Densus 88 have arrested 24 terror suspects in Jakarta Central Jav in Depok and Bogor West Java and in Ambon. Muslim-majority Indonesia suffered a series of deadly attacks over the last decade by terror network JI blamed for the Bali bombings in 2002 that left 202 dead. There has not been a major incident since 2009 but experts believe small cells are still ready to attack.
28/09/2012 15:44 BST
EXHUMATION OF PRINCE PAUL KARADJORDJEVIC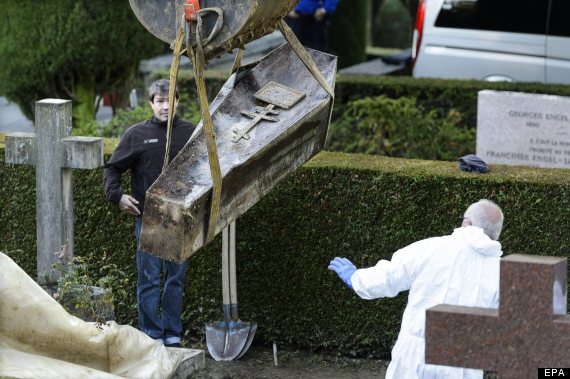 The coffin of Prince Paul Karadjordjevic (1893-1976) of Yugoslavia is exhumated during the exhumation of family coffins at the Bois-de-Vaux cemetery in Lausanne Switzerland 28 September 2012. The coffins of Princess Olga Karadjordjevic (1903-1997) Prince Paul Karadjordjevic (1893-1976) and Prince Nicholas Karadjordjevic (1928-1954) will be reburied in the family vault in Topola near Belgrade Serbia on 06 October. Prince Paul was Regent of the Kingdom of Yugoslavia during the minority of King Peter II. As acting Head of State he sanctioned the government s signature of the tripartite pact with the Axis powers during WWII.
28/09/2012 15:28 BST
I'M SO VEIN Iggy Pop performs live with his band The Stooges at Piazza della Repubblica Florence, Italy
28/09/2012 15:20 BST
ROYAL REGATTA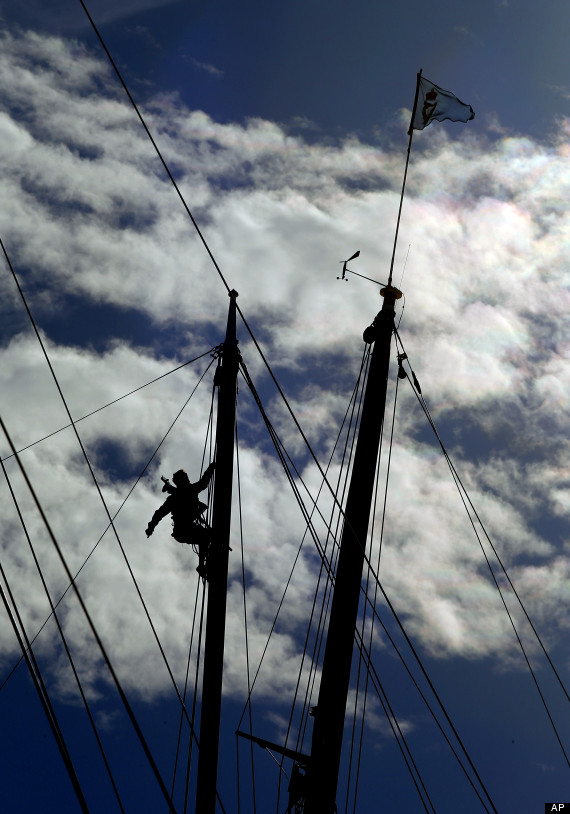 A crew member repairs the mast of his classic yacht, in the harbour of Cannes, southeastern France, during the 34th Royal Regatta of Cannes,Friday, Sept. 28, 2012. The Royal Regatta brings into the bay of Cannes more than 100 yachts among the finest in the world, ranging from 10 to 50 meters. (AP Photo/Lionel Cironneau)
SUBSCRIBE TO & FOLLOW UK DAILY BRIEF