Ed Miliband will appeal for voters to give him a chance to "rebuild Britain" on Saturday as he kicks off Labour's conference.
Miliband will seek to show he could govern the country more fairly by unveiling consumer-friendly policies including a beefed-up energy regulator.
Although Labour has been riding high in the opinion polls, the leader is under pressure to improve stubbornly poor personal ratings.
The Tories have highlighted the problem by releasing Populus research that found nearly two-thirds of Labour supporters would prefer Miliband's brother David in charge.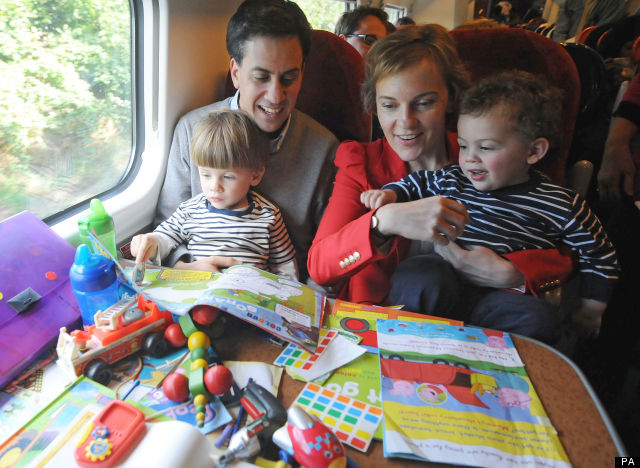 Miliband, his wife Justine and two children head up to Manchester on Saturday
Some 73% of those questioned agreed that Miliband did not have what it takes to be prime minister in tough economic times, and 72% that he was too weak for the job.
Miliband will subject himself to more than an hour of questioning from all-comers at a town-hall style event in Manchester this afternoon.
He will blame David Cameron and the coalition for destroying people's trust in politicians, but admit that the challenges are "severe".
"Whoever wins the next election will be faced with a huge deficit," Miliband is expected to say.
"If it is a Labour government we will have to make difficult decisions. We will not be able to reverse all the cuts.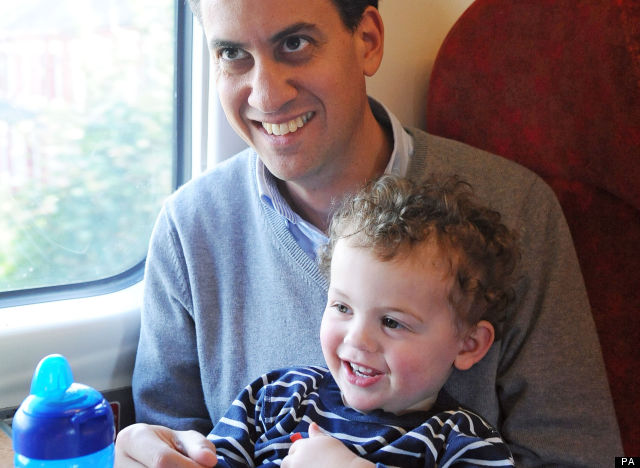 Miliband is preparing to address the Labour conference this weekend
"We will take decisions about priorities like putting jobs ahead of pay rises.
"But don't believe those who say that all politicians are the same. Because our decisions will be different.
"We would always put the interests of millions of working people ahead of tax cuts for millionaires."
Insisting Labour is "on your side", Miliband will pledge to replace Ofgem with an energy regulator that has tougher powers to ensure prices are fair.
He will also propose capping pension fund management fees, amid complaints that people saving for their retirement are being ripped off.
"You know what it's like when the envelope hits the doormat with the gas bill or the electricity bill," he will say.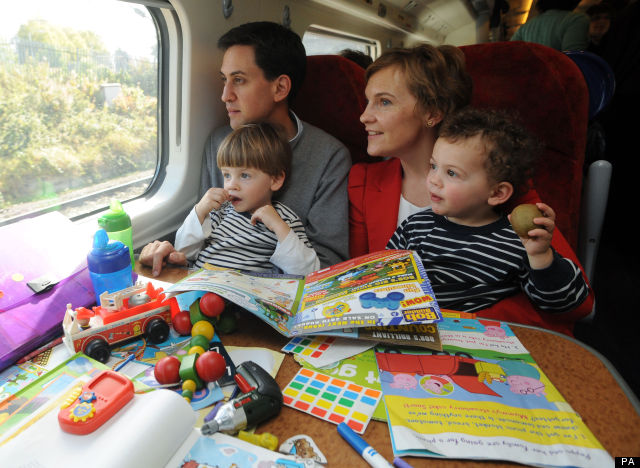 Miliband is expected to lay out the next few years of Labour plans
"The companies know you can't choose not to pay it. They are making us pay more than we should."
Accusing the coalition of failing to protect pensioners, Miliband will say: "Millions of working people are doing the right thing and putting money aside.
"The least they expect is for it to be there for them when they retire.
"But too often people are finding there is much less in the pot than they expected.
"What's been happening is while you were saving, the company which was supposed to be helping you, the company you trusted, has actually been taking thousands of pounds out in hidden fees and charges."
During the conference, shadow energy secretary Caroline Flint is also due formally to launch Labour plans to organise mass bargaining for energy bills.
The SwitchTogether scheme has been hailed as proof that Labour can be a "positive force for change" even out of government.
Shadow Work and Pensions Secretary Liam Byrne is announcing a Youth Employment Taskforce, a network designed to help more young people find work and monitor the impact of coalition policies.
The party is also creating a new "policy hub" to widen involvement. Activists and the general public will be able to post responses to party policy documents.
Meanwhile, deputy leader Harriet Harman has brought in former Countryfile presenter Miriam O'Reilly and former Strictly Come Dancing judge Arlene Phillips to look at the issue of discrimination against older women.
The TV celebrities - both famously dropped by the BBC - will help draw up proposals for preventing ageism and sexism and consider whether legislation is necessary.
Interviewed by The Independent, Mrs Harman said: "Of course there is age discrimination against men. But the combination of age and gender discrimination against women is of a different order of magnitude," she said.
The MP launched a scathing attack on new BBC director general George Entwistle for his "woeful" response to criticism that the corporation freezes out older women while keeping older men on its screens.
"Basically, he said 'We have got to reach out and find these (older) women'. In fact, they are right there under his nose but they are being got rid of," she insisted. "He was saying, 'We can't start chucking out the older men'.
"Miriam (O'Reilly) was told to devise her own programme and then she could be on it. He needs to wake up right away and realise that women will not tolerate that any more. We need action, not pitiful excuses. He is still stuck in the old mould that the older man, the experienced, wise sage, has to be matched (on screen) by the younger woman."
Responding to Miliband's comments on pension charges, Otto Thoresen, Director General, Association of British Insurers, said: "The vast majority of workers with pensions already pay less than 1% in charges. Those paying more have usually chosen a more expensive fund that aims to deliver higher returns. Denying anyone the choice of picking a more expensive specialist fund if they want to is anti-consumer. Pension charges have fallen over the last decade, and the average charge of 0.77% is well below the 1% cap Labour propose.
"To issue scaremongering comments about pension charges just two days before the launch of the auto enrolment reforms that the Labour Government introduced shows that Ed Miliband cares more about headlines than increasing public confidence in saving."