Scroll down for some of the best news, entertainment, culture and sports pictures from around the world, brought to you by The Huffington Post's Picture Editors Elliot Wagland, Matthew Tucker and Tahira Mirza:
01/10/2012 18:25 BST
THE STOP SMOKING BALL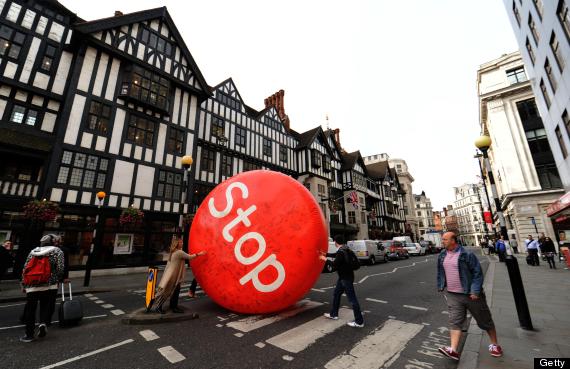 The Stoptober ball is rolled through the street, ahead of the Stoptober initiative, encouraging the nation's smokers to take part in the 28-day stop smoking challenge.
01/10/2012 18:23 BST
FRANCE AND SWEDEN: HOLLANDE AND REINFELDT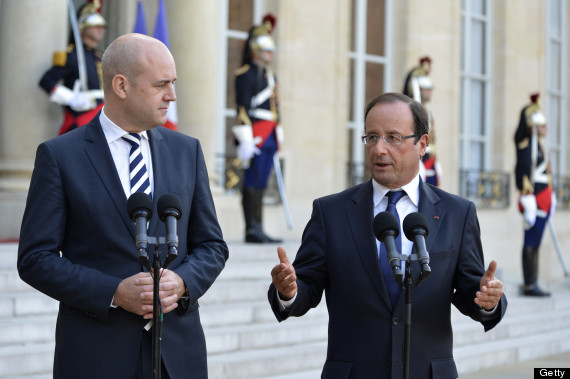 French President Francois Hollande (R) speaks to the press beside Swedish Prime Minister Fredrik Reinfeldt, in the courtyard of the Elysee palace in Paris after a meeting on October 1, 2012.
01/10/2012 18:20 BST
INDIA PAKISTAN BORDER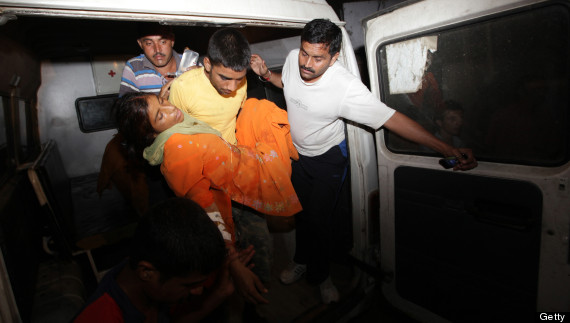 Indian Trishna Devi who was injured in a cross border firing in Chachwal village in Samba District near the India Pakistan border, about 70 Kms from Jammu, is carried into a government Medical College Hospital in Jammu on October 1, 2012.
01/10/2012 17:09 BST
A FOOTBALL FIRST...FOR CROATIA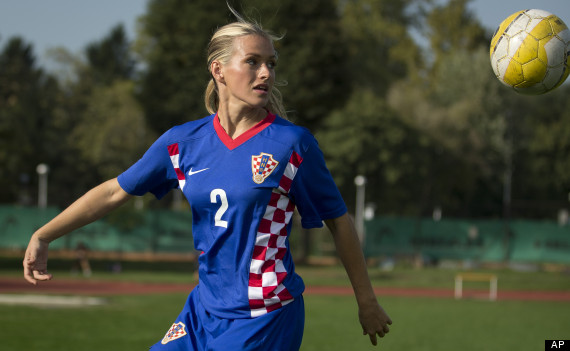 Tihana Nemcic, a soccer coach, practices with a ball in Zagreb, Croatia, Monday, Oct. 1, 2012. The 24-year-old Nemcic, a former Croatia women's international and part-time model, has taken over as coach of fifth division men's football club NK Vuktorija Vojakovac. (AP Photo/Darko Bandic)
01/10/2012 16:51 BST
DON'T LOOK DOWN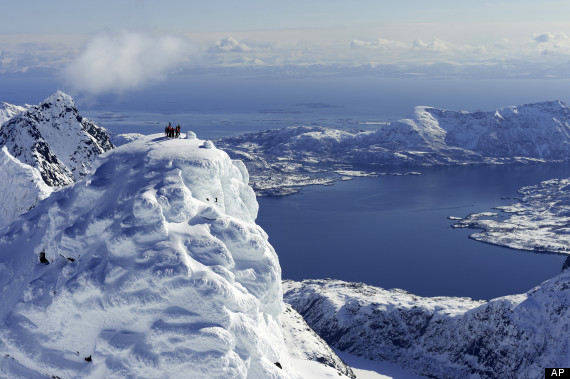 Danish freestyle skier Anja Bolbjerg and Norwegian colleagues stand on top of Mount Geitgaljen in the Lofoten region of Norway i. Bolbjerg skied down the mountain as part of Mammut's 'Biggest Peak Project in History' to celebrate the company's 150th anniversary as an alpine equipment provider. (Rainer Eder/Photopress for Mammut via AP Images)
01/10/2012 16:43 BST
USS MICHAEL MURPHY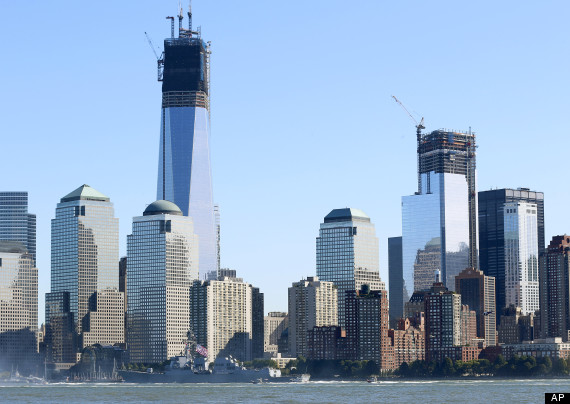 The USS Michael Murphy, a new Navy destroyer named after Navy SEAL killed in Afghanistan, chugs near the World Trade Center construction site along the Hudson River seen from Liberty State Park, Monday, Oct. 1, 2012, in Jersey City, N.J. Lt. Michael P. Murphy (SEAL) was awarded the Medal of Honor for his actions in combat as leader of a four-man reconnaissance team in Afghanistan. The guided-missile destroyer is designed to counter threats from the air and sea, and from aircraft, ships and submarines. (AP Photo/Julio Cortez)
01/10/2012 16:26 BST
BIEBER FEVER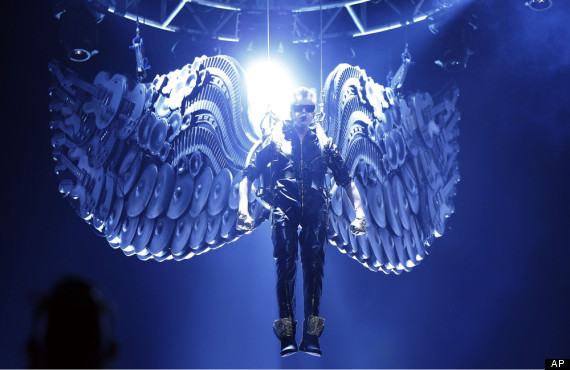 Canadian pop sensation Justin Bieber performs at the MGM Grand Garden Arena in Las Vegas.
01/10/2012 16:20 BST
'DADDY'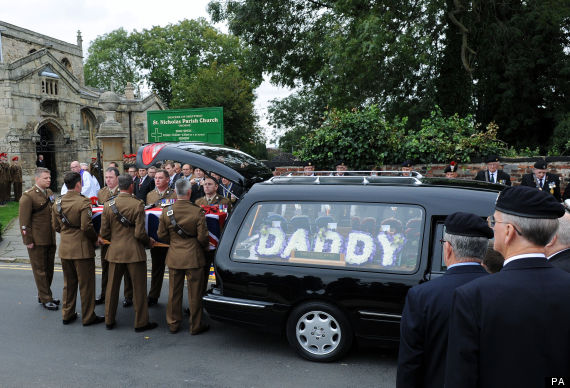 The hearse carrying the coffin of Sergeant Lee Paul Davidson, arrives at St Nicholas Church, Thorne, Doncaster ahead of his funeral service.
01/10/2012 16:11 BST
BALLINASLOE HORSE FAIR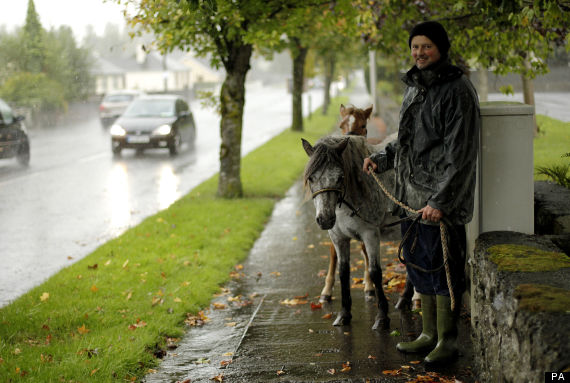 Cyril Ryan shelters from heavy rain with his ponies at the Ballinasloe Horse Fair in Co. Galway, Ireland.
01/10/2012 16:01 BST
SOMALI SOLDIERS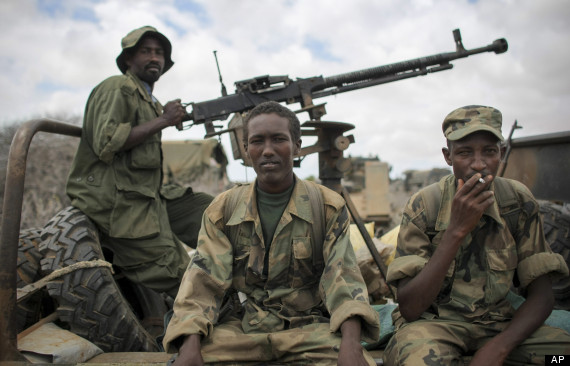 Soldiers of the Somali National Army (SNA) sit on their vehicle in Saa'moja, around 7km north-west of the port city of Kismayo, in southern Somalia, Monday, Oct. 1, 2012. Residents in the southern Somali port city of Kismayo say Somali troops have entered the city for the first time since Kenyan troops carried out an amphibious assault on the coastal port city last week, causing al-Shabab militants to flee. (AP Photo/AU-UN IST, Stuart Price)
SUBSCRIBE TO & FOLLOW UK DAILY BRIEF