The intricate detail of the Bayeux Tapestry has been painstakingly recreated in glass to form the centrepiece of an autumn exhibition.
The tapestry has been engraved onto a shallow crystal bowl with English description of each major event.
The original tapestry is nearly 70 metres (230 ft) long and depicts the events leading up to the Norman conquest of England by William the Conqueror against his opponent Harold, Earl of Wessex, and culminates in the Battle of Hastings.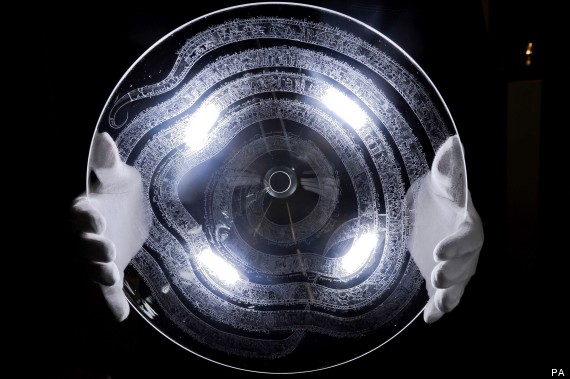 Frank Grenier's version of the Bayeux Tapestry

The Bayeux Tapestry dish will form part of the Reflections On Glass display at Glastonbury Abbey's autumn exhibition from 5 October.
The creation - which depicts the 58 panels of the tapestry - took Frank Grenier six months to engrave onto the bowl that was blown by Neil Wilkin.
Mr Grenier, who lives in North Cadbury, Somerset, has been engraving for 20 years after training at West Dean College and then as a student of Simon Whistler, son of the famous glass engraver Lawrence Whistler.
He said: "Through this variety of engraved glass pieces I hope to show some of the magic involved in the art form.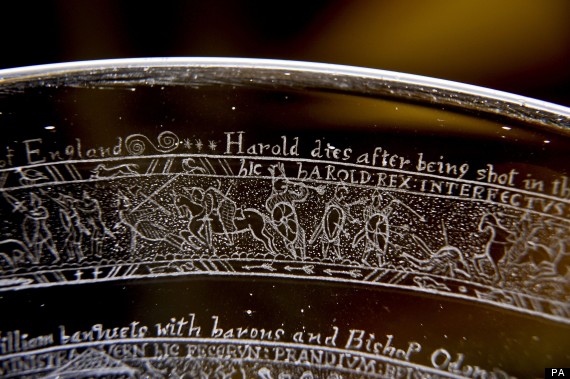 The bowl took six months to engrave

"Many subjects can be represented and they all depend on the effects of light on the engraved surface of fine crystal."
The exhibition at Glastonbury Abbey will showcase contemporary glass creations and will also feature work of artists Fabrizia Bazzo, Nina Gronw-Lewis, Rowan van der Holt and Sonja Klingler.
Mary Gryspeerdt, assistant curator, said: "The theme of glass has considerable relevance at Glastonbury Abbey, where window and vessel glass was being made as early as the seventh century and the medieval Abbey's stained glass windows were among the finest in Europe.
"Each of these artists brings a different perspective and approach to this highly adaptable medium."
The exhibition will run until 27 January.
Loading Slideshow
bowl

8666576-1

8666575-1

8666574-1

8666577-1

8666572-1