Birmingham has as many canals as Venice, we are told. It now also has as many Tories as a West Sussex market town.
Join us for occasional tit-bits from the Conservative Party conference in England's second city. What new word with Boris come up with to insult the prime minister? Where is Andrew Mitchell hiding? And will David Cameron have to give a two-hour long speech without notes while drinking a glass of water upside down to have any hope of outdoing Ed Miliband.
08/10/2012 17:51 BST
What's Aidan Burley up to now? Oh..
@ smashmore_ph :

.@Halfon4HarlowMP told @AidanBurleyMP he wd be speaking at Kurd genocide event later, "For or against?" chuckled the Cannock Chase MP #cpc12
08/10/2012 16:56 BST
Guess IDS isn't that enthralling...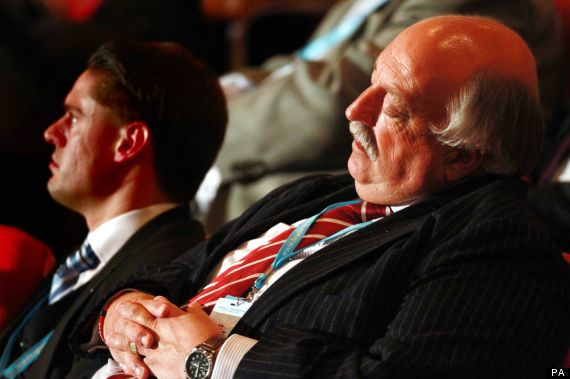 Delegates listen in as Works and Pensions Secretary Iain Duncan Smith addresses today's session of the Conservative Conference at Birmingham's International Convention Centre
08/10/2012 15:59 BST
Fancy a kickabout?
07/10/2012 15:27 BST
David Davis tells Tories to be 'civil and have good manners' - paging Andrew Mitchell
David Davis has just told a packed fringe meeting hosted by ConservativeHome that the Tories need to remember "civility and good manners".
The former leadership candidate and shadow home secretary said the party should think of William Wilberforce, the Tory MP who campaigned against slavery in the 19th Century, and recall his "commitment to civility". Davis said, over the noise of loud anti-Tory protests at the gates, that having lived through John Mayor's government it was the uncivil behaviour that in the end "destroyed" the party.
David was explicitly talking about how the Tories behaved towards the Lib Dems. But he should perhaps also deliver the same message to Andrew Mitchell - if he can find him.
- Ned Simons
07/10/2012 14:58 BST
Hang on, is Baroness Warsi still the chairman of the Conservative Party?
HuffPost has arrived in Birmingham and having found a suitable spot to charge our laptops (next to a fridge full of ice cream), we are just in time to hear the new party chairman Grant Shapps open the conference.
Shapps has told Tory activists not to be "shy" about taking their message to voters, adding: "The election starts right here."
Unfortunately the conference handbook appears to have been printed before the recent reshuffle as it lists Baroness Warsi as the party chairman. Awkward. Grant, get the Tipp-Ex out quick.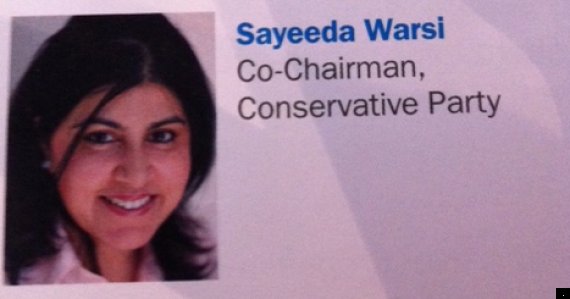 SUBSCRIBE TO & FOLLOW UK POLITICS