Police in Athens have fired teargas and stun grenades at protesters, some of whom were dressed in Nazi uniforms, demonstrating against a visit by German Chancellor, Angela Merkel.
Merkel is in the Greek capital for a brief talk with Greek Prime Minister Antonis Samaras and President Karolos Papoulias to discuss Greece's faltering economy.
The protests, which featured a heavy Nazi theme, turned violent when demonstrators attempted to break down a barrier blocking the route to the Greek Parliament.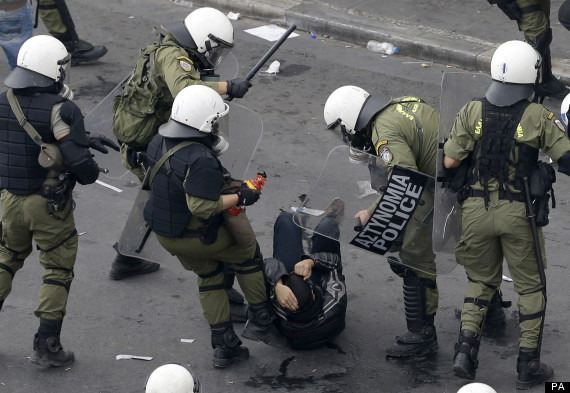 Greeks are angry at the countries austerity measures
Many Greeks see Germany as being responsible for the crippling austerity measures that the country is having to endure in order to secure european bailout funds.
It is feared that a collapse of the Greek economy would quickly spread around the Eurozone causing financial armageddon. Some protestors were dressed in Nazi uniform
The Greek economy is in the direst of straits. It has shrunk by 23% in the past five years and debt stands at 346bn euros, or 179% of GDP. By comparison, the UK's is 66% of GDP.

Mina Botsi, 50, an unemployed mother of two, told news agency Reuters: "Merkel should go home. Why is she here? She's hurt us enough. The only thing she wants is more and more austerity. We can't take it anymore."
SUBSCRIBE AND FOLLOW
Get top stories and blog posts emailed to me each day. Newsletters may offer personalized content or advertisements.
Learn more