Runaway teacher Jeremy Forrest has appeared in court on Thursday charged with the abduction of a 15-year-old girl who cannot be named for legal reasons.
The 30-year-old married amateur musician, from Ringmer, near Lewes, East Sussex, went on the run with the schoolgirl, on September 20.
The maths teacher was extradited to the UK yesterday from France, where the pair were found eight days after their disappearance. Jeremy Forrest as seen in a prison van as he arrives at Eastbourne Magistrates Court in Eastbourne
He appeared at Eastbourne Magistrates' Court today charged with child abduction.
The pair's disappearance sparked a Europe-wide search and prompted public appeals from both sets of families for their safe return.
They were eventually found in Bordeaux, eight days after disappearing.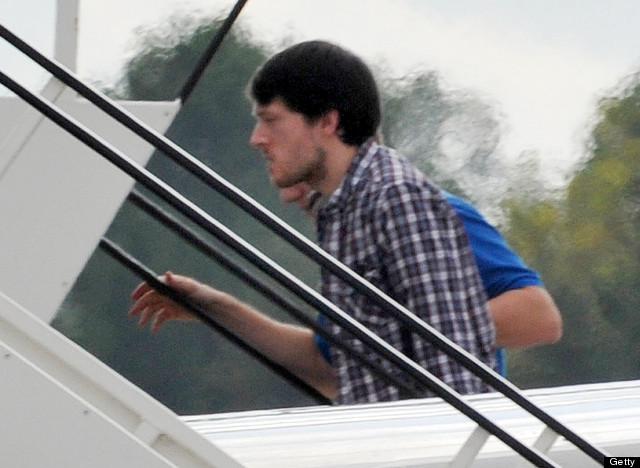 Forrest boarding a plane in France on Wednesday, he is to appear in court on Thursday
Today Scots-born amateur musician Forrest, of Chislehurst Road, Petts Wood, south east London, spoke to confirm his name, date of birth and address in court.
Dressed in a grey jumper and with black hair swept to one side, he was brought from the cells in handcuffs by two dock officers.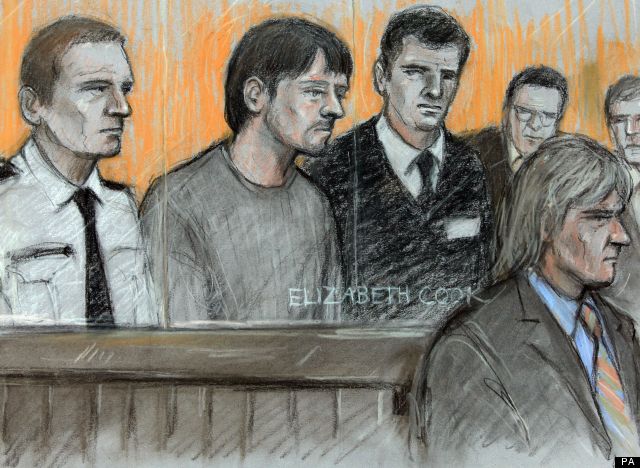 Jeremy Forrest appears in court on Thursday
He sat and listened intently as no bail application was made by his solicitor, Phil Smith.
Forrest was remanded in to custody by magistrate Nick Letherby and will reappear in the same court via video-link on October 17.
Comments are closed for legal reasons
Loading Slideshow
Jeremy Forrest as seen in a prison van as he arrives at Eastbourne Magistrates Court in Eastbourne, East Sussex, to face charges of child abduction. Picture date: Thursday October 11, 2012. See PA story COURTS Teenager. Photo credit should read: Gareth Fuller/PA Wire

FRANCE-BRITAIN-MISSING-TEACHER-EXTRADITE

Jeremy Forrest, the British teacher who ran away with a 15-year-old pupil, is escorted in a plane to Britain on October 10, 2012 after being extradited from France. A French court ruled last week that Forrest, 30, should be returned to Britain to face a charge of kidnapping a minor related to his disappearance of a school girl. The couple left Britain on September 20, triggering a Europe-wide hunt that resulted in them being picked up by police in Bordeaux in southwestern France on September 28. AFP PHOTO / PIERRE ANDRIEU (Photo credit should read PIERRE ANDRIEU/AFP/GettyImages)

FRANCE-BRITAIN-MISSING-TEACHER-EXTRADITE

Jeremy Forrest (R), the British teacher who ran away with a 15-year-old pupil, is escorted in a plane to Britain on October 10, 2012 after being extradited from France. A French court ruled last week that Forrest, 30, should be returned to Britain to face a charge of kidnapping a minor related to his disappearance of a school girl. The couple left Britain on September 20, triggering a Europe-wide hunt that resulted in them being picked up by police in Bordeaux in southwestern France on September 28. AFP PHOTO / PIERRE ANDRIEU (Photo credit should read PIERRE ANDRIEU/AFP/GettyImages)

FRANCE-BRITAIN-MISSING-TEACHER-EXTRADITE

Jeremy Forrest (R), the British teacher who ran away with a 15-year-old pupil, is escorted in a plane to Britain on October 10, 2012 after being extradited from France. A French court ruled last week that Forrest, 30, should be returned to Britain to face a charge of kidnapping a minor related to his disappearance of a school girl. The couple left Britain on September 20, triggering a Europe-wide hunt that resulted in them being picked up by police in Bordeaux in southwestern France on September 28. AFP PHOTO / PIERRE ANDRIEU (Photo credit should read PIERRE ANDRIEU/AFP/GettyImages)

Jeremy Forrest

Jeremy Forrest

Jeremy Forrest

Jeremy Forrest

Jeremy Forrest

Jeremy Forrest

Jeremy Forrest

Jeremy Forrest

Jeremy Forrest

Jeremy Forrest

BRITAIN-FRANCE-MISSING

British maths teacher Jeremy Forrest is escorted by a policeman on October 2, 2012 as he arrives for a hearing at the Bordeaux court house, south-western France. Forrest, 30, was arrested and placed in custody, British schoolgirl and her maths teacher, who triggered a Europe-wide hunt after running away together, have been found in Bordeaux, France AFP PHOTO / PIERRE ANDRIEU (Photo credit should read PIERRE ANDRIEU/AFP/GettyImages)

BRITAIN-FRANCE-MISSING

British maths teacher Jeremy Forrest is escorted by a policeman on October 2, 2012 as he arrives for a hearing at the Bordeaux court house, south-western France. Forrest, 30, was arrested and placed in custody, British schoolgirl and her maths teacher, who triggered a Europe-wide hunt after running away together, have been found in Bordeaux, France AFP PHOTO / PIERRE ANDRIEU (Photo credit should read PIERRE ANDRIEU/AFP/GettyImages)

BRITAIN-FRANCE-MISSING

British maths teacher Jeremy Forrest is escorted by a policeman on October 2, 2012 as he arrives for a hearing at the Bordeaux court house, south-western France. Forrest, 30, was arrested and placed in custody, British schoolgirl and her maths teacher, who triggered a Europe-wide hunt after running away together, have been found in Bordeaux, France AFP PHOTO / PIERRE ANDRIEU (Photo credit should read PIERRE ANDRIEU/AFP/GettyImages)

BRITAIN-FRANCE-MISSING

British maths teacher Jeremy Forrest (R) is escorted by a policeman on October 2, 2012 as he arrives for a hearing at the Bordeaux court house, south-western France. Forrest, 30, was arrested and placed in custody, British schoolgirl and her maths teacher, who triggered a Europe-wide hunt after running away together, have been found in Bordeaux, France AFP PHOTO / PIERRE ANDRIEU (Photo credit should read PIERRE ANDRIEU/AFP/GettyImages)

BRITAIN-FRANCE-MISSING

British maths teacher Jeremy Forrest (R) is escorted by a policeman on October 2, 2012 as he arrives for a hearing at the Bordeaux court house, south-western France. Forrest, 30, was arrested and placed in custody, British schoolgirl and her maths teacher, who triggered a Europe-wide hunt after running away together, have been found in Bordeaux, France AFP PHOTO / PIERRE ANDRIEU (Photo credit should read PIERRE ANDRIEU/AFP/GettyImages)