Huffington Post Picture Desk Live: Scroll down for the best news, entertainment, culture and sports pictures of the day, brought to you by The Huffington Post's Picture Editors Elliot Wagland, Matthew Tucker and Tahira Mirza.
Follow us on Twitter for links to top pics featured on The Huffington Post UK.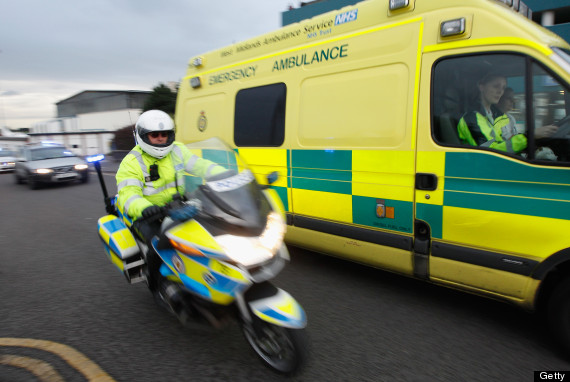 Police escort Pakistani fourteen-year-old Malala Yousafza, who was shot in the head by the Taliban for campaigning for the right to education, leaves Birmingham Airport for transfer to the Queen Elizabeth Hospital on October 15, 2012 in Birmingham, England.
Loading Slideshow
Malala family visit

Ziauddin Yousufzai accompanied by his 12 year old son Khushal (left) talks to the media after visiting his daughter Malala at the Queen Elizabeth Hospital, Birmingham today.

Malala family visit

Ziauddin Yousufzai talks to the media after visiting his daughter Malala at the Queen Elizabeth Hospital, Birmingham today.

Malala family visit

Ziauddin Yousufzai accompanied by his 12 year old son Khushal (left) talks to the media after visiting his daughter Malala at the Queen Elizabeth Hospital, Birmingham today.

Malala family visit

Ziauddin Yousufzai (left) talks with Dr David Rosser, Medical Director after visiting his daughter Malala at the Queen Elizabeth Hospital, Birmingham today.

Malala family visit

Ziauddin Yousufzai accompanied by his 12 year old son Khushal with Medical Director Dr David Rosser talks to the media after visiting his daughter Malala at the Queen Elizabeth Hospital, Birmingham today.

Malala family visit

Ziauddin Yousufzai talks to the media after visiting his daughter Malala at the Queen Elizabeth Hospital, Birmingham today.

Malala family visit

Ziauddin Yousufzai accompanied by his 12 year old son Khushal (left) talks to the media after visiting his daughter Malala at the Queen Elizabeth Hospital, Birmingham today.

Malala Yousafzai, who was shot by a Taliban gunman in Pakistan, in her hospital bed at the Queen Elizabeth Hospital, Birmingham.

Malala Yousafzai, who was shot by a Taliban gunman in Pakistan, in her hospital bed at the Queen Elizabeth Hospital, Birmingham.

Malala Yousafzai, who was shot by a Taliban gunman in Pakistan, in her hospital bed at the Queen Elizabeth Hospital, Birmingham.

Malala Yousafzai, who was shot by a Taliban gunman in Pakistan, in her hospital bed at the Queen Elizabeth Hospital, Birmingham.

Shot schoolgirl treated in the UK

Security patrol the Queen Elizabeth Hospital, Birmingham, where Malala Yousafzai, who was shot by a Taliban gunman in Pakistan is being treated.

Shot schoolgirl treated in the UK

Dr Dave Rosser, Medical Director, University Hospitals Birmingham NHS Foundation Trust, speaks to the media during a briefing at the Queen Elizabeth Hospital, Birmingham, to update on the condition of Malala Yousafzai, who was shot by a Taliban gunman in Pakistan.

Shot schoolgirl treated in the UK

Dr Dave Rosser, Medical Director, University Hospitals Birmingham NHS Foundation Trust, speaks to the media during a briefing at the Queen Elizabeth Hospital, Birmingham, to update on the condition of Malala Yousafzai, who was shot by a Taliban gunman in Pakistan.

Shot schoolgirl treated in the UK

Dr Dave Rosser, Medical Director, University Hospitals Birmingham NHS Foundation Trust, speaks to the media during a briefing at the Queen Elizabeth Hospital, Birmingham, to update on the condition of Malala Yousafzai, who was shot by a Taliban gunman in Pakistan.

Shot schoolgirl treated in the UK

Dr Dave Rosser, Medical Director, University Hospitals Birmingham NHS Foundation Trust, speaks to the media during a briefing at the Queen Elizabeth Hospital, Birmingham, to update on the condition of Malala Yousafzai, who was shot by a Taliban gunman in Pakistan.

Shot schoolgirl treated in the UK

Malala Yousafzai, 14, the Pakistani schoolgirl shot in the head by Taliban gunmen arrives in the UK at Birmingham Airport.

Shot schoolgirl treated in the UK

Malala Yousafzai, 14, the Pakistani schoolgirl shot in the head by Taliban gunmen arrives in the UK at Birmingham Airport.

Shot schoolgirl treated in the UK

Campaigners gather for a vigil for 14 year old schoolgirl Malala Yousafzai, in Birmingham's Victoria Square today.

Shot schoolgirl treated in the UK

Campaigners including 9 month old Mnaha Zoya gather for a vigil for 14 year old schoolgirl Malala Yousafzai, in Birmingham's Victoria Square today.

Shot schoolgirl treated in the UK

Campaigners gather for a vigil for 14 year old schoolgirl Malala Yousafzai, in Birmingham's Victoria Square today.

Shot schoolgirl treated in the UK

Campaigners gather for a vigil for 14 year old schoolgirl Malala Yousafzai, in Birmingham's Victoria Square today.

An ambulance believed carrying 14-year-old Malala Yusufza who was attacked by the Taliban for advocating women s education rights as arriving to the Queen Elizabeth Hospital for treatment on her injuries in Birmingham central England 15 October 2012. Reports state that she was travelling from Islamabad with her parents and medical staff after being shot in the head and neck in a Taliban attack. The British government confirmed that Malala will be cared for at the Queen Elizabeth Hospital in Birmingham which has a specialist trauma unit and is a key centre for treating soldiers injured in conflict. EPA/ANDREW FOX

A police officer stands guard at the entrance of Emergency Department of the Queen Elizabeth Hospital in Birmingham where 14-year-old Malala Yusufza who was attacked by the Taliban for advocating women s education rights arrived for treatment on her injuries in Birmingham central England 15 October 2012. Reports state that she was travelling from Islamabad with her parents and medical staff after being shot in the head and neck in a Taliban attack. The British government confirmed that Malala will be cared for at the Queen Elizabeth Hospital in Birmingham which has a specialist trauma unit and is a key centre for treating soldiers injured in conflict. EPA/ANDREW FOX

An ambulance believed carrying 14-year-old Malala Yusufza who was attacked by the Taliban for advocating women s education rights arrive with police escort to the Queen Elizabeth Hospital for treatment on her injuries in Birmingham central England 15 October 2012. Reports state that she was travelling from Islamabad with her parents and medical staff after being shot in the head and neck in a Taliban attack. The British government confirmed that Malala will be cared for at the Queen Elizabeth Hospital in Birmingham which has a specialist trauma unit and is a key centre for treating soldiers injured in conflict. EPA/ANDREW FOX

An undated handout photograph released by University Hospitals Birmingham on 15 October 2012 showing Dave Rosser Executive Medical Director at Birmingham's Queen Elizabeth Hospital. Reports state on 15 October 2012 that Dave Rosser medical director at Birmingham's Queen Elizabeth Hospital said that Malala Yusufzai The Pakistani schoolgirl shot by Taliban gunmen has a chance of making a good recovery. Malala Yusufza who was attacked by the Taliban for advocating women s education rights was flown from Islamabad with her parents and medical staff to be cared for at the Queen Elizabeth Hospital in Birmingham which has a specialist trauma unit and is a key centre for treating soldiers injured in conflict EPA

Shot schoolgirl treated in the UK

Malala Yousafzai, 14, the Pakistani schoolgirl shot in the head by Taliban gunmen arrives in the UK at Birmingham Airport.

Shot schoolgirl treated in the UK

Malala Yousafzai, 14, the Pakistani schoolgirl shot in the head by Taliban gunmen arrives in the UK at Birmingham Airport.

Shot schoolgirl treated in the UK

Malala Yousafzai, 14, the Pakistani schoolgirl shot in the head by Taliban gunmen arrives in the UK at Birmingham Airport.

Shot schoolgirl treated in the UK

Malala Yousafzai, 14, the Pakistani schoolgirl shot in the head by Taliban gunmen arrives in the UK at Birmingham Airport.

Shot schoolgirl treated in the UK

The plane containing Malala Yousafzai, 14, the Pakistani schoolgirl shot in the head by Taliban gunmen arrives in the UK at Birmingham Airport.

Shot schoolgirl treated in the UK

The plane containing Malala Yousafzai, 14, the Pakistani schoolgirl shot in the head by Taliban gunmen arrives in the UK at Birmingham Airport.

Shot schoolgirl treated in the UK

Malala Yousafzai, 14, the Pakistani schoolgirl shot in the head by Taliban gunmen arrives in the UK at Birmingham Airport.

Shot schoolgirl treated in the UK

The plane containing Malala Yousafzai, 14, the Pakistani schoolgirl shot in the head by Taliban gunmen arrives in the UK at Birmingham Airport.

Shot schoolgirl treated in the UK

Malala Yousafzai, 14, the Pakistani schoolgirl shot in the head by Taliban gunmen arrives in the UK at Birmingham Airport.

Shot schoolgirl treated in the UK

Malala Yousafzai, 14, the Pakistani schoolgirl shot in the head by Taliban gunmen arrives in the UK at Birmingham Airport.

Shot schoolgirl treated in the UK

Malala Yousafzai, 14, the Pakistani schoolgirl shot in the head by Taliban gunmen arrives in the UK at Birmingham Airport.

PAKISTAN-UNREST-NORTHWEST-CHILDREN

Pakistani demonstrators shout slogans during a protest against the assassination attempt on child activist Malala Yousafzai, in Lahore on October 11, 2012. The Pakistani child activist that shot in the head by the Taliban was airlifted to the country's top military hospital for specialist treatment, is still in a critical condition, officials said. The shooting of 14-year-old Malala Yousafzai on a school bus in the Swat valley has been denounced worldwide and by the Pakistani authorities, who have offered a reward of more than USD 100,000 for the capture of her attackers. AFP PHOTO / Arif Ali

PAKISTAN-UNREST-NORTHWEST-CHILDREN

A Pakistani veiled activist of an Islamic Sunni Tehreek party carries a placard during a protest against the assassination attempt by Taliban on child activist Malala Yousafzai, in Islamabad on October 14, 2012. A Pakistani schoolgirl shot in the head by the Taliban in retaliation for her campaign for the right to education, is making 'slow and steady progress' in her recovery, the military said. AFP PHOTO / AAMIR QURESHI

PAKISTAN-UNREST-NORTHWEST-CHILDREN

Pakistani leaders of the Muttahida Quami Movement (MQM) sit under a photograph of child activist Malala Yousafzai during a protest procession against the assassination attempt by Taliban, in Karachi on October 14, 2012. A Pakistani schoolgirl Malala Yousafzai shot in the head by the Taliban because she campaigned for the right to education is making 'slow and steady progress' in her recovery, the military said. AFP PHOTO / RIZWAN TABASSUM

PAKISTAN-UNREST-NORTHWEST-CHILDREN

Pakistani demonstrators shout slogans during a protest against the assassination attempt on child activist Malala Yousafzai, in Lahore on October 11, 2012. The Pakistani child activist that shot in the head by the Taliban was airlifted to the country's top military hospital for specialist treatment, is still in a critical condition, officials said. The shooting of 14-year-old Malala Yousafzai on a school bus in the Swat valley has been denounced worldwide and by the Pakistani authorities, who have offered a reward of more than USD 100,000 for the capture of her attackers. AFP PHOTO / Arif Ali

PAKISTAN-UNREST-NORTHWEST-CHILDREN

Pakistani school girls pray for the early recovery of child activist Malala Yousafzai, who was shot in the head in a Taliban assassination attempt, at their school in Peshawar on October 12, 2012. Pakistanis at mosques across the country prayed Friday for the recovery of a schoolgirl shot in the head by the Taliban as doctors said the next two days were critical. AFP PHOTO / A. MAJEED

PAKISTAN-UNREST-NORTHWEST-CHILDREN

Pakistani civil society activists and journalists carry candles and photographs of gunshot victim Malala Yousafzai during a protest against the assassination attempt on Malala Yousafzai, in Islamabad on October 11, 2012. The Pakistani child activist that shot in the head by the Taliban was airlifted to the country's top military hospital for specialist treatment, is still in a critical condition, officials said. The shooting of 14-year-old Malala Yousafzai on a school bus in the Swat valley has been denounced worldwide and by the Pakistani authorities, who have offered a reward of more than USD 100,000 for the capture of her attackers. AFP PHOTO / Aamir QURESHI

PAKISTAN-UNREST-NORTHWEST-CHILDREN

Pakistani demonstrators carry photographs of gunshot victim and child activist Malala Yousafzai during a protest against her assassination attempt, in Karachi on October 11, 2012. The Pakistani child activist that shot in the head by the Taliban was airlifted to the country's top military hospital for specialist treatment, is still in a critical condition, officials said. The shooting of 14-year-old Malala Yousafzai on a school bus in the Swat valley has been denounced worldwide and by the Pakistani authorities, who have offered a reward of more than USD 100,000 for the capture of her attackers. AFP PHOTO / ASIF HASSAN

PAKISTAN-UNREST-NORTHWEST-CHILDREN-SWAT

Pakistani students pray for the early recovery of child activist Malala Yousafzai at a school in Mingora on October 11, 2012. The horrific attack on a Pakistani child rights activist, shot in the head by the Taliban in front of terrified schoolgirls, has raised fears that targeted attacks are on the rise in the Swat valley. Malala Yousafzai, 14, who won international recognition for a blog about the horrors of life under the Taliban and a campaign for the right to an education, is the highest-profile target of militants in Swat for more than three years. AFP PHOTO / MOHAMMAD REHMAN

PAKISTAN-UNREST-NORTHWEST-CHILDREN

Pakistani Prime Minister Raja Pervez Ashraf (L) briefs the media after visiting child activist Malala Yousafzai, who was shot in the head in a Taliban assassination attempt, in Rawalpindi on October 12, 2012. The next 36 to 48 hours will be critical for a Pakistani schoolgirl shot in the head by the Taliban, the military said on October 12, calling on the nation to pray for her recovery. AFP PHOTO / AAMIR QURESHI

PAKISTAN-UNREST-NORTHWEST-CHILDREN

Pakistani Prime Minister Raja Pervez Ashraf (C) arrives at a military hospital to visit child activist Malala Yousafzai, who was shot in the head in a Taliban assassination attempt, in Rawalpindi on October 12, 2012. The next 36 to 48 hours will be critical for a Pakistani schoolgirl shot in the head by the Taliban, the military said on October 12, calling on the nation to pray for her recovery. AFP PHOTO / AAMIR QURESHI

PAKISTAN-UNREST-NORTHWEST-CHILDREN

Pakistani Muslims pray for the early recovery of child activist Malala Yousafzai, who was shot in the head in a Taliban assassination attempt, during a Frdiay prayers in Karachi on October 12, 2012. Pakistanis at mosques across the country prayed Friday for the recovery of a schoolgirl shot in the head by the Taliban as doctors said the next two days were critical. AFP PHOTO / ASIF HASSAN

PAKISTAN-UNREST-NORTHWEST-CHILDREN

A Pakistani Muslim prays for the recovery of child activist Malala Yousafzai, who was shot in the head in a Taliban assassination attempt, during a Frdiay prayers in Karachi on October 12, 2012. Pakistanis at mosques across the country prayed Friday for the recovery of a schoolgirl shot in the head by the Taliban as doctors said the next two days were critical. AFP PHOTO / ASIF HASSAN

PAKISTAN-UNREST-NORTHWEST-CHILDREN

Pakistani Muslims pray for the early recovery of child activist Malala Yousafzai, who was shot in the head in a Taliban assassination attempt, during a Frdiay prayers in Karachi on October 12, 2012. Pakistanis at mosques across the country prayed Friday for the recovery of a schoolgirl shot in the head by the Taliban as doctors said the next two days were critical. AFP PHOTO / ASIF HASSAN

PAKISTAN-UNREST-NORTHWEST-CHILDREN

Pakistani school girls pray for the early recovery of child activist Malala Yousafzai, who was shot in the head in a Taliban assassination attempt, at their school in Peshawar on October 12, 2012. Pakistanis at mosques across the country prayed Friday for the recovery of a schoolgirl shot in the head by the Taliban as doctors said the next two days were critical. AFP PHOTO / A. MAJEED

PAKISTAN-UNREST-NORTHWEST-CHILDREN

Pakistani hospital workers carry injured Malala Yousafzai, 14, on a stretcher at a hospital following an attack by gunmen in Mingora on October 9, 2012. A teenage Pakistani children's rights activist was shot in the head in an assassination attempt as she boarded a school bus in the former Taliban stronghold of Swat, officials said. AFP PHOTO / STR (Photo credit should read STR/AFP/GettyImages)