16/10/2012 22:42 BST
THAT'S IT...
...all that remains is our one-to-one with the winner, which will be taking place shortly. But to hear about that you'll have to check back in tomorrow...
In the end there was something inevitable about Mantel's win, despite our prediction that it would be Self's year. She'd been the bookies favourite on and off for months, and no one doubted that Bring Up The Bodies was a formidable achievement, easily on par with her 2009 winner Wolf Hall. When he name was announced there were no groans, but no gasps either. A solid win for a solid piece of work.
As ever, there is a feeling of sadness for the shortlisted novels that didn't make it, but nevertheless their fortunes will be transformed forever by having association with Britain's premier literary price - and rightly so.
It may not have been the winner you were hoping for, but no one can doubt the strength of a shortlist that saw a real return to form for the Booker.
Congratulation to everyone involved - we're off for a glass of bubbly.
16/10/2012 22:18 BST
ON HYPE
Mantel: "It's not the Olympics, it's not a competition, you're only as good as your last paragraph - and I haven't even written one of those today."
16/10/2012 22:12 BST
PRIZE MONEY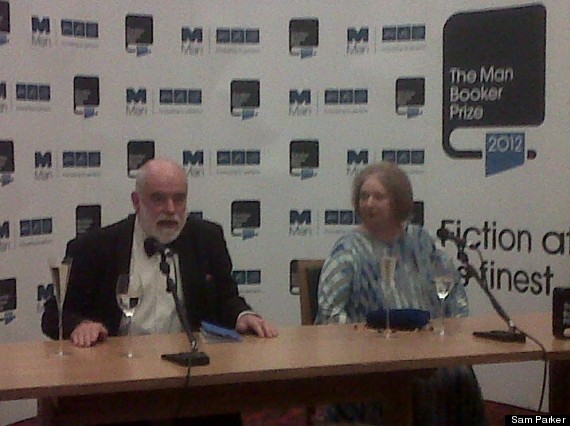 "3 years ago I said I'd spend it on sex and drugs and rock and roll... this year, probably rehab!" jokes Hilary Mantel.
16/10/2012 22:10 BST
PRESS CONFERENCE
Mantel: "When I start writing again I'll forget all this. Every new day you feel like a beginner."
16/10/2012 22:02 BST
MANTEL MANIA!
The Booker Prize 2012 winner Hilary Mantel faces the cameras.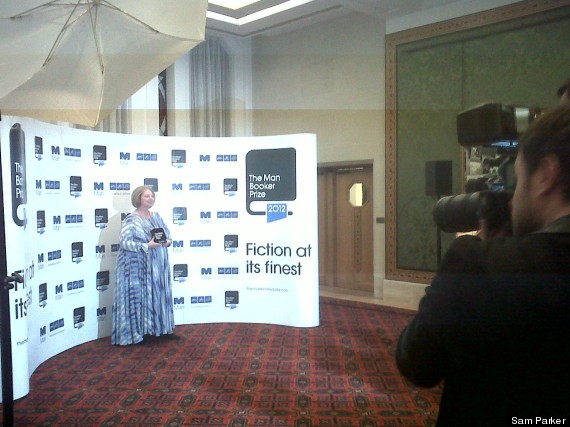 To give you a flavour from the ground, this involves a row of 20 or so photographers shouting 'HILARY!' in her direction as she turns in a semi-circle of imperceptible degrees, smiling. The formal press conference will begin soon.
16/10/2012 21:58 BST
CONGRATULATIONS HILARY!
16/10/2012 21:53 BST
MANTEL SPEECH
A brief and restrained speech from Mantel, who joked:
"You wait 20 years for a Booker to come along, and then two come at once!".
"Now I have to go away and write the third part of this trilogy. Believe me I have no expectations I will be standing here again!"
16/10/2012 21:48 BST
AND THE WINNER IS:
Hilary Mantel, Bring up the Bodies
16/10/2012 21:47 BST
STOTHAM'S BEST LINE SO FAR:
"Someone said to me last year that we didn't select novels that they could read on the beach. No, I merely wanted novels that they wouldn't leave behind on the beach."
16/10/2012 21:45 BST
STOTHARD SPEAKS
The lead judge reasserts the tradition that the Booker is not about "finding best-sellers". Again distancing himself from last year's 'readable' shortlist. Good to see.
SUBSCRIBE TO & FOLLOW UK DAILY BRIEF