Huffington Post Picture Desk Live: Scroll down for the best news, entertainment, culture and sports pictures of the day, brought to you by The Huffington Post's Picture Editors Elliot Wagland, Matthew Tucker and Tahira Mirza.
Follow us on Twitter for links to top pics featured on The Huffington Post.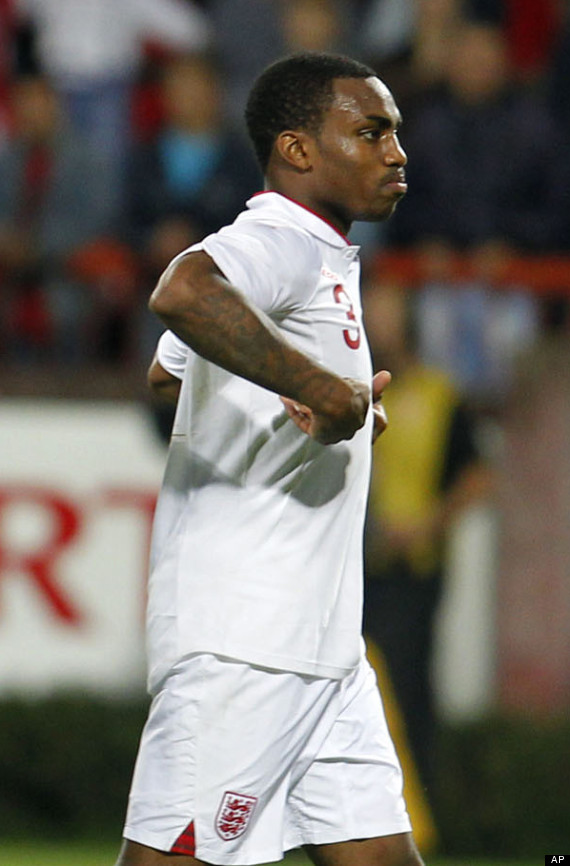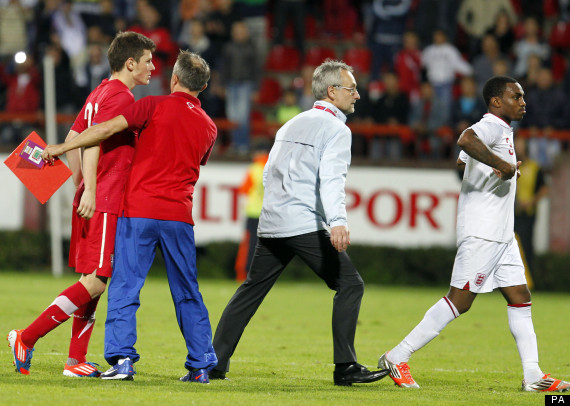 Serbian player Milos Ninkovic, left, and England player Danny Rose, right, react during their 2013 UEFA European Under-21 Championship play-off, second leg match between Serbia and England, in Krusevac, Serbia.
Loading Slideshow
Serbia U21 v England U21 - Under 21 European Championship Play Off Second Leg

KRUSEVAC, SERBIA - OCTOBER 16: Assistant coach Dejan Govedarica (C) of Serbia attempts to keep the opposing players apart during a scuffle after the Under 21 European Championship Play Off second leg match between Serbia U21 and England U21 at Stadium Mladost on October 16, 2012 in Krusevac, Serbia. (Photo by Srdjan Stevanovic/Getty Images)

Serbia U21 v England U21 - Under 21 European Championship Play Off Second Leg

KRUSEVAC, SERBIA - OCTOBER 16: Andros Townsend (C) of England separates his team-mate Danny Rose (L) and Sasa Markovic of Serbia as they argue after the Under 21 European Championship Play Off second leg match between Serbia U21 and England U21 at Stadium Mladost on October 16, 2012 in Krusevac, Serbia. (Photo by Srdjan Stevanovic/Getty Images)

Serbia U21 v England U21 - UEFA U21 play off second leg match

KRUSEVAC, SERBIA - OCTOBER 16: Referee Huseyin Gocek shows the red card to Danny Rose (R) of England after the Under 21 European Championship Play Off second leg match between Serbia U21 and England U21 at Stadium Mladost on October 16, 2012 in Krusevac, Serbia. (Photo by Srdjan Stevanovic/Getty Images)

Serbia U21 v England U21 - Under 21 European Championship Play Off Second Leg

KRUSEVAC, SERBIA - OCTOBER 16: Goalkeeping coach Srdjan Maksimovic (L) of Serbia argues with Marvin Sordell of England during a scuffle after the Under 21 European Championship Play Off second leg match between Serbia U21 and England U21 at Stadium Mladost on October 16, 2012 in Krusevac, Serbia. (Photo by Srdjan Stevanovic/Getty Images)

Serbia U21 v England U21 - Under 21 European Championship Play Off Second Leg

KRUSEVAC, SERBIA - OCTOBER 16: Assistant coach Dejan Govedarica (red top, right) of Serbia attempts to keep the opposing players apart during a scuffle after the Under 21 European Championship Play Off second leg match between Serbia U21 and England U21 at Stadium Mladost on October 16, 2012 in Krusevac, Serbia. (Photo by Srdjan Stevanovic/Getty Images)

Serbia U21 v England U21 - Under 21 European Championship Play Off Second Leg

KRUSEVAC, SERBIA - OCTOBER 16: Marvin Sordell (R) of England reacts after the Under 21 European Championship Play Off second leg match between Serbia U21 and England U21 at Stadium Mladost on October 16, 2012 in Krusevac, Serbia. (Photo by Srdjan Stevanovic/Getty Images)

Serbia U21 v England U21 - Under 21 European Championship Play Off Second Leg

KRUSEVAC, SERBIA - OCTOBER 16: Goalkeeping coach Srdjan Maksimovic of Serbia raises his fist during a scuffle after the Under 21 European Championship Play Off second leg match between Serbia U21 and England U21 at Stadium Mladost on October 16, 2012 in Krusevac, Serbia. (Photo by Srdjan Stevanovic/Getty Images)

Serbia U21 v England U21 - Under 21 European Championship Play Off Second Leg

KRUSEVAC, SERBIA - OCTOBER 16: Goalkeeping coach Srdjan Maksimovic (L) of Serbia argues with Marvin Sordell of England during a scuffle after the Under 21 European Championship Play Off second leg match between Serbia U21 and England U21 at Stadium Mladost on October 16, 2012 in Krusevac, Serbia. (Photo by Srdjan Stevanovic/Getty Images)

Serbia U21 v England U21 - Under 21 European Championship Play Off Second Leg

KRUSEVAC, SERBIA - OCTOBER 16: Goalkeeping coach Srdjan Maksimovic of Serbia raises his fist during a scuffle after the Under 21 European Championship Play Off second leg match between Serbia U21 and England U21 at Stadium Mladost on October 16, 2012 in Krusevac, Serbia. (Photo by Srdjan Stevanovic/Getty Images)

Serbia U21 v England U21 - Under 21 European Championship Play Off Second Leg

KRUSEVAC, SERBIA - OCTOBER 16: Connor Wickham (L) of England celebrates his goal with team-mate Raheem Sterling during the Under 21 European Championship Play Off second leg match between Serbia U21 and England U21 at Stadium Mladost on October 16, 2012 in Krusevac, Serbia. (Photo by Srdjan Stevanovic/Getty Images)

Serbia U21 v England U21 - UEFA U21 play off second leg match

KRUSEVAC, SERBIA - OCTOBER 16: Referee Huseyin Gocek shows the red card to Danny Rose (R) of England after the Under 21 European Championship Play Off second leg match between Serbia U21 and England U21 at Stadium Mladost on October 16, 2012 in Krusevac, Serbia. (Photo by Srdjan Stevanovic/Getty Images)

Serbia U21 v England U21 - Under 21 European Championship Play Off Second Leg

KRUSEVAC, SERBIA - OCTOBER 16: Andros Townsend (C) of England separates his team-mate Danny Rose (L) and Sasa Markovic of Serbia as they argue after the Under 21 European Championship Play Off second leg match between Serbia U21 and England U21 at Stadium Mladost on October 16, 2012 in Krusevac, Serbia. (Photo by Srdjan Stevanovic/Getty Images)

Serbia U21 v England U21 - Under 21 European Championship Play Off Second Leg

KRUSEVAC, SERBIA - OCTOBER 16: Nikola Ninkovic (R) of Serbia is held back by team-mates as Raheem Sterling of England looks on during a scuffle after the Under 21 European Championship Play Off second leg match between Serbia U21 and England U21 at Stadium Mladost on October 16, 2012 in Krusevac, Serbia. (Photo by Srdjan Stevanovic/Getty Images)

Serbia U21 v England U21 - Under 21 European Championship Play Off Second Leg

KRUSEVAC, SERBIA - OCTOBER 16: Assistant coach Dejan Govedarica (red top, right) of Serbia attempts to keep the opposing players apart during a scuffle after the Under 21 European Championship Play Off second leg match between Serbia U21 and England U21 at Stadium Mladost on October 16, 2012 in Krusevac, Serbia. (Photo by Srdjan Stevanovic/Getty Images)

Serbia U21 v England U21 - UEFA U21 play off second leg match

KRUSEVAC, SERBIA - OCTOBER 16: Danny Rose (C) of England reacts after the Under 21 European Championship Play Off second leg match between Serbia U21 and England U21 at Stadium Mladost on October 16, 2012 in Krusevac, Serbia. (Photo by Srdjan Stevanovic/Getty Images)

Serbia U21 v England U21 - UEFA U21 play off second leg match

KRUSEVAC, SERBIA - OCTOBER 16: Danny Rose of England is held back by team-mate Craig Dawson and Milos Ninkovic (L) of Serbia as he reacts after the Under 21 European Championship Play Off second leg match between Serbia U21 and England U21 at Stadium Mladost on October 16, 2012 in Krusevac, Serbia. (Photo by Srdjan Stevanovic/Getty Images)

Serbia U21 v England U21 - UEFA U21 play off second leg match

KRUSEVAC, SERBIA - OCTOBER 16: Thomas Ince and Tom Lees of England are led away during a scuffle after the Under 21 European Championship Play Off second leg match between Serbia U21 and England U21 at Stadium Mladost on October 16, 2012 in Krusevac, Serbia. (Photo by Srdjan Stevanovic/Getty Images)

Serbia U21 v England U21 - UEFA U21 play off second leg match

KRUSEVAC, SERBIA - OCTOBER 16: Players of Serbia and England clash after the Under 21 European Championship Play Off second leg match between Serbia U21 and England U21 at Stadium Mladost on October 16, 2012 in Krusevac, Serbia. (Photo by Srdjan Stevanovic/Getty Images)

Serbia U21 v England U21 - UEFA U21 play off second leg match

KRUSEVAC, SERBIA - OCTOBER 16: Serbian players, in red, clash with England players, in white after the Under 21 European Championship Play Off second leg match between Serbia U21 and England U21 at Stadium Mladost on October 16, 2012 in Krusevac, Serbia. (Photo by Srdjan Stevanovic/Getty Images)

Serbia U21 v England U21 - UEFA U21 play off second leg match

KRUSEVAC, SERBIA - OCTOBER 16: Players of Serbia and England clash after the Under 21 European Championship Play Off second leg match between Serbia U21 and England U21 at Stadium Mladost on October 16, 2012 in Krusevac, Serbia. (Photo by Srdjan Stevanovic/Getty Images)

Serbia U21 v England U21 - UEFA U21 play off second leg match

KRUSEVAC, SERBIA - OCTOBER 16: Players of Serbia and England clash after the Under 21 European Championship Play Off second leg match between Serbia U21 and England U21 at Stadium Mladost on October 16, 2012 in Krusevac, Serbia. (Photo by Srdjan Stevanovic/Getty Images)

Serbia U21 v England U21 - UEFA U21 play off second leg match

KRUSEVAC, SERBIA - OCTOBER 16: Players of Serbia and England clash after the Under 21 European Championship Play Off second leg match between Serbia U21 and England U21 at Stadium Mladost on October 16, 2012 in Krusevac, Serbia. (Photo by Srdjan Stevanovic/Getty Images)

Serbia U21 v England U21 - Under 21 European Championship Play Off Second Leg

KRUSEVAC, SERBIA - OCTOBER 16: Connor Wickham (R) of England scores a goal as goalkeeper Branimir Aleksic of Serbia chases back during the Under 21 European Championship Play Off second leg match between Serbia U21 and England U21 at Stadium Mladost on October 16, 2012 in Krusevac, Serbia. (Photo by Srdjan Stevanovic/Getty Images)

Soccer - UEFA European Under 21 Championship - Play-Offs - First Leg - England v Serbia - Carrow Road

Englands U21's Danny Rose is challenged by Sebia's Darko Lazovic during the UEFA European Under-21s Championship, Play-Off, First Leg at Carrow Road, Norwich.

Soccer - UEFA European Under 21 Championship - Play-Offs - First Leg - England v Serbia - Carrow Road

Englands U21's Raheem Sterlingis challenged by Sebia's Slobodan Medojevic during the UEFA European Under-21s Championship, Play-Off, First Leg at Carrow Road, Norwich.

Serbia U21 v England U21 - Under 21 European Championship Play Off Second Leg

KRUSEVAC, SERBIA - OCTOBER 16: Goran Causic (R) of Serbia in action against Jason Lowe of England during the Under 21 European Championship Play Off second leg match between Serbia U21 and England U21 at Stadium Mladost on October 16, 2012 in Krusevac, Serbia. (Photo by Srdjan Stevanovic/Getty Images)

Serbia U21 v England U21 - UEFA U21 play off second leg match

KRUSEVAC, SERBIA - OCTOBER 16: Wilfried Zaha (R) of England is challenged by Luka Milivojevic of Serbia during the Under 21 European Championship Play Off second leg match between Serbia U21 and England U21 at Stadium Mladost on October 16, 2012 in Krusevac, Serbia. (Photo by Srdjan Stevanovic/Getty Images)

Serbia U21 v England U21 - Under 21 European Championship Play Off Second Leg

KRUSEVAC, SERBIA - OCTOBER 16: Milan Rodic (L) of Serbia clears the ball next to Wilfried Zaha (R) of England during the Under 21 European Championship Play Off second leg match between Serbia U21 and England U21 at Stadium Mladost on October 16, 2012 in Krusevac, Serbia. (Photo by Srdjan Stevanovic/Getty Images)

Serbia U21 v England U21 - UEFA U21 play off second leg match

KRUSEVAC, SERBIA - OCTOBER 16: Craig Dawson (C) of England jumps for the ball with Slobodan Medojevic (R) and Branimir Aleksic of Serbia during the Under 21 European Championship Play Off second leg match between Serbia U21 and England U21 at Stadium Mladost on October 16, 2012 in Krusevac, Serbia. (Photo by Srdjan Stevanovic/Getty Images)

Serbia U21 v England U21 - UEFA U21 play off second leg match

KRUSEVAC, SERBIA - OCTOBER 16: Craig Dawson (C) of England jumps for the ball with Slobodan Medojevic (R) and Branimir Aleksic of Serbia during the Under 21 European Championship Play Off second leg match between Serbia U21 and England U21 at Stadium Mladost on October 16, 2012 in Krusevac, Serbia. (Photo by Srdjan Stevanovic/Getty Images)

Serbia U21 v England U21 - UEFA U21 play off second leg match

KRUSEVAC, SERBIA - OCTOBER 16: The Serbia U21 and England U21 teams line up prior the Under 21 European Championship Play Off second leg match between Serbia U21 and England U21 at Stadium Mladost on October 16, 2012 in Krusevac, Serbia. (Photo by Srdjan Stevanovic/Getty Images)

Serbia U21 v England U21 - UEFA U21 play off second leg match

KRUSEVAC, SERBIA - OCTOBER 16: The Serbia U21 team lines up prior to the Under 21 European Championship Play Off second leg match between Serbia U21 and England U21 at Stadium Mladost on October 16, 2012 in Krusevac, Serbia. (Photo by Srdjan Stevanovic/Getty Images)