A New York blogger and her project on sizeism has found herself catapulted into the spotlight after a photo of herself in a bikini went viral.
Stella Boonshoft had originally posted the snap on her tumblr blog with the following caption:
WARNING: Picture might be considered obscene because subject is not thin. And we all know that only skinny people can show their stomachs and celebrate themselves. Well I'm not going to stand for that. This is my body. Not yours. MINE. Meaning the choices I make about it, are none of your fucking business. Meaning my size, IS NONE OF YOUR FUCKING BUSINESS.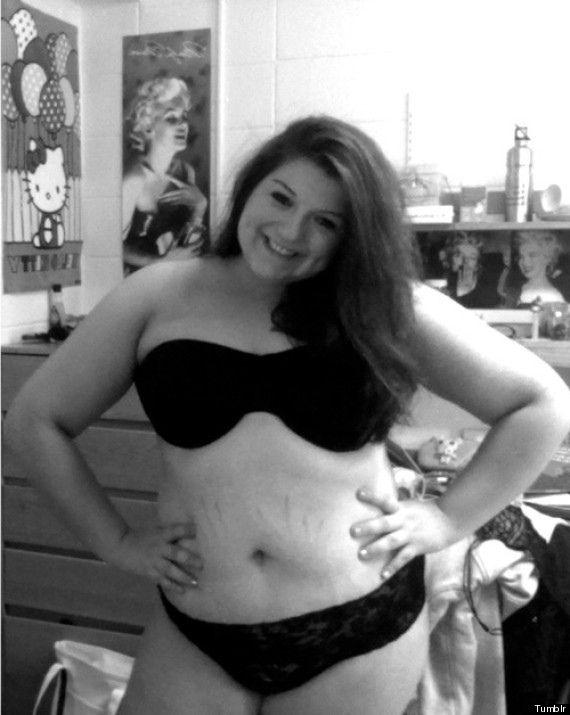 'My body must be a revolution', proclaims blogger Stella Boonshoft
Boonshoft, who suffers from polycystic ovarian syndrome, dedicated the picture to the litany of people who have bullied her over her size, including the boy who told her she looked like a "beached whale" and the middle school pupil who nicknamed her "lard".
She adds:
MOST OF ALL, this picture is for me. For the girl who hated her body so much she took extreme measures to try to change it. Who cried for hours over the fact she would never be thin. Who was teased and tormented and hurt just for being who she was.
She signs off the post with a triumphant:
I'm so over that. THIS IS MY BODY, DEAL WITH IT.
and FUCK YOU ALL who tried to degrade my being and sense of self with your hurtful comments and actions.
GUESS WHAT IT DIDN'T WORK HAHAHAHAH
Boonshoft's blog - and this image - went viral after her path crossed with that of Brandon Stanton, the photographer behind Humans of New York.
Stanton asked for a photo and Boonshoft shared her story, posing for a picture and steering him towards her blog.
LIKE HUFFPOST UK LIFESTYLE ON FACEBOOK | FOLLOW US ON TWITTER
What she hadn't expected was for Stanton to use the bikini picture on her site.
The image quickly went viral, and has so far amassed nearly half a million 'likes' and thousands of comments, with the majority applauding Boonshoft for her beauty and bravery.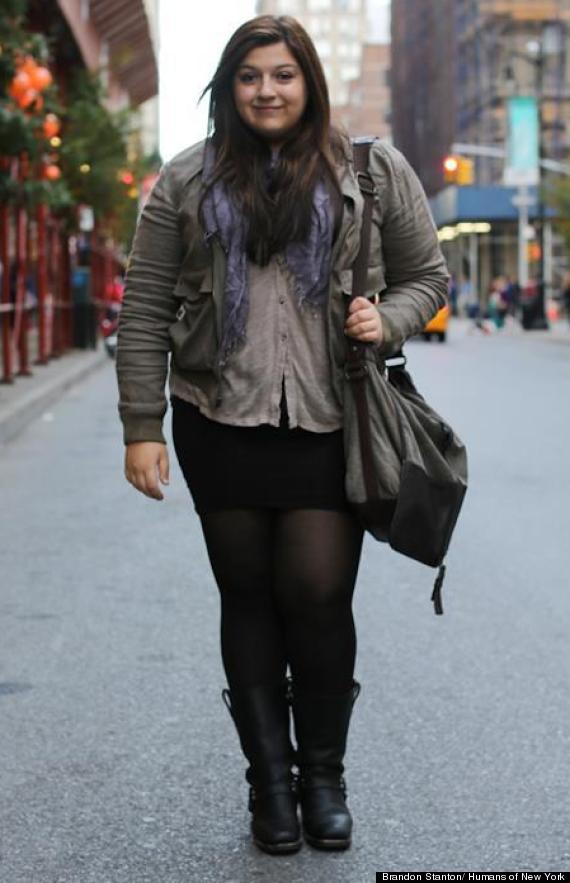 Brandon Stanton took this picture of Boonshoft when they met, but opted to use her self-portrait
Boonshoft later blogged how her first reaction had been to "burst into tears" and that the move had left her feeling "like utter shit".
SEE ALSO:
In a panic, she asked Stanton to post the (clothed) picture he had taken of her, adding: "Here I was, this woman speaking about loving yourself and accepting who you are, suddenly absolutely devastated because some random people I don't know where saying nasty things about me on the internet.
"Finally, I decided to leave it. I know what I am trying to do, which is help young women struggling with their body image and expose the hypocrisy and cruelty that is sizeism, is SO MUCH MORE IMPORTANT than whatever feelings I may have about myself."
Loading Slideshow
Versace: Front Row - Paris Fashion Week Haute Couture F/W 2012/13

PARIS, FRANCE - JULY 01: Christina Hendricks attends the Versace Haute-Couture show as part of Paris Fashion Week Fall / Winter 2012/13 at the Ritz hotel on July 1, 2012 in Paris, France. (Photo by Pascal Le Segretain/Getty Images)

In this undated publicity photo courtesy Running Press, Marilyn Monroe is shown in the first photo taken of her in the famous white dress from the "The Seven Year Itch." For a brief scene in "The Seven Year Itch," in September 1954, her character strolls on a Manhattan street on a stifling summer evening. When a subway rattles beneath her, Marilyn stands astride a sidewalk vent to catch a cool breeze that swirls her skirt up around her waist. (AP Photo/Courtesy Running Press)

In this Friday May 25, 2012 photo provided by Parkwood Entertainment, Beyonce performs at Revel in Atlantic City, N.J., for the resort's premiere. It is the first of four scheduled shows for Memorial Day weekend. (AP Photo/Parkwood Entertainment, Robin Harper)

Tyra Banks

Television personality Tyra Banks attends the TIME 100 gala, celebrating the 100 most influential people in the world, at the Frederick P. Rose Hall on Tuesday, April 24, 2012 in New York. (AP Photo/Evan Agostini)

U.S. actress Kate Winslet arrives at the 37th French Cesar Awards ceremony, in Paris, Friday Feb. 24, 2012. (AP Photo/Thibault Camus)

Gemma Arterton

British actress Gemma Arterton arrives for an exhibition in aid of the Sky Rainforest Rescue campaign, at Somerset House, London, Tuesday, Nov. 1, 2011. (AP Photo/Joel Ryan)

Kelly Brook

Model Kelly Brook arrives for the screening of You Ain't Seen Nothing Yet at the 65th international film festival, in Cannes, southern France, Monday, May 21, 2012. (AP Photo/Joel Ryan)

Emma Bunton

British singer, Emma Bunton, arrives for The Prince's Trust Success Awards at a central venue in London, Wednesday, March 14, 2012. (AP Photo/Jonathan Short)

US singer Jeniffer Lopez performs during

US singer Jeniffer Lopez performs during the Pop Music Festival 2012 at Arena Anhembi in Sao Paulo, Brazil, on June 23, 2012. AFP PHOTO/Yasuyoshi CHIBA (Photo credit should read YASUYOSHI CHIBA/AFP/GettyImages)

Charlotte Church

FILE - British singer Charlotte Church arrives at an awards ceremony in central London, in this Monday Oct. 25, 2010 file photo. Singer Charlotte Church, a former teen sensation who has been the subject of intense tabloid intrusion, has settled her phone-hacking lawsuit against the publisher of the News of the World tabloid, lawyers told Britain's High Court on Thursday Feb. 23, 2012. (AP Photo/Joel Ryan, file)
Also on HuffPost UK:
Loading Slideshow
Do Magazines Create Body Image Anxiety? UK Parliamentary Inquiry Finds Out

On Monday at the Parliamentary Inquiry into the Causes and Consequences of Body Image Anxiety in the UK, the media were on the stand. Hardly anyone from the media would give evidence - mainly because editors and publishers know the causes and consequences of body image anxiety and no one wants to admit their part in it.

Advertising: Where Are We Now on Body Image?

The advertising industry is highly aware of its responsibilities. <em>Pretty as a Picture</em> was commissioned to help advertisers understand what young women think about images in advertising, and it's good to hear policymakers recognising the industry's positive response.

My Battle With Body Image

My body and weight has always been a concern for me. I know people might look at me and think that I have the great body and that when I mention my issues, they assume I am just seeking attention.

Stop Writing About My Body

There's been an awful lot written about women's bodies recently. What with the endless articles devoted to Kate's boobs, the revelation that the 'average' woman spends 17 years of her life on a diet, not to mention the ongoing political battle about who gets to decide when she keeps or doesn't keep her unborn child. All in all, that's a lot of column inches devoted to fatness, thinness and everything in-between. No wonder we're all so f*cked up about our figures.

We Live in a Culture Obsessed With Extremes

Switch on your television, flick through a magazine or browse the internet and you'll be assaulted by headlines tempting you to behold the spectacle of "the 63 stone man!", the "anorexic who weighs the same as your average five year old!", or "the model whose desperate bid for success ended in botched cosmetic surgery!".

Cosmetic Surgery - A Cure for Confidence or an Obsession With Perfection?

I am still conquering my lack of self esteem, goodness only knows how girls of today will turn out. We owe it to them to reverse the trend - let's start the inner beauty revolution.

Is the 'Porn Chic' Tendency Affecting Girls' and Boys' Body Confidence?

Many young people upload photos of themselves on popular websites, and I am thrilled that so many take full advantage of the different social media. However, at the same time it is apparent that too many girls and boys are copying symbols and codes from the pornographic industry.

How Women Are Getting Media Smart in More Ways Than One

With the USA following the UK lead in a move towards banning Photoshop in advertising, it's time to reflect on a groundswell of activity that finds us at All Walks Beyond the Catwalk celebrating a shift in energy.