Tulisa looked pretty devastated when MK1 were voted off 'The X Factor' last night ('cos they are urban like her, innit) but she soon put it behind her as she hit the town with JLS and James Arthur.
And there was one unlikely guest who was putting a protective arm around the N-Dubber as she left Aura nightclub in London - Myleene Klass' ex.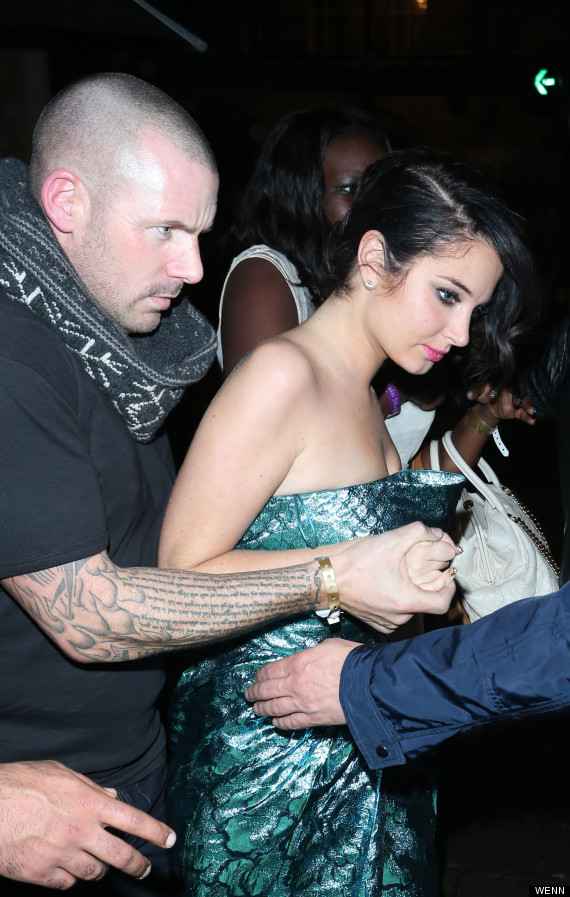 Tulisa is guided by Myleene's ex Graham Quinn
Graham Quinn left the former Hear'Say singer broken hearted earlier this year when he suddenly walked out on her and their two daughters.
But last night he came to the rescue of Tulisa as the slightly 'tired and emotional' looking judge left the nightspot, helping her to a waiting car.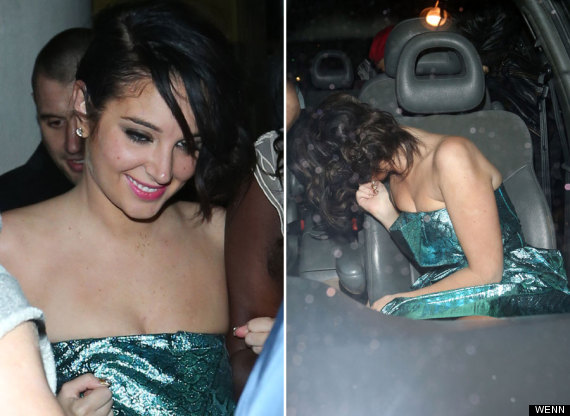 Tulisa looked as if she'd had a good night
Graham is close to the JLS boys, having acted as their tour manager for many years, and was with them again following their performance on last night's results show, where they sang new single 'Hottest Girl In The World'.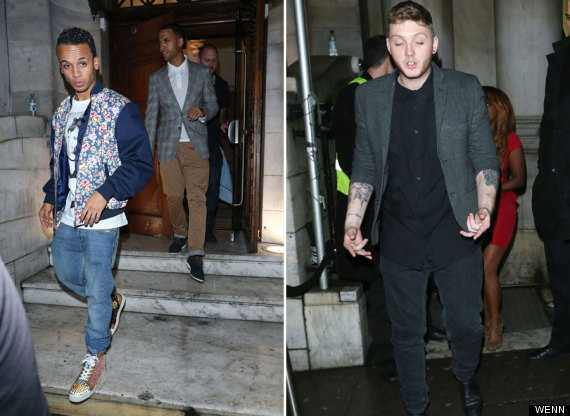 JLS and James Arthur were also seen leaving Aura
Myleene missed out on seeing her pal Rochelle Wiseman of The Saturdays getting hitched to Marvin from JLS earlier this year because Graham was also attending.
HUFFPOST UK CELEB ON FACEBOOK | FOLLOW US ON TWITTER
Tulisa love, you appear to have made a dress out of the contents of our Nana's 'special occasion' wrapping paper drawer.

Tulisa shows off the latest hair trend... for drag queens.

Believe it or not, this isn't one of the cast members of the film 'Kidulthood'.

Where Tulisa's from this is considered tres chic, innit.

Words actually fail us.

Tulisa once proudly proclaimed she bought her clothes from "Matalan, brrrrap!". Yep, we can tell.

If Jane Norman was still open, we reckon they would've snapped Tulisa up to be the face of the brand.

No, Tulisa hasn't been tarred and feathered, she actually chose to wear this.

Looks like Tulisa got carried away playing around in Katie Price's dressing up box.

Even X Factor judges are prone to a spot of the dreaded camel toe.

We didn't realise Tulisa was in 'Two Pints of Lager and a Packet of Crisps'.

Tulisa, Vicky Pollard's been on the phone and she's asked for her look back.

All she needs is a couple of parrots hanging from those earrings and this outfit would be complete. Completely awful.

The Croydon facelift look is still a favourite of Tulisa's, despite leaving dreadful clothes like this behind.

You should look ashamed, love.

Someone should really tell her it's dark outside so she can lose the diamante encrusted sunglasses.

Taking tan advice from the cast of 'TOWIE' is never a good idea.

Thank goodness she has a stylist these days. Now at least she has someone to blame for get-ups like this.