No, dear readers, this isn't the new 'Daybreak' presenter line-up (we can but dream) but celeb versions of 80s toy craze, the Cabbage Patch Kids.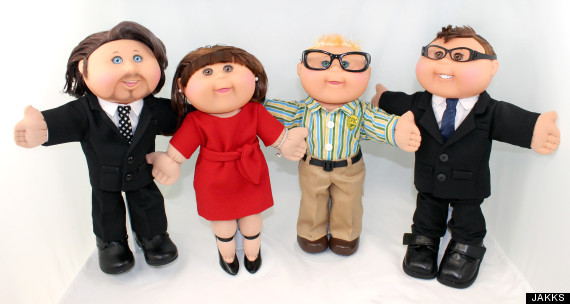 For readers of a certain age that will mean something and for those that it means absolutely zilch to then prepare to become acquainted because they're about to be relaunched for a new generation.
And to celebrate, the makers of the toy have produced four babyfaced versions of four well known British TV stars.
But how many do you recognise? Click through the gallery below and we'll reveal all...
The dolls will be back on toy store shelves in time for Christmas.
CABBAGE PATCH KIDS IN NUMBERS

If all the Cabbage Patch Kids that have been adopted were to form their own country, it would be the 12th most populous country in the world

With over 118 million Cabbage Patch Kids 'born' in the past 25 years, there has been one birth every 6.8 seconds

Over 120 million 'kids' have been adopted since their launch in the 1983

BabyLand General ® Hospital in Cleveland, Georgia is the birthplace of the Cabbage Patch Kids and is one of Georgia's top tourist attractions

The global toy phenomenon have even travelled into space aboard the Space Shuttle and had their own US postal stamp
In 1985, Christopher Xavier became the first Cabbage Patch Kid to fly aboard a U.S. Space Shuttle mission. He now lives at the Smithsonian Museum in Washington
SUBSCRIBE AND FOLLOW
Get top stories and blog posts emailed to me each day. Newsletters may offer personalized content or advertisements.
Learn more