The BBC's teletext information service was a world first when it launched in 1974, and initially provided just 30 pages of information. The data was carried in a previously unused part of the spectrum allocated to analogue television.
Over time Ceefax grew into a large and futuristic - for the era - service, which became beloved by many despite its slow speeds and frustrating limitations.
But the service was canned across most of the UK in April due to the switch to digital television, and this week it will received its final goodbye as analogue signals were turned off in Northern Ireland.
But Ceefax also has a goodbye message of its own. A (spoof) picture posted on Twitter gives us a clearer idea of the bitter, sad and heartbroken Ceefax service facing its own demise.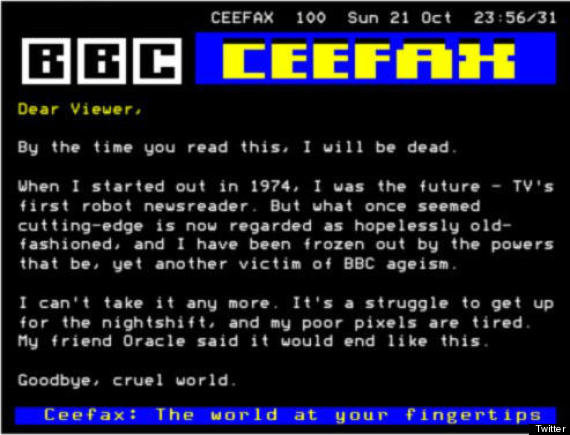 Still there is life after death for Ceefax. Many of its most popular elements, including the trivia game Bamboozle, live on via their own iPhone and Android apps. Which you'll be able to download over 4G, which will run on... the spectrum previously used to carry Ceefax.
SUBSCRIBE TO & FOLLOW UK TECH