Hot on the heels of a 17 second 'Iron Man 3' teaser trailer released on Monday, Marvel Studios have now kindly allowed us to view the full-length version.
Robert Downey Jr returns as the fun-loving billionaire playboy and hard-as-nails superhero, Tony Stark, in the third instalment of the Marvel Comics franchise.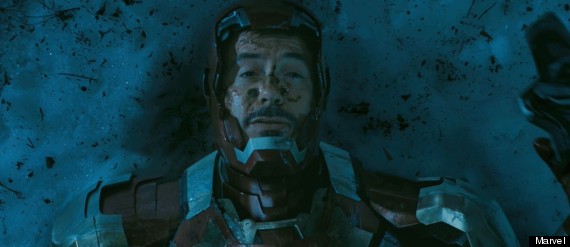 Stark starts the film in a bit of a rough place
Being a superhero obviously comes with a lot of emotional baggage and the trailer begins with Stark brooding over the events that featured in 'The Avengers' and wandering how he can protect those closest to him.
He can't sleep. He's suffering from nightmares. And a lot of people want him dead.
Cue danger, explosions and bodies flying through the air.
Iron Man is pitted against arch-enemy, Mandarin, not averse to creeping uninvited into your house at night
As usual from a Marvel film expect incredible action with a decent amount of emotional realism.
Also featuring Gwyneth Paltrow, Don Cheadle and Ben Kingsley, 'Iron Man 3' will be released on 3 May, 2013.
Grammar jokes! The key to any good movie sequel? Jason Bateman gamely mocked his first movie role with Jimmy Fallon last year.

Nine years after "American Wedding," Universal got the "American Pie" gang back together for their 12-year high school reunion. Unfortunately, audiences didn't care: the fourth film in the franchise earned just $56 million after its release this April, roughly half of what "Wedding" grabbed. Stale pie, anyone? (Groan, but really.)

Despite massive ticket sales and toy-merchandising revenue, "Cars" was the least-liked Pixar film -- at least judging from Rotten Tomatoes, where it received just a 74 percent positive rating from critics. Of course, critics don't pay the bills, and Pixar went ahead with "Cars 2" -- a sequel that was seemingly unnecessary for everyone but the Disney accountants. The film grossed $559 million worldwide last year.

"Jaws 3D" couldn't kill the "Jaws" franchise, but making it personal sure could! "Jaws: The Revenge" cast original "Jaws" star Lorraine Gray -- who played Chief Brody's wife, Ellen -- in the film alongside Michael Caine and a revenge-seeking shark. And you thought movies were bad nowadays!

The original "Speed" was a sleeper hit with critics and audiences. Its sequel -- which recast Keanu Reeves with Jason Patric, but kept Sandra Bullock -- was not. Pop quiz, hot shot: you're on a cruise ship that has to stay above 20 knots? Ugh, never mind.

"You know what the Indiana Jones franchise needs after the perfect ending of 'The Last Crusade'? A movie where Indy fights aliens!" -- No one.

All the stuff you loved about "Major League" disappears in this grating sequel -- which actually spawned another sequel, "Major League: Back to the Minors." Back when he was winning and hashtagging, Charlie Sheen threatened to make "Major League 4," but that hasn't happened. Yet.

Technically not a sequel, but it's hard to argue with the "Star Wars" prequels being necessary. After all, they pretty much ruined "Star Wars" for a generation of Original Trilogy fans. (Just us?)

More like "Wall Street: Puts You To Sleep." Oliver Stone's ill-fated sequel to "Wall Street" felt toothless, especially in the wake of superior films about the 2008 financial collapse, like "Margin Call."

Don't take our word for it that "Dumb & Dumberer" was unnecessary, listen to original "Dumb & Dumber" director Peter Farrelly. "You know, I never saw it. That's the truth," he told HuffPost.

Just when you thought you were out, they pull you back in with an unnecessary -- though not totally bad -- threquel to the classic first parts of "The Godfather." Anyone want some gnocchi?

Rodney Dangerfield >>>>>>>>>> Jackie Mason.

Actual IMDb plot summary for "Basic Instinct 2," which arrived in theaters 14 years after the sexy-stylish first film: "Novelist Catherine Tramell is once again in trouble with the law, and Scotland Yard appoints psychiatrist Dr. Michael Glass to evaluate her." OK, then, Scotland Yard! Perhaps Sharon Stone needed the check.

Let's make a sequel to the shaky-cam faux-documentary sensation that was "The Blair Witch Project," but without the shaky-cam faux-documentary part. Good call, all!