Debut collections jostle with works by household names on this year's TS Eliot prize shortlist, one of the country's premier poetry awards.
Simon Armitage is the best-known writer on the list, nominated for his translation of a 15th-century poem The Death of King Arthur.
Also hoping to win is Sean Borodale, whose 'documentary poems' are written on location. His first collection, Bee Journal, was chosen by Armitage himself as one of the books of 2011 in the Guardian.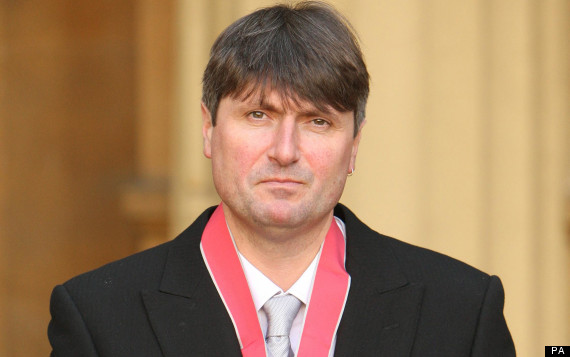 Simon Armitage could win this year
The eight other collections on the shortlist include Welsh national poet Gillian Clarke for Ice, her collection about winter, Deryn Ree-Jone's Burying the Wren, which deals with the death of her late husband and Forward prize-winning P L A C E by Jorie Graham.
LISTEN -
Julia Copus's The World's Two Smallest Humans, Jacobn Polley's The Havoc's and Paul Farley's The Dark Film, The Overhaul by Kathleen Jamie and Stag's Leap by Sharon Olds complete the shortlist.
This year's chair is Carol Ann Duffy who was beaten to the award in 2011 by John Burnside, despite her own collection The Bees being a favourite to win.
A record 131 boobs were entered into the competition this year, which will see the winning poet awarded £15,000 donated by TS Eliot's widow Valerie Eliot.
Last year two of the shortlisted poets, AliceOswald and Ted Hughes, withdrew in protest at the prize sponsor's Aurum Fuds, the investment management firm.
The winner will be announced in January.
The shortlist

The Death of King Arthur by Simon Armitage (Faber)
Bee Journal by Sean Borodale (Jonathan Cape)
Ice by Gillian Clarke (Carcanet)
The World's Two Smallest Humans by Julia Copus (Faber)
The Dark Film by Paul Farley (Picador)
P L A C E by Jorie Graham (Carcanet)
The Overhaul by Kathleen Jamie (Picador)
Stag's Leap by Sharon Olds (Jonathan Cape)
The Havocs by Jacob Polley (Picador)
Burying the Wren by Deryn Rees-Jones (Seren)
TS Eliot's best quotes:
"Only those who will risk going too far can possibly find out how far one can go." Photograph taken at the Faber office on Russell Square the day after Eliot's death in 1965.

"Genuine poetry can communicate before it is understood."

"Anxiety is the hand maiden of creativity."

"A toothache, or a violent passion, is not necessarily diminished by our knowledge of its causes, its character, its importance or insignificance."

"Poetry is not a turning loose of emotion, but an escape from emotion; it is not the expression of personality, but an escape from personality"

"If you aren't in over your head, how do you know how tall you are?"

"Humankind cannot bear very much reality."

"I have measured out my life with coffee spoons."

"It's strange that words are so inadequate. Yet, like the asthmatic struggling for breath, so the lover must struggle for words."

"I don't believe one grows older. I think that what happens early on in life is that at a certain age one stands still and stagnates."

"I had seen birth and death but had thought they were different."

"Let's not be narrow, nasty, and negative."

"Immature poets imitate; mature poets steal."

"People to whom nothing has ever happened cannot understand the unimportance of events."

"The bad poet is usually unconscious where he ought to be conscious, and conscious where he ought to be unconscious." Photograph taken at the Faber office on Russell Square the day after Eliot's death in 1965.

"The last thing one discovers in composing a work is what to put first."

"Some editors are failed writers, but so are most writers."

"My greatest trouble is getting the curtain up and down."

"Any poet, if he is to survive beyond his 25th year, must alter; he must seek new literary influences; he will have different emotions to express."

"There is not a more repulsive spectacle than on old man who will not forsake the world, which has already forsaken him."

"The Nobel is a ticket to one's own funeral. No one has ever done anything after he got it."

"There is no method but to be very intelligent."