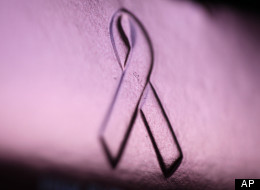 Breast cancer screening leads to thousands of women undergoing unnecessary treatment despite saving lives, according to an independent review.
The official study found that as many as 4,000 women in Britain receive therapy for non-life threatening forms of the disease every year because of overdiagnosis. But it revealed that about 1,300 lives are saved by mammography.
The NHS Breast Cancer Screening Programme was launched in the UK in 1988 and invites all women aged between 50 and 70 to screening every three years.
There has been an ongoing debate about the benefits and harms of screening for the past 10 years, prompting the Government and charity Cancer Research UK to last year launch a review of the controversial programme.
An independent panel led by University College London's Professor Sir Michael Marmot was tasked with analysing data from screening trials from a number of countries over recent decades.
LIKE HUFFPOST UK LIFESTYLE ON FACEBOOK | FOLLOW US ON TWITTER
Its report, published in The Lancet, concludes that screening reduces breast cancer mortality but that some overdiagnosis occurs. It found that for every life saved, three women were overdiagnosed.
The panel said: "Since the estimates provided are from studies with many limitations and whose relevance to present-day screening programmes can be questioned, they have substantial uncertainty and should be regarded only as an approximate guide.
"If these figures are used directly, for every 10,000 UK women aged 50 years invited to screening for the next 20 years, 43 deaths from breast cancer would be prevented and 129 cases of breast cancer, invasive and non-invasive, would be overdiagnosed; that is one breast cancer death prevented for about every three overdiagnosed cases identified and treated.
"Of the roughly 307,000 women aged 50--52 years who are invited to begin screening every year, just over 1% would have an overdiagnosed cancer in the next 20 years."
Breast Cancer Breakthroughs
A bra which hope to detect breast cancer in wearers, before it can be seen in traditional scans, has shown promising early results. In a series of clinical trials, the bra successfully detected over 90% of breast tumours at a very early stage. Click here to read full story

According to new research, a genetic link has been made between breast size and breast cancer risks. Medical News Today reports that genetics company 23andMe has identified seven single-nucleotide polymorphisms (SNPs) - or genetic variations - significantly associated with breast size. Click here to read full story

Stress can hasten the spread of breast cancer to the bones, research suggests. Studies of mice showed that responses to stress made it easier for tumours to take root in the bone. Click here to read full story

Breast cancer screening leads to thousands of women undergoing unnecessary treatment despite saving lives, according to an independent review. Click here to read full story

Cancer Research Technology (CRT) has launched a spin-out company that will develop a next-generation of High Intensity Focused Ultrasound (HIFU) surgery to treat - and melt - cancer tumours. Click here to read the full story...

Almost half of women with the most common form of early breast cancer could be spared chemotherapy thanks to a genetic test, research suggests. The Oncotype DX test involves the examination of genes taken from a sample of a tumour removed during surgery. Click here to read the full story...

Breast cancer could be detected in seconds using new, anti-landmine technology. British scientists have developed a revolutionary breast-screening system that uses anti-landmine technology to detect cancer in seconds. The radio-wave scanner is safer, cheaper and less painful than traditional mammogram X-rays, and unlike the current system, can be used on women of all ages. Click here to read the full story...

According to new scientific research, eating a low glycemic index (GI) diet could drastically decrease the risks of breast cancer. Click here to read the full story...

The controversial link between hormone replacement therapy and breast cancer has resurfaced, with health experts claiming that there is no solid evidence that HRT increases breast cancer risks. Click here to read the full story...

New scientific evidence has indicated that common preservative chemicals found in underarm antiperspirants and thousands of other everyday products, can be detected in breast cancer tumours. Click here to read the full story...

Cancer drugs that are designed to shrink tumours by cutting off the supply to their blood may be doing the opposite and helping them spread to other parts of the body, a study has warned. Click here to read the full story...

A new treatment for breast cancer has been discovered after scientists found that breast tumours can be killed in minutes - by boiling them Click here to read the full story...

Women who have a strong family history of breast cancer should avoid drinking alcohol, a new study suggests. Health experts warn that women whose mothers, grandmothers and aunts have had breast cancer, are more than twice as likely to develop the disease than non-drinkers. Click here to read the full story...

The UK is lagging behind other countries on survival rates for breast, bowel and cervical cancer and has much higher hospital admission rates for asthma, research shows. Click here to read the full story...
The panel added: "Evidence from a focus group organised by Cancer Research UK and attended by some members of the panel showed that many women feel that accepting the offer of breast screening is worthwhile, which agrees with the results of previous similar studies.
"Information should be made available in a transparent and objective way to women invited to screening so that they can make informed decisions."
Professor Sir Mike Richards, National Cancer Director, said: "I welcome the fact that the review clearly recommends that breast screening should continue.
"But the key thing is that we communicate this new information to women so they can make an informed choice for themselves.
"NHS Cancer Screening programmes have already asked independent academics to develop new materials to give the facts in a clear, unbiased way.
"I hope to see them in use in the next few months.
"If any woman has concerns about breast screening she should talk to her GP or health professional."
Dr Harpal Kumar, chief executive of Cancer Research UK, said: "The independent review shows screening saves lives.
"Screening remains one of the best ways to spot the very early signs of breast cancer, at a stage when treatment is most likely to be successful.
"Yet, as the review shows, some cancers will be diagnosed and treated that would never have caused any harm. Clearly, everyone wants to minimise this.
"But because we can't yet tell which cancers are harmful and which are not, we cannot predict what will happen in an individual woman's case."
He added: "We think it's vitally important for women to have access to clear information about breast screening, the balance of benefits and harms and the fact that they could be diagnosed with and treated for a cancer that might not cause them harm.
"So, on balance, taking all the evidence into account, Cancer Research UK recommends that women go for breast screening when invited."