Huffington Post Picture Desk Live: Scroll down for the best news, entertainment, culture and sports pictures of the day, brought to you by The Huffington Post's own picture editors Elliot Wagland, Matthew Tucker and Tahira Mirza.
Follow us on Twitter for links to top pics featured on The Huffington Post.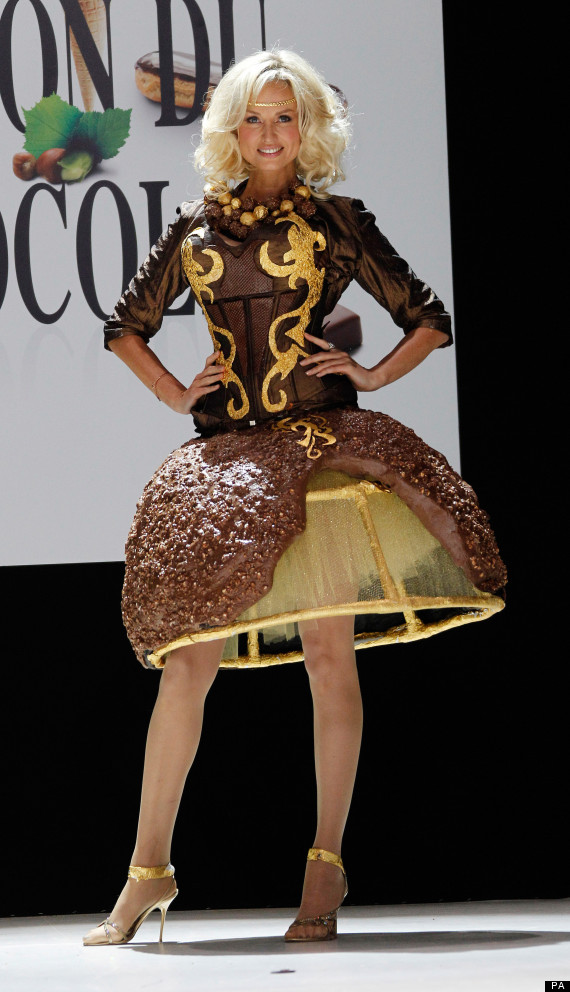 The opening show of the 18th 'Salon du Chocolat' held at Porte de Versailles in Paris, France on October 30, 2012.
Loading Slideshow
The opening show of the 18th 'Salon du Chocolat' held at Porte de Versailles in Paris, France on October 30, 2012. (Photo credit: PA)

The opening show of the 18th 'Salon du Chocolat' held at Porte de Versailles in Paris, France on October 30, 2012. (Photo credit: PA)

The opening show of the 18th 'Salon du Chocolat' held at Porte de Versailles in Paris, France on October 30, 2012. (Photo credit: PA)

The opening show of the 18th 'Salon du Chocolat' held at Porte de Versailles in Paris, France on October 30, 2012. (Photo credit: PA)

The opening show of the 18th 'Salon du Chocolat' held at Porte de Versailles in Paris, France on October 30, 2012. (Photo credit: PA)

The opening show of the 18th 'Salon du Chocolat' held at Porte de Versailles in Paris, France on October 30, 2012. (Photo credit: PA)

The opening show of the 18th 'Salon du Chocolat' held at Porte de Versailles in Paris, France on October 30, 2012. (Photo credit: PA)

The opening show of the 18th 'Salon du Chocolat' held at Porte de Versailles in Paris, France on October 30, 2012. (Photo credit: PA)

The opening show of the 18th 'Salon du Chocolat' held at Porte de Versailles in Paris, France on October 30, 2012. (Photo credit: PA)

The opening show of the 18th 'Salon du Chocolat' held at Porte de Versailles in Paris, France on October 30, 2012. (Photo credit: PA)

The opening show of the 18th 'Salon du Chocolat' held at Porte de Versailles in Paris, France on October 30, 2012. (Photo credit: PA)

The opening show of the 18th 'Salon du Chocolat' held at Porte de Versailles in Paris, France on October 30, 2012. (Photo credit: PA)

The opening show of the 18th 'Salon du Chocolat' held at Porte de Versailles in Paris, France on October 30, 2012. (Photo credit: PA)

The opening show of the 18th 'Salon du Chocolat' held at Porte de Versailles in Paris, France on October 30, 2012. (Photo credit: PA)

The opening show of the 18th 'Salon du Chocolat' held at Porte de Versailles in Paris, France on October 30, 2012. (Photo credit: PA)

The opening show of the 18th 'Salon du Chocolat' held at Porte de Versailles in Paris, France on October 30, 2012. (Photo credit: PA)

The opening show of the 18th 'Salon du Chocolat' held at Porte de Versailles in Paris, France on October 30, 2012. (Photo credit: PA)

The opening show of the 18th 'Salon du Chocolat' held at Porte de Versailles in Paris, France on October 30, 2012. (Photo credit: PA)

The opening show of the 18th 'Salon du Chocolat' held at Porte de Versailles in Paris, France on October 30, 2012. (Photo credit: PA)

The opening show of the 18th 'Salon du Chocolat' held at Porte de Versailles in Paris, France on October 30, 2012. (Photo credit: PA)

The opening show of the 18th 'Salon du Chocolat' held at Porte de Versailles in Paris, France on October 30, 2012. (Photo credit: PA)

The opening show of the 18th 'Salon du Chocolat' held at Porte de Versailles in Paris, France on October 30, 2012. (Photo credit: PA)

The opening show of the 18th 'Salon du Chocolat' held at Porte de Versailles in Paris, France on October 30, 2012. (Photo credit: PA)

The opening show of the 18th 'Salon du Chocolat' held at Porte de Versailles in Paris, France on October 30, 2012. (Photo credit: PA)

The opening show of the 18th 'Salon du Chocolat' held at Porte de Versailles in Paris, France on October 30, 2012. (Photo credit: PA)

The opening show of the 18th 'Salon du Chocolat' held at Porte de Versailles in Paris, France on October 30, 2012. (Photo credit: PA)

The opening show of the 18th 'Salon du Chocolat' held at Porte de Versailles in Paris, France on October 30, 2012. (Photo credit: PA)

The opening show of the 18th 'Salon du Chocolat' held at Porte de Versailles in Paris, France on October 30, 2012. (Photo credit: PA)

The opening show of the 18th 'Salon du Chocolat' held at Porte de Versailles in Paris, France on October 30, 2012. (Photo credit: PA)

The opening show of the 18th 'Salon du Chocolat' held at Porte de Versailles in Paris, France on October 30, 2012. (Photo credit: PA)

The opening show of the 18th 'Salon du Chocolat' held at Porte de Versailles in Paris, France on October 30, 2012. (Photo credit: PA)

The opening show of the 18th 'Salon du Chocolat' held at Porte de Versailles in Paris, France on October 30, 2012. (Photo credit: PA)

The opening show of the 18th 'Salon du Chocolat' held at Porte de Versailles in Paris, France on October 30, 2012. (Photo credit: PA)

The opening show of the 18th 'Salon du Chocolat' held at Porte de Versailles in Paris, France on October 30, 2012. (Photo credit: PA)

The opening show of the 18th 'Salon du Chocolat' held at Porte de Versailles in Paris, France on October 30, 2012. (Photo credit: PA)

The opening show of the 18th 'Salon du Chocolat' held at Porte de Versailles in Paris, France on October 30, 2012. (Photo credit: PA)

The opening show of the 18th 'Salon du Chocolat' held at Porte de Versailles in Paris, France on October 30, 2012. (Photo credit: PA)

The opening show of the 18th 'Salon du Chocolat' held at Porte de Versailles in Paris, France on October 30, 2012. (Photo credit: PA)

The opening show of the 18th 'Salon du Chocolat' held at Porte de Versailles in Paris, France on October 30, 2012. (Photo credit: PA)

The opening show of the 18th 'Salon du Chocolat' held at Porte de Versailles in Paris, France on October 30, 2012. (Photo credit: PA)

The opening show of the 18th 'Salon du Chocolat' held at Porte de Versailles in Paris, France on October 30, 2012. (Photo credit: PA)

The opening show of the 18th 'Salon du Chocolat' held at Porte de Versailles in Paris, France on October 30, 2012. (Photo credit: PA)

The opening show of the 18th 'Salon du Chocolat' held at Porte de Versailles in Paris, France on October 30, 2012. (Photo credit: PA)

The opening show of the 18th 'Salon du Chocolat' held at Porte de Versailles in Paris, France on October 30, 2012. (Photo credit: PA)

The opening show of the 18th 'Salon du Chocolat' held at Porte de Versailles in Paris, France on October 30, 2012. (Photo credit: PA)

The opening show of the 18th 'Salon du Chocolat' held at Porte de Versailles in Paris, France on October 30, 2012. (Photo credit: PA)

The opening show of the 18th 'Salon du Chocolat' held at Porte de Versailles in Paris, France on October 30, 2012. (Photo credit: PA)

The opening show of the 18th 'Salon du Chocolat' held at Porte de Versailles in Paris, France on October 30, 2012. (Photo credit: PA)

The opening show of the 18th 'Salon du Chocolat' held at Porte de Versailles in Paris, France on October 30, 2012. (Photo credit: PA)

The opening show of the 18th 'Salon du Chocolat' held at Porte de Versailles in Paris, France on October 30, 2012. (Photo credit: PA)