Kate Moss has opened up about her tough rise to the top, admitting she suffered from such extreme anxiety at the start of her career, she was convinced she was "going to die".
The blonde beauty became one of the world's most famous faces after she and Mark Wahlberg posed in their underwear together for the now-legendary Calvin Klein campaign.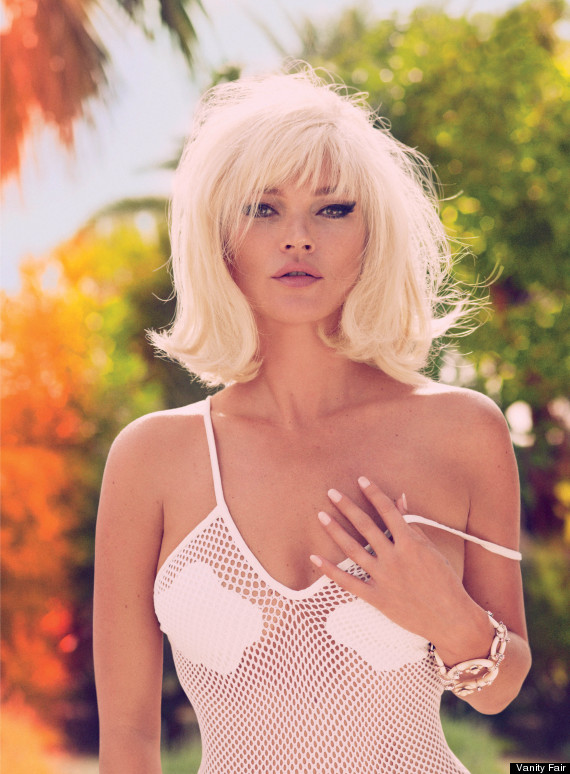 Kate Moss says she had a nervous breakdown in her late teens at the start of her modelling career

The steamy ads made her an international icon, but in a new magazine interview, Kate admits the job made her a nervous wreck.
She told Vanity Fair: "I had a nervous breakdown when I was 17 or 18 - when I had to go and work with Marky Mark. It didn't feel like me at all. I felt really bad about straddling this buff guy. I didn't like it.
"I couldn't get out of bed for two weeks. I thought I was going to die. I went to the doctor and he said, 'I'll give you some Valium.'
"It was just anxiety. Nobody takes care of you mentally. There's a massive pressure to do what you have to do (and) I was really little... I didn't like it. But it was work, and I had to do it."
Kate found support from boyfriend Johnny Depp when they began dating in 1994, but she was thrown into despair when they split after four years.
She added: "Johnny took care of me. If I said, 'What do I do?' he'd tell me. (After the break-up) I really lost that gauge of somebody I could trust. Years and years of crying. Oh, the tears!"
Read the full interview in the December issue of Vanity fair, out on Friday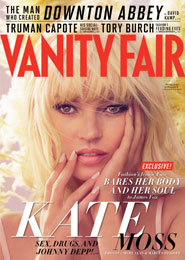 Style Evolution: Kate Moss
May 2008. In a goddess-y gown by best girlfriend Stella McCartney, Moss scales the steps of the Metropolitan Museum of Art for the annual Costume Institute gala.

September 1995. Strike a pose: Looking appropriately minimalist, Moss makes a promotional appearance as the face of Calvin Klein at Saks Fifth Avenue.

December 1995. Supes on! Moss with her model mates Christy Turlington and Naomi Campbell at the Costume Institute gala.

April 1995. Herrrre's Johnny! La Moss in a simple white sheath at the Don Juan DeMarco premiere with then boyfriend Johnny Depp circa.

September 1998. The three amigas: Gwyneth Paltrow, La Moss, and Liv Tyler pose for the cameras at a Beck show at the Roxy in Los Angeles.

1997. The Woman in Black: Continuing to keep minimalism in mind, Moss suited up at the VH1 Vogue Fashion Awards.

2001. Recognise this fashion superstar? This Twiggy-inspired look from the Cannes Film Festival is just one of many that model Kate Moss has embodied over the course of her extensive 21-year career.

August 2002. Meanwhile, later that year...The mum-to-be ditches her trademark designer duds for more casual attire while pregnant and running errands in her home town.

January 2002. Cut it out! Keeping the accessories to a necessary minimum, Moss shows off her svelte body at an exhibition opening at the party at the National Portrait Gallery circa.

On 11 September 2005, Moss and then rocker beau Pete Doherty crash an Another Magazine dinner honouring Jodie Foster in New York. Four days later, The Daily Mirror would run photo of the model allegedly snorting cocaine at a London recording studio. (Moss issued an apology and attended rehab but never confessed to the charges).

September 2006. Cat woman: Nearly a year after her alleged scandal, Moss leaves a shopping spree at the Marc Jacobs store with friend (and former Johnny Depp fiancée) Winona Ryder in Soho.

2005. Oh behave! The sexy kitten look earns Kate high marks as makes her way up the steps at the New York Public Library to the CFDA Awards. Wearing a John Galliano for Christian Dior dress, Moss was the recipient of the Fashion Influence Award.

June 2006. Nothing screams music festival attire like a cropped leather jacket, tie-dye T-shirt, cutoff denim shorts, and oh, sky-high red booties that lace up in the back. Moss rocks it regardless at the O2 Wireless Festival with Kelly Osbourne.

September 2007. Moss strikes a pose with photographer extraordinaire Mario Testino at the V&A Golden Age of Couture Gala. Notice how Testino is stepping on her vintage Christian Dior gown! When it ripped later, the model grabbed the extra fabric, tied it in a knot to the side, and made the dress mini. It's good to be Kate!

December 2007. Ever the rocker girl, Moss heads to the Led Zeppelin Tribute concert for Ahmet Ertegun in an oversized Fendi fur.

April 2007. Meet Kate's mum! The model poses at the London launch of her Topshop line with her mother Linda.

May 2008. In a goddess-y gown by best girlfriend Stella McCartney, Moss scales the steps of the Metropolitan Museum of Art for the annual Costume Institute gala.

June 2008. Out and about in Berlin to promote her latest fragrance, Moss dons a saucy cut-to-there minidress and adorable black flats.

2010. La Moss on a shopping spree for her daughter Lila Grace's birthday. The supe, who was scouting for gifts with a pal on Oxford Street, worked her trademark rock style in an all-black ensemble comprising skinny jeans, ankle boots and a leather jacket, finishing the look with a single chain necklace.

2011. Kate Moss and Jamie Hince were spotted visiting their new Hampstead home. Moss wore a statement-making flat cap. We can't help but think that the look she's really going for is a US policeman. A very, very stylish one...

2011. Kate looked stunning on her wedding day in a John Galliano gown.

2011. Kate wore a black fishnet dress when attending the British Fashion Awards.

2012. At the Mango Fashion Awards in Barcelona.

2012. At her launch party for The Kate Moss Book in London.