Syrian fighter jets have struck suburbs in Damascus for the first time during the 19-month conflict, which has now left 36,000 people dead, according to a human rights watchdog.
The figure only includes confirmed dead and does not count those who have gone missing during the conflict or thousands of pro-regime militia-men.
"Warplanes carried out five air raids on the farmlands around the towns of Saqba and Douma and smoke was seen rising from the targeted areas," said the SOHR director, Rami Abdel Rahman.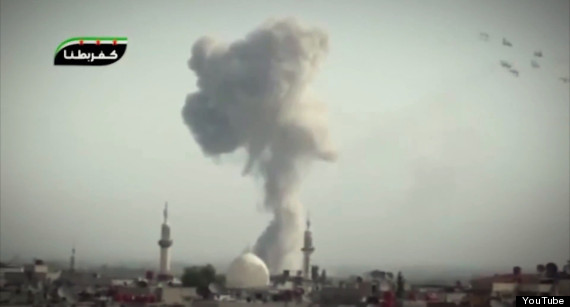 This unverified photo appears the aftermath of bombing by Syrian forces in Damascus
Until now President Bashar al-Assad's regime had only used helicopter gunships to target rebel positions within the capital and this was the first use of jets added Rahman.
The use of warplanes so close to Assad's seat of power points to an increasing desire to use all force necessary to snuff out the rebellion which has been raging for over 19 months now.
A United Nations (UN) spokesperson told the Huffington Post that they were finding it impossible to verify or provide official figures as they could not gain full access to large parts of the country. The official UN line is that there are over 20,000 dead although this is subject to revision.
There are also fears that the violence is spilling over the borders into neighbouring Lebanon, stoking religious and ethnic tensions in the highly volatile region.
Earlier in the week fighter jets bombed positions in Deir el-Zour in the east of Syria, in the most intense bombardment campaign of the conflict with over 60 raids.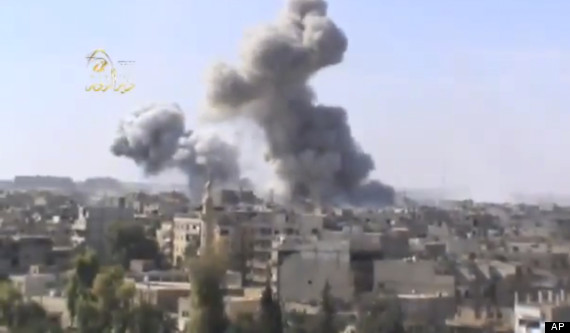 Smoke rises from Deir el-Zour after an attack by Syrian fighter jets
The assassination is the latest in a string of attacks by rebels that have successfully targeted senior figures of the al-Assad regime.
This unverified video below appears to show Syrian fighter jets striking the suburbs of Damascus on Monday.
SUBSCRIBE TO & FOLLOW UK DAILY BRIEF