Huffington Post Picture Desk Live: Scroll down for the best news, entertainment, culture and sports pictures of the day, brought to you by The Huffington Post's own picture editors Elliot Wagland, Matthew Tucker and Tahira Mirza.
Follow us on Twitter for links to top pics featured on The Huffington Post.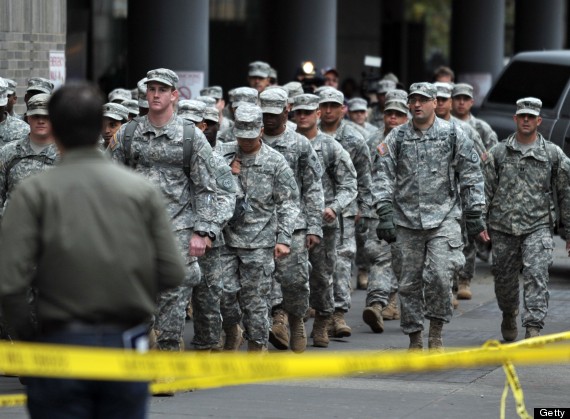 National Guard soldiers walk to Bellevue Hospital during a planned evacuation of the hospital in New York. Bellevue Hospital, the oldest in the country, decided to evacuate its remaining 500 patients on Wednesday after flooding inundated the basement and knocked out electricity.
Loading Slideshow
New York And New Jersey Continue To Recover From Superstorm Sandy

NEW YORK, NY - NOVEMBER 1: Commuters ride the F train November 1, 2012 in New York City. Limited public transit has returned to New York. With the death toll continuing to rise and millions of homes and businesses without power, the U.S. east coast is attempting to recover from the effects of floods, fires and power outages brought on by Superstorm Sandy. (Photo by Allison Joyce/Getty Images)

New York And New Jersey Continue To Recover From Superstorm Sandy

HAZLET TOWNSHIP, NJ - NOVEMBER 01: A gas station attendent sits in a chair while filling customer's jerry cans with gasoline on November 1, 2012 in Hazlet township, New Jersey. United States. Superstorm Sandy, which has left millions without power or water, continues to effect business and daily life throughout much of the eastern seaboard. (Photo by Andrew Burton/Getty Images)

New York And New Jersey Continue To Recover From Superstorm Sandy

HAZLET TOWNSHIP, NJ - NOVEMBER 01: A man waits in line at a gas station with jerry cans on November 1, 2012 in Hazlet township, New Jersey. United States. Superstorm Sandy, which has left millions without power or water, continues to effect business and daily life throughout much of the eastern seaboard. (Photo by Andrew Burton/Getty Images)

New York And New Jersey Continue To Recover From Superstorm Sandy

HAZLET TOWNSHIP, NJ - NOVEMBER 01: A gas station attendent sits in a chair while filling customer's jerry cans with gasoline on November 1, 2012 in Hazlet township, New Jersey. United States. Superstorm Sandy, which has left millions without power or water, continues to effect business and daily life throughout much of the eastern seaboard. (Photo by Andrew Burton/Getty Images)

New York And New Jersey Continue To Recover From Superstorm Sandy

HAZLET TOWNSHIP, NJ - NOVEMBER 01: A man fills up jerry cans with gasoline as others wait in line on November 1, 2012 in Hazlet township, New Jersey. United States. Superstorm Sandy, which has left millions without power or water, continues to effect business and daily life throughout much of the eastern seaboard. (Photo by Andrew Burton/Getty Images)

New York And New Jersey Continue To Recover From Superstorm Sandy

TOMS RIVER, NJ - NOVEMBER 01: An American flag flies in front of a home damaged by Hurricane Sandy on November 1, 2012 in Toms River, New Jersey. With the death toll continuing to rise and millions of homes and businesses without power, the U.S. east coast is attempting to recover from the effects of floods, fires and power outages brought on by superstorm Sandy. (Photo by Mark Wilson/Getty Images)

New York And New Jersey Continue To Recover From Superstorm Sandy

NEW YORK, NY - NOVEMBER 01: New Yorkers wait in traffic as they head into Manhattan as the city continues to recover from superstorm Sandy on November 1, 2012, in the Brooklyn borough of New York City. Limited public transit has returned to New York and most major bridges have reopened but will require three occupants in the vehicle to pass. With the death toll currently over 70 and millions of homes and businesses without power, the US east coast is attempting to recover from the effects of floods, fires and power outages brought on by superstorm Sandy. (Photo by Spencer Platt/Getty Images)

New York And New Jersey Continue To Recover From Superstorm Sandy

TOMS RIVER, NJ - NOVEMBER 01: An American flag flies in front of a home damaged by Hurricane Sandy on November 1, 2012 in Toms River, New Jersey. With the death toll continuing to rise and millions of homes and businesses without power, the U.S. east coast is attempting to recover from the effects of floods, fires and power outages brought on by superstorm Sandy. (Photo by Mark Wilson/Getty Images)

New York And New Jersey Continue To Recover From Superstorm Sandy

NEW YORK, NY - NOVEMBER 01: Thousands of people wait to board city buses into Manhattan at the newly opened Barclay's Center as the city continues to recover from superstorm Sandy on November 1, 2012, in the Brooklyn borough of New York City. Limited public transit has returned to New York and most major bridges have reopened but will require three occupants in the vehicle to pass. With the death toll currently over 70 and millions of homes and businesses without power, the US east coast is attempting to recover from the effects of floods, fires and power outages brought on by superstorm Sandy. (Photo by Spencer Platt/Getty Images)

New York And New Jersey Continue To Recover From Superstorm Sandy

TOMS RIVER, NJ - NOVEMBER 01: Cars wait in line to fuel up at a gas station, on November 1, 2012 in Toms River, New Jersey. With the death toll continuing to rise and millions of homes and businesses without power, the U.S. east coast is attempting to recover from the effects of floods, fires and power outages brought on by superstorm Sandy. (Photo by Mark Wilson/Getty Images)

US-WEATHER-STORM-SANDY

Commuters travel trough the 42nd Street subway station on November 1, 2012 in New York during the first day of limited subway after Hurricane Sandy. The storm left large parts of York City without power and transportation. AFP PHOTO / TIMOTHY A. CLARY (Photo credit should read TIMOTHY A. CLARY/AFP/Getty Images)

US-WEATHER-STORM-SANDY

A train conductor waits at the 59th Street subway station on November 1, 2012 in New York during the first day of limited subway after Hurricane Sandy. The storm left large parts of York City without power and transportation. AFP PHOTO / TIMOTHY A. CLARY (Photo credit should read TIMOTHY A. CLARY/AFP/Getty Images)

US-WEATHER-STORM-SANDY

A commuter waits at the 59th Street subway station on November 1, 2012 in New York during the first day of limited subway after Hurricane Sandy. The storm left large parts of York City without power and transportation. AFP PHOTO / TIMOTHY A. CLARY (Photo credit should read TIMOTHY A. CLARY/AFP/Getty Images)

US-WEATHER-STORM-SANDY

People pass a subway shuttle on 57th street on November 1, 2012 in New York during the first day of limited subway after Hurricane Sandy. The storm left large parts of York City without power and transportation. Subways shuttles have been set up to help commuters bypass stations that are closed due to flooding. AFP PHOTO / TIMOTHY A. CLARY (Photo credit should read TIMOTHY A. CLARY/AFP/Getty Images)

US-WEATHER-STORM-SANDY

A traffic officer directs people to MTA buses used for subway shuttles on 57th street on November 1, 2012 in New York during the first day of limited subway after Hurricane Sandy. The storm left large parts of York City without power and transportation. Subways shuttles have been set up to help commuters bypass stations that are closed due to flooding. AFP PHOTO / TIMOTHY A. CLARY (Photo credit should read TIMOTHY A. CLARY/AFP/Getty Images)

New York And New Jersey Continue To Recover From Superstorm Sandy

NEW YORK, NY - NOVEMBER 1: Commuters walk on the platform of the F train November 1, 2012 in New York City. Limited public transit has returned to New York. With the death toll continuing to rise and millions of homes and businesses without power, the U.S. east coast is attempting to recover from the effects of floods, fires and power outages brought on by Superstorm Sandy. (Photo by Allison Joyce/Getty Images)

New York And New Jersey Continue To Recover From Superstorm Sandy

NEW YORK, NY - NOVEMBER 1: Commuters ride the F train November 1, 2012 in New York City. Limited public transit has returned to New York. With the death toll continuing to rise and millions of homes and businesses without power, the U.S. east coast is attempting to recover from the effects of floods, fires and power outages brought on by Superstorm Sandy. (Photo by Allison Joyce/Getty Images)

US-WEATHER-STORM-SANDY

Commuters wait at the 59th Street subway station on November 1, 2012 in New York during the first day of limited subway after Hurricane Sandy. The storm left large parts of York City without power and transportation. AFP PHOTO / TIMOTHY A. CLARY (Photo credit should read TIMOTHY A. CLARY/AFP/Getty Images)

New York And New Jersey Continue To Recover From Superstorm Sandy

NEW YORK, NY - NOVEMBER 1: Commuters ride the F train November 1, 2012 in New York City. Limited public transit has returned to New York. With the death toll continuing to rise and millions of homes and businesses without power, the U.S. east coast is attempting to recover from the effects of floods, fires and power outages brought on by Superstorm Sandy. (Photo by Allison Joyce/Getty Images)

New York And New Jersey Continue To Recover From Superstorm Sandy

NEW YORK, NY - NOVEMBER 01: People walk on 42nd Street outside Grand Central Terminal as the sun rises during the morning rush near the Chrysler Building in Manhattan on November 1, 2012 in New York City. Some trains are back up and running into Grand Central following shutdowns in the aftermath of Superstorm Sandy. Subway train service in the city is back in a limited capacity, but with much of lower Manhattan still with out power, trains are not running there and busses are replacing them. (Photo by Mario Tama/Getty Images)

New York And New Jersey Continue To Recover From Superstorm Sandy

TOMS RIVER, NJ - NOVEMBER 01: Cars wait in line to fuel up at a gas station, on November 1, 2012 in Toms River, New Jersey. With the death toll continuing to rise and millions of homes and businesses without power, the U.S. east coast is attempting to recover from the effects of floods, fires and power outages brought on by superstorm Sandy. (Photo by Mark Wilson/Getty Images)

New York And New Jersey Continue To Recover From Superstorm Sandy

NEW YORK, NY - NOVEMBER 1: Commuters walk on the platform of the F train November 1, 2012 in New York City. Limited public transit has returned to New York. With the death toll continuing to rise and millions of homes and businesses without power, the U.S. east coast is attempting to recover from the effects of floods, fires and power outages brought on by Superstorm Sandy. (Photo by Allison Joyce/Getty Images)

New York And New Jersey Continue To Recover From Superstorm Sandy

TOMS RIVER, NJ - NOVEMBER 01: A gas station displays a 'No Gas' sign on November 1, 2012 in Toms River, New Jersey. With the death toll continuing to rise and millions of homes and businesses without power, the U.S. east coast is attempting to recover from the effects of floods, fires and power outages brought on by Superstorm Sandy. (Photo by Mark Wilson/Getty Images)

New York And New Jersey Continue To Recover From Superstorm Sandy

NEW YORK, NY - NOVEMBER 1: Commuters ride the F train November 1, 2012 in New York City. Limited public transit has returned to New York. With the death toll continuing to rise and millions of homes and businesses without power, the U.S. east coast is attempting to recover from the effects of floods, fires and power outages brought on by Superstorm Sandy. (Photo by Allison Joyce/Getty Images)

New York And New Jersey Continue To Recover From Superstorm Sandy

NEW YORK, NY - NOVEMBER 1: Commuters ride the F train November 1, 2012 in New York City. Limited public transit has returned to New York. With the death toll continuing to rise and millions of homes and businesses without power, the U.S. east coast is attempting to recover from the effects of floods, fires and power outages brought on by Superstorm Sandy. (Photo by Allison Joyce/Getty Images)

US-WEATHER-STORM-SANDY

A man rides a skateboard down First Avenue October 31, 2012 in New York as subway service is still suspended due to Hurricane Sandy. AFP PHOTO/Stan HONDA (Photo credit should read STAN HONDA/AFP/Getty Images)
Loading Slideshow
A casket floated out of the grave in a cemetery in Crisfield, Md. after the effects of superstorm Sandy Tuesday, Oct. 30, 2012. Hundreds of people were displaced by floodwaters in Ocean City and in Crisfield. At the same time, 2 feet of snow fell in westernmost Garrett County, were nearly three-quarters of residents lost power. (AP Photo/Alex Brandon)

An ambulance is submerged in floodwaters in the wake of superstorm Sandy on Tuesday, Oct. 30, 2012, in Hoboken, N.J. Sandy, the storm that made landfall Monday, caused multiple fatalities, halted mass transit and cut power to more than 6 million homes and businesses. (AP Photo/Mike Groll)

A vehicle drives on a flooded street in the wake of superstorm Sandy on Tuesday, Oct. 30, 2012, in Hoboken, N.J. Sandy, the storm that made landfall Monday, caused multiple fatalities, halted mass transit and cut power to more than 6 million homes and businesses. (AP Photo/Mike Groll)

A firehouse is surrounded by floodwaters in the wake of superstorm Sandy on Tuesday, Oct. 30, 2012, in Hoboken, N.J. Sandy, the storm that made landfall Monday, caused multiple fatalities, halted mass transit and cut power to more than 6 million homes and businesses. (AP Photo/Mike Groll)

A vehicle drives on a flooded street in the wake of superstorm Sandy on Tuesday, Oct. 30, 2012, in Little Ferry, N.J. Sandy, the storm that made landfall Monday, caused multiple fatalities, halted mass transit and cut power to more than 6 million homes and businesses. (AP Photo/Mike Groll)

An emergency vehicle drives on a flooded street in Little Ferry, N.J. in the wake of superstorm Sandy on Tuesday, Oct. 30, 2012. Sandy, the storm that made landfall Monday, caused multiple fatalities, halted mass transit and cut power to more than 6 million homes and businesses. (AP Photo/Mike Groll)

An emergency vehicle drives on a flooded street in Little Ferry, N.J. in the wake of superstorm Sandy on Tuesday, Oct. 30, 2012. Sandy, the storm that made landfall Monday, caused multiple fatalities, halted mass transit and cut power to more than 6 million homes and businesses. (AP Photo/Mike Groll)

Rescue workers help stranded people out of their flooded homes in Seaside Heights, N.J., following the arrival of superstorm Sandy, Tuesday, Oct. 30, 2012. Sandy, the storm that made landfall Monday, caused multiple fatalities, halted mass transit and cut power to more than 6 million homes and businesses. (AP Photo/Julio Cortez)

Rescue workers help stranded people out of their flooded homes in Seaside Heights, N.J., following the arrival of superstorm Sandy, Tuesday, Oct. 30, 2012. Sandy, the storm that made landfall Monday, caused multiple fatalities, halted mass transit and cut power to more than 6 million homes and businesses. (AP Photo/Julio Cortez)

A runway at the Teterboro Airport is flooded in the wake of superstorm Sandy on Tuesday, Oct. 30, 2012, in New York. Sandy, the storm that made landfall Monday, caused multiple fatalities, halted mass transit and cut power to more than 6 million homes and businesses. (AP Photo/Mike Groll)

Homes in Bethany Beach, Del. are surrounded by floodwaters from superstorm Sandy on Tuesday, Oct. 30, 2012. Officials said Bethany and nearby Fenwick Island appeared to be among the hardest-hit parts of the state. (AP Photo/Randall Chase)

Floodwaters from superstorm Sandy surround homes in South Bethany, Del. Tuesday, Oct. 30, 2012. Sandy, the storm that made landfall Monday, caused multiple fatalities, halted mass transit and cut power to more than 6 million homes and businesses. (AP Photo/The Wilmington News-Journal, Robert Craig) NO SALES

Floodwaters from superstorm Sandy surround homes in South Bethany, Del. Tuesday, Oct. 30, 2012. Sandy, the storm that made landfall Monday, caused multiple fatalities, halted mass transit and cut power to more than 6 million homes and businesses. (AP Photo/The Wilmington News-Journal, Robert Craig) NO SALES

Downed power lines and a battered road is what superstorm Sandy left behind as people walk off the flooded Seaside Heights island, Tuesday, Oct. 30, 2012. Sandy, the storm that made landfall Monday, caused multiple fatalities, halted mass transit and cut power to more than 6 million homes and businesses. (AP Photo/Julio Cortez)

This photo provided by the Metropolitan Transportation Authority shows the South Ferry subway station after it was flooded by seawater during superstorm Sandy on Tuesday, Oct. 30, 2012. Sandy, the storm that made landfall Monday, caused multiple fatalities, halted mass transit and cut power to more than 6 million homes and businesses. (AP Photo/ Metropolitan Transportation Authority)

Debris litters the beach north of Indian River Inlet in southern Delaware after waves churned up by superstorm Sandy demolished hundreds of yards of beach dunes and left state Route 1, the major north-south coastal highway, covered in sand. (AP Photo/Randall Chase)

This photo provided by the Metropolitan Transportation Authority shows the South Ferry subway station after it was flooded by seawater during superstorm Sandy on Tuesday, Oct. 30, 2012. Sandy, the storm that made landfall Monday, caused multiple fatalities, halted mass transit and cut power to more than 6 million homes and businesses. (AP Photo/ Metropolitan Transportation Authority)

This photo provided by the Metropolitan Transportation Authority shows the South Ferry subway station after it was flooded by seawater during superstorm Sandy on Tuesday, Oct. 30, 2012. Sandy, the storm that made landfall Monday, caused multiple fatalities, halted mass transit and cut power to more than 6 million homes and businesses. (AP Photo/ Metropolitan Transportation Authority)

Streets around a Con Edison substation are flooded as the East River overflows into the Dumbo section of Brooklyn, N.Y., as Sandy moves through the area on Monday, Oct. 29, 2012. After a gigantic wall of water defied elaborate planning and swamped underground electrical equipment at a Consolidated Edison substation in Manhattan's East Village, about 250,000 lower Manhattan customers were left without power. (AP Photo/Bebeto Matthews)

In this Monday, Oct. 29, 2012, file photo, Consolidated Edision trucks are submerged on 14th Street near the ConEd power plant in New York. After a gigantic wall of water defied elaborate planning and swamped underground electrical equipment at a Consolidated Edison substation in Manhattan's East Village, about 250,000 lower Manhattan customers were left without power. (AP Photo/John Minchillo)

Downed power lines and a battered road is what superstorm Sandy left behind as people walk off the flooded Seaside Heights island, Tuesday, Oct. 30, 2012. Sandy, the storm that made landfall Monday, caused multiple fatalities, halted mass transit and cut power to more than 6 million homes and businesses. (AP Photo/Julio Cortez)

This photo taken Tuesday, Oct. 30, 2012, shows what appear to be transformers exploding after much of lower Manhattan lost power during hurricane Sandy in New York. After a gigantic wall of water defied elaborate planning and swamped underground electrical equipment at a Consolidated Edison substation in Manhattan's East Village, about 250,000 lower Manhattan customers were left without power. (AP Photo/Karly Domb Sadof)

Peter Andrews removes belongings from his father's beachfront home, destroyed in the aftermath of a storm surge from the superstorm Sandy, Tuesday, Oct. 30, 2012, in Coney Island's Sea Gate community in New York. Andrews, 40, who was born in the house, said "we had a lot of storms and the only damage in the past was when a national guardsman threw a sandbag through the window." He added, the house was in the process of being sold. (AP Photo/Bebeto Matthews)

A small shop that rents personal water craft rests in a huge sinkhole on the bayside in Ocean City, N.J. Tuesday, Oct. 30, 2012 after a storm surge from superstorm Sandy Monday night. (AP Photo/Mel Evans)

A beachfront house is completely destroyed in the aftermath of a superstorm Sandy, Tuesday, Oct. 30, 2012, in Coney Island's Sea Gate community in New York. (AP Photo/Bebeto Matthews)

The entrance to a beachfront house is destroyed in the aftermath of a storm surge from superstorm Sandy, Tuesday, Oct. 30, 2012, in Coney Island's Sea Gate community in New York. (AP Photo/Bebeto Matthews)

A second floor closet is exposed in a beachfront house in the aftermath of a storm surge from Hurricane Sandy, Tuesday, Oct. 30, 2012, in Coney Island's Sea Gate community in New York. (AP Photo/Bebeto Matthews)

People stop along the Brooklyn waterfront to photograph the Brooklyn Bridge and the Manhattan skyline, Tuesday, Oct. 30, 2012 in New York. Much of lower Manhattan is without electric power following the impact of superstorm Sandy. (AP Photo/Mark Lennihan)

Marcus Konner, 22, boards his home in the aftermath of a storm surge from Hurricane Sandy, Tuesday, Oct. 30, 2012, in Coney Island's Sea Gate community in New York. (AP Photo/Bebeto Matthews)

People walk through the houses destroyed in the aftermath of yesterday's storm surge from superstorm Sandy, Tuesday, Oct. 30, 2012, in Coney Island's Sea Gate community in New York. (AP Photo/Bebeto Matthews)

Carlo Popolano stands outside his beachfront home, damaged in superstorm Sandy, on Tuesday, Oct. 30, 2012, in Coney Island's Sea Gate community in New York. Popolano said he was watching the storm with his son and "everything was okay until about 7:30 and then one big wave came and washed away our whole backyard." (AP Photo/Bebeto Matthews)

A beachfront house is completely destroyed in the aftermath of yesterday's surge from superstorm Sandy, Tuesday, Oct. 30, 2012, in Coney Island's Sea Gate community in New York. (AP Photo/Bebeto Matthews)

A backyard is inundated with floodwaters in the aftermath of Sandy, Tuesday, Oct. 30, 2012, in Lewes, Del. Sandy, the storm that made landfall Monday, caused multiple fatalities, halted mass transit and cut power to more than 6 million homes and businesses. (AP Photo/Randall Chase)

A car is upended on a mailbox on Surf Avenue in Coney Island, N.Y., in the aftermath of Sandy on Tuesday, Oct. 30, 2012. Sandy, the storm that made landfall Monday, caused multiple fatalities, halted mass transit and cut power to more than 6 million homes and businesses. (AP Photo/Ralph Russo)

This handout photo provided by NOAA, taken Tuesday, Oct. 30, 2012, shows post-tropical storm Sandy off the East Coast of the US. Campaign 2012 is rich with images that conjure the seriousness and silliness that unfold side-by-side in any presidential race. Who could have predicted that a superstorm would overshadow and scramble the presidential campaign in its final days? President Barack Obama and Mitt Romney revised and re-revised their campaign schedules as Hurricane Sandy, a most unlikely October surprise, barreled up the East Coast and then roared ashore in New Jersey. (AP Photo/NOAA)

A parking lot full of yellow cabs is flooded as a result of superstorm Sandy on Tuesday, Oct. 30, 2012 in Hoboken, NJ. (AP Photo/Charles Sykes)

A beachfront house is damaged in the aftermath of yesterday's surge from superstorm Sandy, Tuesday, Oct. 30, 2012, in Coney Island's Sea Gate community in New York. (AP Photo/Bebeto Matthews)

A car is upended on a mailbox on Surf Avenue in Coney Island, N.Y., in the aftermath of Sandy on Tuesday, Oct. 30, 2012. Sandy, the storm that made landfall Monday, caused multiple fatalities, halted mass transit and cut power to more than 6 million homes and businesses. (AP Photo/Ralph Russo)

Damage caused by a fire at Breezy Point is shown Tuesday, Oct. 30, 2012, in New York. A fire department spokesman says more than 190 firefighters are at the blaze in the Breezy Point section. Fire officials say the blaze was reported around 11 p.m. Monday in an area flooded by the superstorm that began sweeping through earlier. (AP Photo/Frank Franklin II)

Fire still burns at the scene of a fire in Breezy Point, in the New York City borough of Queens Tuesday, Oct. 30, 2012, in New York. The fire destroyed between 80 and 100 houses Monday night in the flooded neighborhood. More than 190 firefighters have contained the six-alarm blaze fire, but they are still putting out some pockets of fire. (AP Photo/Frank Franklin II)

East Coast Begins To Clean Up And Assess Damage From Hurricane Sandy

ATLANTIC CITY, NJ - OCTOBER 30: People stand on a mound of construction dirt to vew the area where a 2000-foot section of the 'uptown' boardwalk was destroyed by flooding from Hurricane Sandy on October 30, 2012 in Atlantic City, New Jersey. The storm has claimed at least 33 lives in the United States, and has caused massive flooding accross much of the Atlantic seaboard. US President Barack Obama has declared the situation a 'major disaster' for large areas of the US East Coast including New York City. (Photo by Mario Tama/Getty Images)

Homes damaged by a fire at Breezy Point are shown, in the New York City borough of Queens Tuesday, Oct. 30, 2012, in New York. The fire destroyed between 80 and 100 houses Monday night in the flooded neighborhood. More than 190 firefighters have contained the six-alarm blaze fire, but they are still putting out some pockets of fire. (AP Photo/Frank Franklin II)

East Coast Begins To Clean Up And Assess Damage From Hurricane Sandy

ATLANTIC CITY, NJ - OCTOBER 30: A man walks over debsris where a 2000-foot section of the 'uptown' boardwalk was destroyed by flooding from Hurricane Sandy on October 30, 2012 in Atlantic City, New Jersey. The storm has claimed at least 33 lives in the United States, and has caused massive flooding accross much of the Atlantic seaboard. US President Barack Obama has declared the situation a 'major disaster' for large areas of the US East Coast including New York City. (Photo by Mario Tama/Getty Images)

East Coast Begins To Clean Up And Assess Damage From Hurricane Sandy

NEW YORK, NY - OCTOBER 30: Ground Zero is seen on October 30, 2012 in the Financial District of New York, United States. The storm has claimed at least 33 lives in the United States, and has caused massive flooding accross much of the Atlantic seaboard. US President Barack Obama has declared the situation a 'major disaster' for large areas of the US East Coast including New York City. (Photo by Andrew Burton/Getty Images)

US-WEATHER-STORM-SANDY

Sailboats rest on the ground after being tipped over by Hurricane Sandy on City Island October 30, 2012 in New York. US President Obama declared New York a disaster area. The death toll from superstorm Sandy has risen to 16 in the mainland United States and Canada, and was expected to climb further as several people were still missing, officials said Tuesday. AFP PHOTO/DON EMMERT (Photo credit should read DON EMMERT/AFP/Getty Images)

US-WEATHER-STORM-SANDY

Boats rest on the ground after floating from their stands at dry dock on City Island , in New York October 30, 2012 following Hurricane Sandy's impact. US President Obama declared New York a disaster area The death toll from superstorm Sandy has risen to 16 in the mainland United States and Canada, and was expected to climb further as several people were still missing, officials said Tuesday. AFP PHOTO/DON EMMERT (Photo credit should read DON EMMERT/AFP/Getty Images)

Homes destroyed by a fire at Breezy Point are shown, in the New York City borough of Queens Tuesday, Oct. 30, 2012, in New York. The fire destroyed between 80 and 100 houses Monday night in the flooded neighborhood. More than 190 firefighters have contained the six-alarm blaze fire, but they are still putting out some pockets of fire. (AP Photo/Frank Franklin II)

US-WEATHER-STORM-SANDY

Boats rest on the ground after floating from their stands at dry dock on City Island , in New York October 30, 2012 following Hurricane Sandy's impact. US President Obama declared New York a disaster area The death toll from superstorm Sandy has risen to 16 in the mainland United States and Canada, and was expected to climb further as several people were still missing, officials said Tuesday. AFP PHOTO/DON EMMERT (Photo credit should read DON EMMERT/AFP/Getty Images)

US-WEATHER-STORM-SANDY

Residents look at damage left by Hurricane Sandy on City Island, New York, October 30, 2012. US President Obama declared New York a disaster area The death toll from superstorm Sandy has risen to 16 in the mainland United States and Canada, and was expected to climb further as several people were still missing, officials said Tuesday. AFP PHOTO/DON EMMERT (Photo credit should read DON EMMERT/AFP/Getty Images)

US-WEATHER-STORM-SANDY

Boats rest on the ground after floating from their stands at dry dock on City Island , in New York October 30, 2012 following Hurricane Sandy's impact. US President Obama declared New York a disaster area The death toll from superstorm Sandy has risen to 16 in the mainland United States and Canada, and was expected to climb further as several people were still missing, officials said Tuesday. AFP PHOTO/DON EMMERT (Photo credit should read DON EMMERT/AFP/Getty Images)

East Coast Begins To Clean Up And Assess Damage From Hurricane Sandy

NEW YORK, NY - OCTOBER 30: A truck drives through a flooded street, caused by Hurricane Sandy, on October 30, 2012, in the Lower East Side of New York City. The storm has claimed at least 33 lives in the United States, and has caused massive flooding accross much of the Atlantic seaboard. US President Barack Obama has declared the situation a 'major disaster' for large areas of the US East Coast including New York City. (Photo by Andrew Burton/Getty Images)