Yes, busy parents can combine baby's development with housework, thanks to these romper suits fringed in absorbent mop tassels.
Retailing at just $40 (£25), the Baby Mop promises to teach your baby a strong work ethic, encourage it not to drop and waste food and save you a fortune on cleaning costs.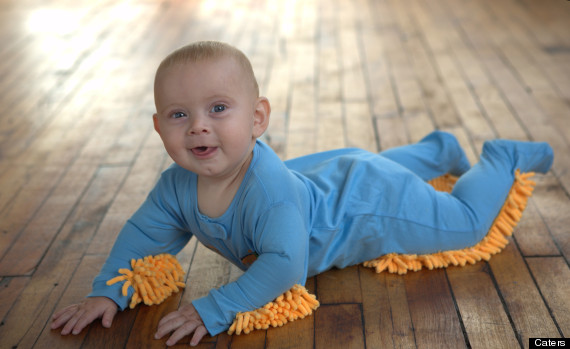 Start em young: The Baby Mop is 100% cotton and machine washable
A series of ringing endorsements are listed below via the company's Facebook page, including this hearty approval by Pat Crosswhite:

Criticism does lurk in the form of Ryan Philips however, who gripes: "That is the laziest product I've ever seen. Babies shouldn't clean…your product is offensive." Oh BOO Ryan Philips! Just look at these floors!
A company spokesman told the Mail Online: "We have sold about 100 in just one month since adding it to our site.
"I believe the idea was submitted as part of a contest on ridiculous inventions in Japan but was never actually sold anywhere.
So get your skates on, because stocks are low!

Here are 13 products that can't possibly work, right?
Products That Can't Possibly Work
SUBSCRIBE TO & FOLLOW UK DAILY BRIEF