Huffington Post Picture Desk Live: Scroll down for the best news, entertainment, culture and sports pictures of the day, brought to you by The Huffington Post's own picture editors Elliot Wagland, Matthew Tucker and Tahira Mirza.
Follow us on Twitter for links to top pics featured on The Huffington Post.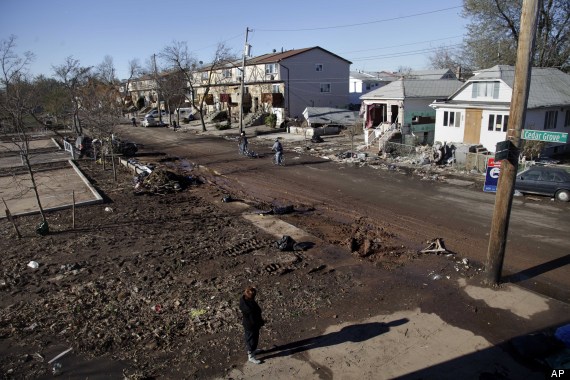 Maryann Eger, bottom, looks over the destruction in her neighborhood of New Dorp in the Staten Island borough of New York in the aftermath of Superstorm Sandy.
Loading Slideshow
A sports car remains covered with debris almost a week after superstorm Sandy passed through the region, Saturday, Nov. 3, 2012 in the New Dorp section of the Staten Island borough of New York. More New Yorkers awoke Saturday to power being restored for the first time since Superstorm Sandy pummeled the region, but patience wore thin among those in the region who have been without power for most of the week. (AP Photo/Robert Hirsch)

Thomas Terrusa

Volunteer Thomas Terrusa is seen through a mangled metal bin as he pushes a cart with supplies to donate to residents affected by Superstorm Sandy, Saturday, Nov. 3, 2012, in Staten Island, N.Y. A Superstorm Sandy relief fund is being created just for residents of the hard-hit New York City borough. Former Mayor Rudolph Giuliani and Borough President James Molinaro say the fund will help residents displaced from their homes. (AP Photo/Julio Cortez)

Garbage lies piled on the street in the New Dorp neighborhood of Staten Island, N.Y., Sunday, Nov. 4, 2012, in the aftermath of Superstorm Sandy. (AP Photo/Seth Wenig)

Maryann Eger, bottom, looks over the destruction in her neighborhood of New Dorp in the Staten Island borough of New York, Sunday, Nov. 4, 2012, in the aftermath of Superstorm Sandy. (AP Photo/Seth Wenig)

Garbage lies piled on the street in the New Dorp neighborhood of Staten Island, N.Y., Sunday, Nov. 4, 2012, in the aftermath of Superstorm Sandy. (AP Photo/Seth Wenig)

A commuter leaves the Staten Island Ferry terminal, Monday, Nov. 5, 2012, one week after Superstorm Sandy crashed into the metropolitan area, wreaking havoc and shutting down mass transit services for days, in New York. The island of Manhattan has begun to return to normal following a week of power outages that shuttered businesses and left many residents in the dark. (AP Photo/ John Minchillo)

Commuters move to board the Staten Island Ferry towards Manhattan one week after Superstorm Sandy crashed into the metropolitan area, wreaking havoc and shutting down mass transit services for days, Monday, Nov. 5, 2012, in the Staten Island borough of New York. The island of Manhattan has begun to return to normal following a week of power outages that shuttered businesses and left many residents in the dark. (AP Photo/ John Minchillo)

Commuters disembark the Staten Island Ferry one week after Superstorm Sandy crashed into the metropolitan area, wreaking havoc and shutting down mass transit services for days, Monday, Nov. 5, 2012, in New York. The island of Manhattan has begun to return to normal following a week of power outages that shuttered businesses and left many residents in the dark. (AP Photo/ John Minchillo)

Commuters disembark the Staten Island Ferry one week after Superstorm Sandy crashed into the metropolitan area, wreaking havoc and shutting down mass transit services for days, Monday, Nov. 5, 2012, in New York. The island of Manhattan has begun to return to normal following a week of power outages that shuttered businesses and left many downtown residents in the dark. (AP Photo/ John Minchillo)

Church-goers leave Mass in the New Dorp neighborhood of Staten Island, N.Y., Sunday, Nov. 4, 2012, amid destruction caused by Superstorm Sandy. (AP Photo/Seth Wenig)

Garbage lies piled on the street in the New Dorp neighborhood of Staten Island, N.Y., Sunday, Nov. 4, 2012, in the aftermath of Superstorm Sandy. (AP Photo/Seth Wenig)

Mary Wittenberg, president of the New York Road Runners, reacts after speaking with a family whose house was heavily damaged during Superstorm Sandy, in the Staten Island borough New York, Sunday, Nov. 4, 2012. With the cancellation of the New York Marathon, hundreds of runners, wearing their marathon shirts and backpacks full of supplies, took the ferry to hard-hit Staten Island and ran to hard-hit neighborhoods to help. (AP Photo/Craig Ruttle)

A vinyl record featuring the speeches of former first lady Jacqueline Kennedy Onassis lays ruined on a pile of belongings in front of a home in the Midland Beach neighborhood in the hard hit Staten Island borough New York, Sunday, Nov. 4, 2012, in the wake of Superstorm Sandy. (AP Photo/Craig Ruttle)

Kathleen Cappucci waits with her nephew, Jack Wiatrak, seven-months-old, to apply for disaster assistance at a FEMA tent in the Staten Island borough of New York, Sunday, Nov. 4, 2012. (AP Photo/Seth Wenig)

Galina Quacinella, right, gets some blankets for herself and her husband at a Red Cross aid station in Staten Island, New York, Sunday, Nov. 4, 2012. With overnight temperatures sinking into the 30s, hundreds of thousands of homes and businesses are still without electricity in the aftermath of Superstorm Sandy. (AP Photo/Seth Wenig)

Dragging a large bag of debris, a friend helps clean up a home belonging to Eileen Mannix in the Midland Beach neighborhood in the hard hit Staten Island borough New York, Sunday, Nov. 4, 2012, in the wake of Superstorm Sandy. (AP Photo/Craig Ruttle)

Volunteer Fabrizzio Avila, 15, bundles up from the cold as he rests near donated clothing in the Midland Beach neighborhood in the Staten Island borough New York, Sunday, Nov. 4, 2012, in the wake of Superstorm Sandy. With overnight temperatures sinking into the 30s and hundreds of thousands of homes and businesses still without electricity six days after Sandy howled through, people piled on layers of clothes, and New York City officials handed out blankets and urged victims to go to overnight shelters or daytime warming centers. (AP Photo/Craig Ruttle)

James Gasparino, left, a volunteer, and others gather around a fire for warmth in the New Dorp section of Staten Island, New York, Sunday, Nov. 4, 2012. Gasparino's girlfriend and his girlfriend's sister both had houses in the neighborhood that were damaged by Superstorm Sandy. With overnight temperatures sinking into the 30s and hundreds of thousands of homes and businesses still without electricity six days after Sandy howled through, people piled on layers of clothes, and New York City officials handed out blankets and urged victims to go to overnight shelters or daytime warming centers. (AP Photo/Seth Wenig)

People sort through blankets at an aid station in the New Dorp section of Staten Island, New York, Sunday, Nov. 4, 2012. With overnight temperatures sinking into the 30s and hundreds of thousands of homes and businesses still without electricity six days after Sandy howled through, people piled on layers of clothes, and New York City officials handed out blankets and urged victims to go to overnight shelters or daytime warming centers. (AP Photo/Seth Wenig)

New York And New Jersey Continue To Recover From Superstorm Sandy

NEW YORK, NY - NOVEMBER 03: Dr Rosanna Troia breaks down in tears while helping clean out her mother's home in the Midland Beach neighborhood of Staten Island on November 3, 2012 in New York City. As clean up efforts from Superstorm Sandy continue, colder weather and another storm predicted for next week are beginning to make some worried. (Photo by Andrew Burton/Getty Images)

New York And New Jersey Continue To Recover From Superstorm Sandy

NEW YORK, NY - NOVEMBER 03: An telephone pole leans over the road in the Midland Beach neighborhood of Staten Island on November 3, 2012 in New York City. As clean up efforts from Superstorm Sandy continue, colder weather and another storm predicted for next week are beginning to make some worried. (Photo by Andrew Burton/Getty Images)

New York And New Jersey Continue To Recover From Superstorm Sandy

NEW YORK, NY - NOVEMBER 03: A National Grid employee checks for a gas line along the foundation of a house that was destroyed in the Midland Beach neighborhood of Staten Island on November 3, 2012 in New York City. As clean up efforts from Superstorm Sandy continue, colder weather and another storm predicted for next week are beginning to make some worried. (Photo by Andrew Burton/Getty Images)

New York And New Jersey Continue To Recover From Superstorm Sandy

NEW YORK, NY - NOVEMBER 03: A National Grid employee stands on the front steps of where a house once stood in the Midland Beach neighborhood of Staten Island on November 3, 2012 in New York City. As clean up efforts from Superstorm Sandy continue, colder weather and another storm predicted for next week are beginning to make some worried. (Photo by Andrew Burton/Getty Images)

New York And New Jersey Continue To Recover From Superstorm Sandy

NEW YORK, NY - NOVEMBER 03: A National Grid employee checks for a gas line along the foundation of a house that was destroyed in the Midland Beach neighborhood of Staten Island on November 3, 2012 in New York City. As clean up efforts from Superstorm Sandy continue, colder weather and another storm predicted for next week are beginning to make some worried. (Photo by Andrew Burton/Getty Images)

New York And New Jersey Continue To Recover From Superstorm Sandy

NEW YORK, NY - NOVEMBER 03: Steve Zboinski recovers an urn containing the ashes of one of his dogs in the Midland Beach neighborhood of Staten Island on November 3, 2012 in New York City. As clean up efforts from Superstorm Sandy continue, colder weather and another storm predicted for next week are beginning to make some worried. (Photo by Andrew Burton/Getty Images)

New York And New Jersey Continue To Recover From Superstorm Sandy

NEW YORK, NY - NOVEMBER 03: Electrical wires are precariously balanced on top of two beams in the Midland Beach neighborhood of Staten Island on November 3, 2012 in New York City. As clean up efforts from Superstorm Sandy continue, colder weather and another storm predicted for next week are beginning to make some worried. (Photo by Andrew Burton/Getty Images)

New York And New Jersey Continue To Recover From Superstorm Sandy

NEW YORK, NY - NOVEMBER 03: A dump truck empties trash collected from Superstorm Sandy damaged homes on November 3, 2012 in the Midland Beach neighborhood of Staten Island borough of New York City. With the death toll currently over 100 and millions of homes and businesses without power, the U.S. East Coast is attempting to recover from the effects of floods, fires and power outages brought on by Superstorm Sandy. New Jersey has begun rationing gas and the Department of Defense will be setting up mobile gas stations in New York City and Long Island. (Photo by Andrew Burton/Getty Images)

New York And New Jersey Continue To Recover From Superstorm Sandy

NEW YORK, NY - NOVEMBER 03: A dump truck empties trash collected from Superstorm Sandy damaged homes on November 3, 2012 in the Midland Beach neighborhood of Staten Island borough of New York City. With the death toll currently over 100 and millions of homes and businesses without power, the U.S. East Coast is attempting to recover from the effects of floods, fires and power outages brought on by Superstorm Sandy. New Jersey has begun rationing gas and the Department of Defense will be setting up mobile gas stations in New York City and Long Island. (Photo by Andrew Burton/Getty Images)

New York And New Jersey Continue To Recover From Superstorm Sandy

NEW YORK, NY - NOVEMBER 03: A volunteer places donated clothing in plastic bags to protect it from potential rain at a relief center set up in a parking lot on November 3, 2012 in the Midland Beach neighborhood of Staten Island borough of New York City. With the death toll currently over 100 and millions of homes and businesses without power, the U.S. East Coast is attempting to recover from the effects of floods, fires and power outages brought on by Superstorm Sandy. New Jersey has begun rationing gas and the Department of Defense will be setting up mobile gas stations in New York City and Long Island. (Photo by Andrew Burton/Getty Images)

New York And New Jersey Continue To Recover From Superstorm Sandy

NEW YORK, NY - NOVEMBER 03: A woman searches through supplies at a relief center set up in a parking lot on November 3, 2012 in the Midland Beach neighborhood of Staten Island borough of New York City. With the death toll currently over 100 and millions of homes and businesses without power, the U.S. East Coast is attempting to recover from the effects of floods, fires and power outages brought on by Superstorm Sandy. New Jersey has begun rationing gas and the Department of Defense will be setting up mobile gas stations in New York City and Long Island. (Photo by Andrew Burton/Getty Images)

New York And New Jersey Continue To Recover From Superstorm Sandy

NEW YORK, NY - NOVEMBER 03: A woman searches through supplies at a relief center set up in a parking lot on November 3, 2012 in the Midland Beach neighborhood of Staten Island borough of New York City. With the death toll currently over 100 and millions of homes and businesses without power, the U.S. East Coast is attempting to recover from the effects of floods, fires and power outages brought on by Superstorm Sandy. New Jersey has begun rationing gas and the Department of Defense will be setting up mobile gas stations in New York City and Long Island. (Photo by Andrew Burton/Getty Images)

US-WEATHER-STORM-SANDY-MARATHON

Runner Joselyn Fine, 34, who would have run the ING New York City Marathon, spends the afternoon volunteering by unloading and organizing emergency supplies near Midland Beach as New York recovers from Hurricane Sandy on November 4, 2012 in Staten Island, New York. AFP PHOTO / Mehdi Taamallah (Photo credit should read MEHDI TAAMALLAH/AFP/Getty Images)

US-WEATHER-STORM-SANDY-MARATHON

Runner Joselyn Fine, 34, who would have run the ING New York City Marathon, spends the afternoon volunteering by unloading and organizing emergency supplies near Midland Beach as New York recovers from Hurricane Sandy on November 4, 2012 in Staten Island, New York. AFP PHOTO / Mehdi Taamallah (Photo credit should read MEHDI TAAMALLAH/AFP/Getty Images)

US-WEATHER-STORM-SANDY-MARATHON

Runners Joselyn Fine, 34, and Jonathan who would have run the ING New York City Marathon, spend the afternoon volunteering by unloading and organizing emergency supplies near Midland Beach as New York recovers from Hurricane Sandy on November 4, 2012 in Staten Island, New York. AFP PHOTO / Mehdi Taamallah (Photo credit should read MEHDI TAAMALLAH/AFP/Getty Images)

US-WEATHER-STORM-SANDY-MARATHON

Runner Jonathan who would have run the ING New York City Marathon, spend the afternoon volunteering by unloading and organizing emergency supplies near Midland Beach as New York recovers from Hurricane Sandy on November 4, 2012 in Staten Island, New York. AFP PHOTO / Mehdi Taamallah (Photo credit should read MEHDI TAAMALLAH/AFP/Getty Images)

US-WEATHER-STORM-SANDY-MARATHON

Runner Jonathan who would have run the ING New York City Marathon, spend the afternoon volunteering by unloading and organizing emergency supplies near Midland Beach as New York recovers from Hurricane Sandy on November 4, 2012 in Staten Island, New York. AFP PHOTO / Mehdi Taamallah (Photo credit should read MEHDI TAAMALLAH/AFP/Getty Images)

US-WEATHER-STORM-SANDY-VOLUNTEERS

Volunteers spend the afternoon helping by unloading and organizing emergency supplies near Midland Beach as New York recovers from Hurricane Sandy on November 4, 2012 in Staten Island, New York. AFP PHOTO / Mehdi Taamallah (Photo credit should read MEHDI TAAMALLAH/AFP/Getty Images)

US-WEATHER-STORM-SANDY-VOLUNTEERS

Volunteers spend the afternoon helping by unloading and organizing emergency supplies near Midland Beach as New York recovers from Hurricane Sandy on November 4, 2012 in Staten Island, New York. AFP PHOTO / Mehdi Taamallah (Photo credit should read MEHDI TAAMALLAH/AFP/Getty Images)

New York And New Jersey Continue To Recover From Superstorm Sandy

NEW YORK, NY - NOVEMBER 03: Steve Zboinski searches his house for an urn containing the ashes of one of his dogs in the Midland Beach neighborhood of Staten Island on November 3, 2012 in New York City. As clean up efforts from Superstorm Sandy continue, colder weather and another storm predicted for next week are beginning to make some worried. (Photo by Andrew Burton/Getty Images)

New York And New Jersey Continue To Recover From Superstorm Sandy

NEW YORK, NY - NOVEMBER 03: Angela Troia wipes off a painting damaged by Superstorm Sandy in the Midland Beach neighborhood of Staten Island on November 3, 2012 in New York City. As clean up efforts from Superstorm Sandy continue, colder weather and another storm predicted for next week are beginning to make some worried. (Photo by Andrew Burton/Getty Images)

New York And New Jersey Continue To Recover From Superstorm Sandy

NEW YORK, NY - NOVEMBER 03: A man returns to his house with bleach and water in the Midland Beach neighborhood of Staten Island on November 3, 2012 in New York City. As clean up efforts from Superstorm Sandy continue, colder weather and another storm predicted for next week are beginning to make some worried. (Photo by Andrew Burton/Getty Images)

New York And New Jersey Continue To Recover From Superstorm Sandy

NEW YORK, NY - NOVEMBER 03: A seriously damaged home is seen in the Midland Beach neighborhood of Staten Island on November 3, 2012 in New York City. As clean up efforts from Superstorm Sandy continue, colder weather and another storm predicted for next week are beginning to make some worried. (Photo by Andrew Burton/Getty Images)

New York And New Jersey Continue To Recover From Superstorm Sandy

NEW YORK, NY - NOVEMBER 03: Members of the Army National Guard patrol the Midland Beach neighborhood of Staten Island on November 3, 2012 in New York City. As clean up efforts from Superstorm Sandy continue, colder weather and another storm predicted for next week are beginning to make some worried. (Photo by Andrew Burton/Getty Images)

New York And New Jersey Continue To Recover From Superstorm Sandy

NEW YORK, NY - NOVEMBER 03: A family cleans out their home the Midland Beach neighborhood of Staten Island on November 3, 2012 in New York City. As clean up efforts from Superstorm Sandy continue, colder weather and another storm predicted for next week are beginning to make some worried. (Photo by Andrew Burton/Getty Images)

New York And New Jersey Continue To Recover From Superstorm Sandy

NEW YORK, NY - NOVEMBER 03: A seriously damaged home is seen in the Midland Beach neighborhood of Staten Island on November 3, 2012 in New York City. As clean up efforts from Superstorm Sandy continue, colder weather and another storm predicted for next week are beginning to make some worried. (Photo by Andrew Burton/Getty Images)

New York And New Jersey Continue To Recover From Superstorm Sandy

NEW YORK, NY - NOVEMBER 03: Steve Zboinski searches his house for valuables worth saving in the Midland Beach neighborhood of Staten Island on November 3, 2012 in New York City. As clean up efforts from Superstorm Sandy continue, colder weather and another storm predicted for next week are beginning to make some worried. (Photo by Andrew Burton/Getty Images)

New York And New Jersey Continue To Recover From Superstorm Sandy

NEW YORK, NY - NOVEMBER 03: Doctor Rosanna Troia is consoled by volunteers while helping clean out her mother's home in the Midland Beach neighborhood of Staten Island on November 3, 2012 in New York City. As clean up efforts from Superstorm Sandy continue, colder weather and another storm predicted for next week are beginning to make some worried. (Photo by Andrew Burton/Getty Images)