Downton Abbey's resident revolutionary may have come in from the cold in last night's final episode - with Thomas Branson even donning cricket whites to prove his establishment credentials in the final reel - but actor Allen Leech has revealed he was just as intimidated when he first turned up on set.
The actor told a packed crowd last week how intimidating it was, as a young Irishman, to film his first 'Downton Abbey' scenes in the presence of the acting legend that is Dame Maggie Smith.
Leech, who plays chauffeur Tom Branson, explained to the crowd at the Apple Store in London how he learned something in every scene he shared with the double Oscar winner, even though, when asked to share some magic, the much-loved actress told the director, "My magic ran out three years ago."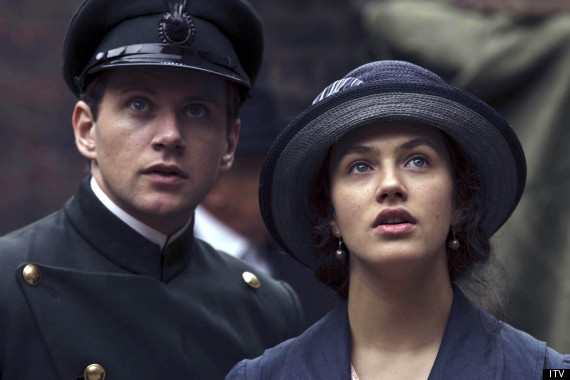 Thomas Branson's (Allen Leech) fate changed when he fell in love with Lady Sybil (Jessica Brown Findlay)
The Dublin-born star revealed that he had been concerned he would be portraying a stereotype angry Irish republican in the series, but, as it turned out, it was always Earl of Grantham's bigotry and narrow-mindedness that revealed itself. As he said, "You just have to trust Julian's writing."
MORE: Who's Britain's Favourite Screen Butler? See The Top Ten Here
Leech has seen his role grow in the last three series. He revealed he was first signed for two to three episodes, but saw his role grow as his character Branson fell in love with Lady Sybil and had a child together before tragedy struck.
MORE: Rob James-Collier Defends Thomas - 'A Broken Man' - But Admits The Kissing Scene Was Very Pleasant
As he told the crowd, "It was wonderful to act, although it was sad, because I'd been with Jessica (Brown Findlay) from the beginning."
And Leech proved very adept at impersonating Lord Fellowes as well, with a spot-on impersonation that got his co-star Rob James-Collier, who plays troubled butler Thomas Barrow, giggling.
REVIEW: Downton Abbey Finale - Thomas Barrow, Not Out!
Downton Abbey finishes on Sunday evening. The DVD for Series 3 will be available to buy from Monday 5 November. Watch the characters in action below...
Downton Abbey Series 3 Final Episode 8