Top secret dresses for meetings with James Bond, no hats after 6pm and jackets embroidered by indigenous north Americans are just some of the Queen's wardrobe wonders revealed in a new book.
Written by Angela Kelly, the Queen's personal assistant, adviser and curator, Dressing The Queen opens the door to the dressers' floor at Buckingham Palace and gives a first-hand account of working on the Queen's outfits in her Diamond Jubilee year.
Perhaps one of the Queen's most famous outfits, the crystal and lace peach cocktail dress she wore to the Olympics opening ceremony, was made twice under top secret conditions, the book revealed.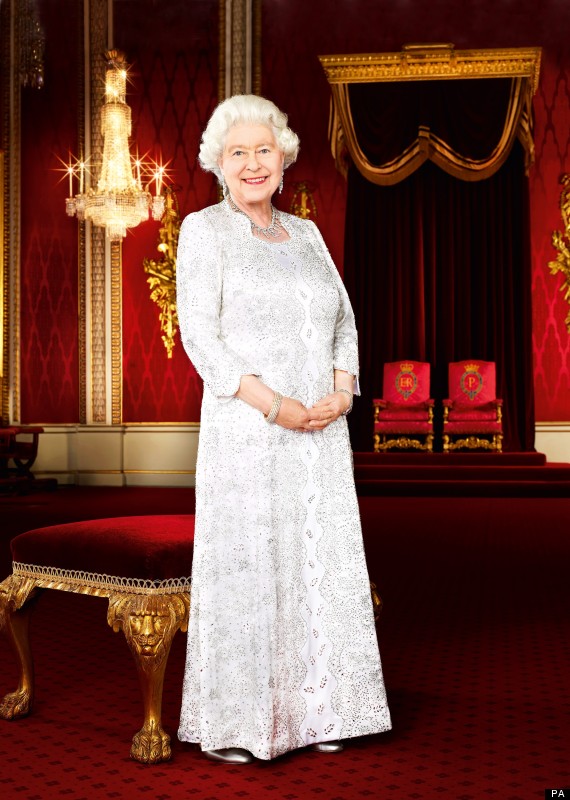 The book features many interesting revelations about the Queen's choice of outfits
After months of planning with the curtain raiser's director, Danny Boyle, Ms Kelly and her team made two identical versions of the dress to give the illusion that it was actually the Queen, and not a stunt double, parachuting from a helicopter above the Olympic stadium alongside 007.
The Palace dressmakers worked quietly for months on the dress, never knowing why two were required for the Queen's opening of the London 2012 Games, according to the book.
Another notable outfit, for the Diamond Jubilee river pageant, was influenced by Queen Elizabeth I, and managed to offer the Queen some protection from the wet weather as she travelled down the River Thames on the Spirit of Chartwell.
In the book, Ms Kelly wrote: "We never imagined the weather would turn out so badly, but I am glad that we gave the Queen some protection from the wind and rain with the frill that ran round the coat's neckline and down its front, and the matching white cashmere pashima."
Another famous outfit, the gold dress the Queen donned for the Diamond Jubilee pop concert, was influenced by the golden figure of the Queen Victoria Memorial, around which the stage was constructed, according to the book.
Fittingly for a concert that featured a programme of British music from the six decades of the Queen's reign, the gown was bought in 1961.
The book, which features lavish colour photographs of Ms Kelly and her team, design sketches and coverage of some of this year's major events, also revealed that the Queen rarely wears a hat after 6pm.
Ms Kelly wrote: "After 6pm the Queen does not usually wear a hat but may wear a headpiece, and to the evening state banquets, a tiara."
For state occasions a tiara is always required, Ms Kelly said.
She wrote: "The Queen is very fond of the 'Girls of Great Britain and Ireland' tiara, which was given to her grandmother, Queen Mary, on her marriage in 1893."
The tiara forms a shadow which appears as girls holding hands - the girls of Great Britain and Ireland.
That was in turn given to the Queen as a wedding present and is shown in her portrait on some coins and banknotes.
Trays used to present the Queen's vast collection of jewellery features lace covers handsewn by Queen Mary, with her own "M" monogram stitched in.
The book also revealed the Queen's diplomacy, as she chose to wear a predominantly green dress on her May 2011 visit to the Republic of Ireland, the country's traditional colour.
It was the first time a British monarch has visited the country.
Ms Kelly wrote: "As a sign of respect for Ireland and her long-held affection for the country, the Queen chose to wear a day outfit that was predominantly green in colour."
For the evening gown she was to wear to the state banquet in Ireland on 18 May 2011, the Queen was very specific in her guidance, according to Ms Kelly.
Her gown featured more than 2,000 silk shamrocks sewn on by hand and an Irish harp design, made of crystals, replaced the Royal Family Order normally worn on the Queen's left shoulder during state occasions.
The Queen is also open to more unusual suggestions, the book revealed.
During royal tour of Canada in 2010, she met people from the Mi'kmaq indigenous community. Known as "the People of the Dawn", they are famous for their intricate beading work.
Ms Kelly said she asked the community chiefs if the oldest generation of skilled women would like to embellish the Queen's yellow jacket for the occassion.
She wrote: "This was a very unusual suggestion, since the Queen's outfits are normally kept secret for maximum impact on the day, but I felt it was the right decision, as their knowledge of beading goes back hundreds of years.
"They took enormous pride in being asked to undertake this work," she said.
"It really made the outfit special and was a lovely gesture done in such a personal way that gave added meaning to the outfit."
Among the other titbits revealed in the book, Ms Kelly said her team occasionally weigh down the Queen's dresses to avoid embarrassment in blustery conditions.
She wrote: "The Queen undertakes a wide range of engagements, many of which take place in the open air, where a sudden breeze could cause embarrassment.
"If we think this is a possibility, we will very occasionally use weights, discreetly sewn into the seams of day dresses."
Elsewhere this week in Culture...
The Bodyguard (REVIEW): Whitney Houston's Talent Lives On READ FULL STORY

Men Who Stole £500k Henry Moore Sculpture 'The Sundial' To Sell For £46 To Be Sentenced READ FULL STORY

Kraftwerk To Play Complete Studio Albums At Tate Modern READ FULL STORY

2012's Best Light Art In Pictures READ FULL STORY

Cultural Icon Of The Year 2012: Vote Now READ FULL STORY

READ FULL STORY

Jeff Goldblum On His World Of Dreams And Latest Wes Anderson Project READ FULL STORY

Elizabeth Price Wins The Turner Prize 2012 READ FULL STORY

Incredible Close-Up Snowflake Photography (PICTURES) READ FULL STORY

GDT European Wildlife Photographer Of The Year 2012 (PICTURES) READ FULL STORY

CS Lewis Facts: 11 Things You Never Knew About The Narnia Author READ FULL STORY

Yoko Ono's New Fashion Line Shows Bums, Raises Eyebrows READ FULL STORY

Pippa Middleton's Book Celebrate 'Is Terrible' Says Riders Author Jilly Cooper READ FULL STORY

Evening Standard Theatre Awards: Danny Boyle, Dame Judi Dench and Hattie Morahan Triumph READ FULL STORY

Tracey Emin Blog: Never Knew a Horse Could Be So Good for Your Soul READ FULL STORY

Making A Splash: Water Balloon Art Just Got A Make-Over READ FULL STORY

Frida Kahlo Clothing Exhibition Opens In Mexico City READ FULL STORY

Photographer Brian David Stevens' 'Graffiti Portraits' Reveals People Behind The Tags (PICTURES) READ FULL STORY

Male Nudes Exhibition To Open At Wallace Collection (PICTURES) READ FULL STORY

William Blake's Mad Wisdom To Celebrate The Great Poet's Birthday READ FULL STORY

READ FULL STORY

Photograph, Or Painting? READ FULL STORY

First Fashion Photographs Of Kate Moss, Aged 14, To Be Sold At Auction READ FULL STORY

'Head Of A Young Apostle' By Raphael To Sell For £15m At Auction READ FULL STORY

Street Artist Bambi Opens Solo Show In London READ FULL STORY

Death Exhibition Opens At Wellcome Collection READ FULL STORY

World Press Photo Contest Winners On Show At Southbank Centre READ FULL STORY

Dorothy Bohm Interview: 'I Remember Every Photograph I Take' READ FULL STORY

Urban Masters: Banksy, Shepard Fairey And Blek Le Rat Share Street Art Show In London READ FULL STORY

What Inspires Me: Judy Chicago READ FULL STORY

Where The Mangrove Grows (REVIEW): Joe Hammond's Heartbreaking Portrait Of Neglect READ FULL STORY

Sienna Miller Naked Portrait: Artist Jonathan Yeo Paints Pregnant Actress READ FULL STORY

What Inspires Me: Charlie Brooker READ FULL STORY

Forests (REVIEW): Calixto Bieito Condenses The Spirit Of Shakespeare With Nudity And Violence READ FULL STORY

Andy Golub's Body Paint: Naked Wanderers And Surreal Human Murals READ FULL STORY

Henry Moore's Draped Seated Woman Sold Off By Tower Hamlets Council To Meet Budget Cuts READ FULL STORY

How One Charity Is Tackling Complex Mental Health Problems Using The Simple Power Of Reading READ FULL STORY

How Culture Is Changing The Face Of Belfast READ FULL STORY

Tiny Ripples Look Like Giant Tidal Waves In DebM's 'Waveart' (PICTURES) READ FULL STORY

Obama Art: Paintings, Sculptures And Comics Inspired By President Barack Obama READ FULL STORY

Spencer Tunick Marks Mexico's Day Of The Dead With Usual Battalion Of Nudes (PICTURES) READ FULL STORY

'Jimmy Savile Is Innocent' Exhibition Under Fire For Sexualised Picture Of Young Girl READ FULL STORY

Kelly Brook In Forever Crazy At Crazy Horse Cabaret (REVIEW + PICTURES) READ FULL STORY

'Nude Males' Art Show At Leopold Museum Sparks Controversy: Then Sells Out... (PHOTOS) READ FULL STORY

Movember Moustaches From Great Artists And Authors READ FULL STORY

Jo Hedwig Teeuwisse's 'Ghosts Of War' World War 2 Photos (PICTURES) READ FULL STORY

'Theatre Ghost Picture Is Real' Insists Photographer Stuart Cheveralls - Are You Convinced? READ FULL STORY

Female Muses: The Inspiring Women Behind Great Artistic Men READ FULL STORY

Frida Kahlo Quotes And Pictures: Celebrating Mexico's Icon On The Day Of The Dead READ FULL STORY

'Theatre Ghost Picture Is Real' Insists Photographer Stuart Cheveralls - Are You Convinced? READ FULL STORY

Nosferatu (REVIEW): 'Lumbering' Dracula Disappoints On Halloween READ FULL STORY

War Art: 25 Artworks For Remembrance Day READ FULL STORY

Ai Weiwei's 'Gangnam Style' Dance Video Somewhat Surprises Art World READ FULL STORY

Sylvia Plath Quotes And Photos For Her Birthday! READ FULL STORY

Ramon Bruin's Anamorphosic Drawings Add A Touch Of Gothic To 3D Art READ FULL STORY

Dylan Thomas Quotes And Pictures: Happy Birthday, Dylan READ FULL STORY

Body Artist Trina Merry Makes Motorcycles Out Of Nude Models READ FULL STORY

The Art Of Being Middle Class (EXTRACT) READ FULL STORY

Alison Jackson On Obama, Assange And Why 'Reality' Doesn't Really Matter (INTERVIEW) READ FULL STORY

Meet Blink-182's Favourite Artist: Rich Simmons Sex-Inspired 'Just Be You Tiful' Show Opens In London READ FULL STORY

How To Tweet Like A Hobbit: 'The Wisdom of the Shire' By Noble Smith (EXTRACT) READ FULL STORY

Lizzy Jagger, Sir Ben Kingsley And Other Celebrities Pose Naked With Fish For Charity READ FULL STORY

Jason deCaires-Taylor's Politically-Charged Underwater Bankers Are Also Good For The Environment READ FULL STORY

Derek Eland Installs Afghanistan 'Diary Rooms' To Captures Soldiers' Stories READ FULL STORY

Veolia Environnement Wildlife Photographer Award Winners Announced (PICTURES) READ FULL STORY

Blood Artist Vincent Castiglia Reveals Gothic Paintings READ FULL STORY

Happy Birthday Oscar Wilde: 12 Quotes From Our Sharpest Ever Wit READ FULL STORY

Damien Hirst's Verity, A Statute Of A Naked Pregnant Woman, Erected In Devon READ FULL STORY

Booker Prize Award 2012 (LIVE BLOG) READ FULL STORY

David Cameron, David Hockney And Tracey Emin Draw 'Secret Postcards' For Charity: Can You Tell Spot Them? READ FULL STORY

Victorian Society Highlights 10 Most Threatened Landmarks In England And Wales (PICTURES) READ FULL STORY

Saber, World-Renowned Veteran Of LA Street Art, On Winding Up Fox News And Why He's Taking The Fight To Mitt Romney READ FULL STORY

Can You Spot The Man In This Picture? Look Closer! Camouflage Body Art By Carolyn Roper READ FULL STORY

Classic Nudes vs Live Model Update: Which Version Do You Prefer? READ FULL STORY

New Exhibition Of Original LOLCATS Raises Money For Charity: Enjoy Guilt-Free READ FULL STORY

New JRR Tolkien Book Announced: 'The Fall Of Arthur' READ FULL STORY

Mo Yan Becomes First Chinese Winner Of Nobel Prize For Literature READ FULL STORY

The Hopeless Romantic Photography Project By Julien Mauve And Pauline Ballet: The Truth About Love? READ FULL STORY

A Day In The World: 22 Countries Take Part In Largest Simultaneous Photo Exhibition Ever READ FULL STORY

The £50,000 James Bond Book READ FULL STORY

The Second Mrs Tanqueray (REVIEW): 'Poetic, Fast-Paced And Worth The Trip' READ FULL STORY

Russian Tourist Postcards Promote Gay Equality READ MORE HERE

Optical Illusion Photography Sees Man Play Basketball With Moon READ MORE HERE

Bob Egan's 'Popspots' Returns Classic Pop Album Covers To Their Original Locations READ MORE HERE

Nuart Festival 2012: World's Greatest Street Artists Descend On Norway (PICTURES) READ MORE HERE

Archaeologists Discover 'Skeleton Of Mona Lisa' READ MORE HERE

Illustrator David Shrigley Opens New Psychiatry-Based Show READ MORE HERE

Peter Blake's Sgt Pepper's Lonely Hearts Club Band Collage To Fetch £80,000 At Auction READ MORE HERE

New Barbican Show Gives Visitors Power Over Rain READ MORE HERE

Intricate Penny Art By Jacqueline Lou Skaggs READ MORE HERE

Turner Prize 2012 (REVIEW): Strip Away The Poo And The Theatrics And This Is A Solid Year For The Turner READ MORE HERE

Alison Jackson's Latest Political Spoofs See Julian Assange Play Cards With Hilary Clinton And Obama And Romney Fight It Out

Queen Portrait By Australian Artist Ralph Heimans Revealed

National Geographic Photography Competition: Earth At Its Most Beautiful

The Five Books You Meet At University

Photographer Dimitry Dubikovskiy Captures 'UFO Clouds'

Famous Writers When They Were Young (QUIZ)

'Skins' Photographer Ewen Spencer Opens New Show

T.S. Eliot's Best Quotes On The Poet's Birthday

Let It Be (REVIEW): Beatlemania Hits The West End

JK Rowling's The Casual Vacancy: Review Roundup

READ THE STORY: Optical Illusion: Black And White Snap Will Melt Your Mind

READ THE STORY: Enter The World Of The Moth-Man - If You Dare...

READ THE STORY: SamSam The Bubbleman Shows Off His Skill In London

READ THE STORY: Autistic Savant Daniel Tammet: What Books Mean To A Genius

READ THE STORY: Dapper Authors And Artists Who Knew A Thing Or Two About Fashion

READ THE STORY: 'I Don't Mind Page 3, Actually...' A Grown Up Chat With Britain's Best-Loved Children's Author

READ THE STORY: Erotic Art From Ancient China Goes On Display

READ THE STORY: Man Ray: Legendary Photographer To Star At National Portrait Gallery

READ THE STORY: Page 3: The Art Edition, An Alternative Suggestion For The Sun

READ THE STORY: Talk Like A Pirate Day: Literature's Most Fearsome Seadogs

IMAGE: From '60 Amazing Optical Ilusions - Don't Believe Your Eyes'

IMAGE: From 'The 5 Greatest Roald Dahl Moments'

IMAGE: From 'Hedda Gabler (REVIEW): Sheridan Smith Takes On The 'Female Hamlet''

IMAGE: From 'Meet Five, The Painting Elephant'

IMAGE: From 'Guy Whitby, Aka WorkByKnight's Amazing Keyboard Portraits'

IMAGE: From 'Artist Simon Beck Creates Snow 'Crop Circles' Using His Foot And A Compass'

IMAGE: From 'New Exhibition Explores Influence Of Punk Movement On Art And Graphic Design (PICTURES)'

IMAGE: From 'James Bond Photographer Terry O'Neill On Life Behind The Scenes (PICTURES)'

IMAGE: From 'Tate Britain Curator Claims Millais's 'Isabella' Contains Hidden Phallic Symbols'

IMAGE: From 'Kate Tempest: 'I Want To Talk To The People Who Don't Want To Listen'
Dressing The Queen, features over 250 colour illustrations is out now, priced at £24.95 in hardback.