Barack Obama has been re-elected president of the United States, convincingly defeating his Republican challenger Mitt Romney.
Addressing his supporters at a rally in Chicago in the early hours of Wednesday morning, Obama said Americans had "voted for action, not politics as usual".
Walking on stage with his wife Michelle and his daughters Malia and Sasha, Obama insisted: "The best is yet to come, but we have more work to do."
"Tonight, more than 200 years after a former colony won the right to determine its own destiny, the task of perfecting our union moves forward.
"Whether I earned your vote or not, I have listened to you. I have learned from you. You have made me a better president and with your stories and your struggles I return to the White House more determined and more inspired than ever.
"I believe we can seize this future together, because we are not as divided as our politics suggest," he said to cheers from the crowd. "We are an American family and we rise or fall as one nation or one people."
Returning to the theme that launched him onto the national stage in 2004, he concluded: "We remain greater than a collection of red states and blue states, we remain the United States of America."
Obama secured at least 303 out of the 270 electoral college votes needed for victory by snatching wins in the crucial swing states including Ohio, Colorado, Virginia, New Hampshire and Wisconsin.
By contrast Romney only won two states more than John McCain did when he lost to Obama in 2008 - Indiana and North Carolina,
Immediately after the major TV networks declared him the winner just after 11pm EST, President Obama tweeted his thanks to voters, including the message "four more years" and a picture of him hugging his Michelle.
In an email to his supporters accompanying the Tweets Obama said: "Today is the clearest proof yet that, against the odds, ordinary Americans can overcome powerful interests. There's a lot more work to do."
He added: "You organized yourselves block by block. You took ownership of this campaign five and ten dollars at a time. And when it wasn't easy, you pressed forward.
"I will spend the rest of my presidency honoring your support, and doing what I can to finish what we started."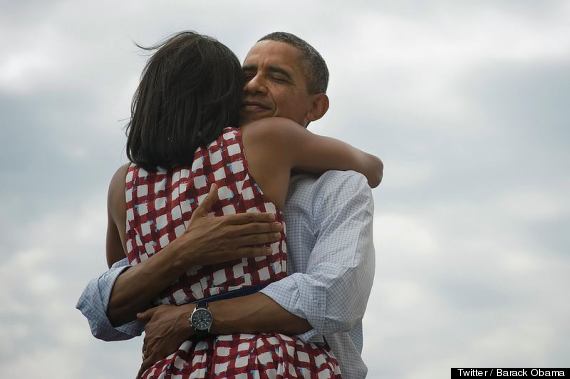 However while Obama secured a healthy win in the electoral college, the popular vote nationwide was far closer. At the time of writing Obama had won 49,477,410 votes while Romney was only slightly behind on 49,463,852.
In an embarrassment for the Republican ticket both Romney and his vice presidential running mate Paul Ryan lost their home states of Massachusetts and Wisconsin.
In his concession speech in Boston, Romney told supporters: "I have just called Obama to congratulate him on his victory.
"This is a time of great challenges for America and I pray the president will be successful in guiding our nation."
"I so wish that I had been able to fulfill our hopes to lead the country in a different direction but the nation chose another leader."
Voter turnout was reported to be high, with long queues at some polling stations following the most expensive presidential battle in US history at a cost of £1.3 billion.
Aside from the presidential contest the picture painted by other election results was of a increasingly liberal America. Voters elected their first ever openly gay senator in Tammy Baldwin as other states voted to legalise gay marriage.
And in Colorado and Washington voters decided to legalise recreational marijuana, while medical marijuana was also legalized in Massachusetts.
The Ultimate Election Night Gallery
The Democrats also managed to retain control of the Senate. The consolation prize for the Republican Party was the House of Representatives, where it remains in the majority.
In the Missouri Senate race Todd Akin lost to Democrat incumbent Claire McCaskill. The contest shot to international attention after Akin said abortion should be illegal, even in cases of rape.
Akin was leading McCaskill in the polls until he said in August that victims of "legitimate rape" rarely get pregnant, because the female body "has ways to try to shut that whole thing down."
SEE ALSO: Barack Obama Reelection Signals Rise Of New America
McCaskill's victory victory helped the Democrats defend their majority in the Senate. The party also won back a seat in Massachusetts and captured a Massachusetts seat with Elizabeth Warren declared the winner over GOP incumbent Scott Brown.
In Indiana, which should have been an easy win for the Republicans, Democrat Joe Donnelly beat Richard Mourdock. Donnelly's win has been attributed to his rival's claim that pregnancies from rape were something "God intended to happen."
11/07/2012 6:56 PM EST
Jewish Vote Goes 69 Percent For Barack Obama: Exit Polls
HuffPost's Andrea Stone reports:
WASHINGTON -- Exit polls indicate that President Barack Obama received 69 percent of the Jewish vote Tuesday. Partisans have just begun to argue whether that was an overwhelming endorsement or the latest evidence that one of the Democratic Party's most reliable constituencies is becoming less so with every presidential election.
Read the full story here.
11/07/2012 5:31 PM EST
Young Voters Help Secure Obama Victory
HuffPost's Tyler Kingkade reports:
NEW YORK -- Mitt Romney lost the youth vote by a huge margin, and with it, he lost the presidency.

Sixty percent of young voters who cast ballots chose to reelect President Barack Obama, against the 36 percent who voted for Mitt Romney. That's a six point slide in youth support for Obama from 2008, but still nearly triple the margin of victory for the youth vote that John Kerry won over George W. Bush in 2004.

An analysis by the Center for Information and Research on Civic Learning and Engagement (CIRCLE) at Tufts University found that had the youth vote been split 50-50 for the presidential race in just four states -- Florida, Pennsylvania, Ohio and Virginia -- Romney would have been elected president. In each of those four crucial swing states, exit polling shows young voters made up 16 to 19 percent of the electorate.

According to the National Journal, Republicans had counted on the youth vote to be held to just 15 or 16 percent of the electorate in order to secure a Romney victory.

But CIRCLE estimates 22 to 23 million people between the ages of 18 and 29 nationwide voted this election. Exit polls show voters ages 18 to 29 made up 19 percent of the electorate, a 1-point increase from 2008.

"It is because [Romney] lost the youth vote pretty decisively that he will not be the next president of the United States," said CIRCLE's director, Peter Levine.
Read the full story here.
11/07/2012 3:18 PM EST
Longer Voting Lines For Minorities
Hours after President Barack Obama declared that the nation needs to fix the problem of long lines at the voting booth, a survey by Hart Research, commissioned by the AFL-CIO, found that minorities and Democrats were more likely to experience long wait times than others.
Nearly a quarter of blacks -- 24 percent -- and Hispanics -- 22 percent -- reported waiting in line more than 30 minutes, compared to 9 percent of whites. Obama voters were nearly twice as likely as Romney voters to face long lines, at 16 percent to 9 percent.
-- Dan Froomkin
11/07/2012 1:43 PM EST
Berg To Concede To Heitkamp
@ jonathanweisman :

I hear Berg concedes to Heitkamp at 2:45ish CDT. With Angus King, Dems go up 55-45 in Senate. If nothing else, they have a cushion for 2014
11/07/2012 1:00 PM EST
Husband, Wife Congressional Pair Lose Bi-Coastal Races
Both members of the only married couple in Congress lost their races last night. Rep. Connie Mack (R-Fla.) was defeated in his U.S. Senate campaign against Sen. Bill Nelson (D-Fla.) and Mack's wife, Rep. Mary Bono Mack (R-Calif.) lost her bid for reelection to Democrat Raul Ruiz by 4,500 votes.
Bono Mack was first elected to Congress in a 1998 special election following the death of her first husband, Rep. Sonny Bono (R-Calif.). She was seen as the frontrunner to hold the Palm Springs area seat, having defeated her previous Democratic challengers by large margins. She married Connie Mack, a four-term congressman, in 2007. It is her third marriage and his second.
-- John Celock
11/07/2012 12:55 PM EST
Win Or Lose, Heitkamp Posts Best Dem Numbers In North Dakota
With North Dakota's U.S. Senate race still undecided, Democrat Heidi Heitkamp's narrow lead over Republican Rep. Rick Berg is the best showing by a Democrat statewide in North Dakota this year. Current results show Heitkamp, a former state attorney general, holds a 3,000 vote -- or 1 percentage point -- lead over Berg in the contest to replace retiring Sen. Kent Conrad (D).
The next closest Democratic performances in the state this year occurred in the races for Congress and public service commissioner. In the congressional race, Republican Public Service Commissioner Kevin Cramer defeated Democrat former state Rep. Pam Gulleson 54 percent to 41 percent. In the public service commissioner race, Republican Randy Christmann defeated Democrat Brad Crabtree 54 percent to 41 percent. Crabtree was one of the most outspoken candidates in North Dakota, using the race to campaign for ethics reform and what he believed to be moral lapses at the Public Service Commission. In the governor's race, Gov. Jack Dalrymple (R) easily defeated state Senate Minority Leader Ryan Taylor (D-Towner), 63 percent to 34 percent.
If elected, Heitkamp would be the first woman elected to represent North Dakota in Congress and the second woman to serve the state in Washington, D.C. Former Sen. Jocelyn Burdick (D) represented North Dakota in the Senate for three months in 1992 following the death of her husband, Sen. Quentin Burdick (D). Jocelyn Burdick was appointed to her Senate seat by then Gov. George Sinner (D).
-- John Celock
11/07/2012 12:43 PM EST
Bullock Wins Gubernatorial Race
@ NBCNews :

NBC News declares Steve Bullock as the projected winner in Montana - Governor. #NBCPolitics
11/07/2012 12:00 PM EST
Allen West: 'Our Race Is Far From Decided'
Rep. Allen West (R-Fla.) is expected to lose his reelection bid to Democrat Patrick Murphy, although the race has not yet been fully called. Until it is, West's campaign isn't pleased that people keep saying he's out, according to a statement posted on his Facebook page Wednesday morning:
Our race is far from decided and there is no rush to declare an outcome. Ensuring a fair and accurate counting off all ballots is of the utmost importance. There are still tens of thousands of absentee ballots to be counted in Palm Beach County and potential provisional ballots across the district. Late last night Congressman West maintained a district wide lead of nearly 2000 votes until the St. Lucie County Supervisor of Elections "recounted" thousands of early ballots. Following that "recount" Congressman West trailed by 2,400 votes. In addition, there were numerous other disturbing irregularities reported at polls across St. Lucie County including the doors to polling places being locked when the polls closed in direct violation of Florida law, thereby preventing the public from witnessing the procedures used to tabulate results. The St. Lucie County Supervisor of Elections office clearly ignored proper rules and procedures, and the scene at the Supervisor's office last night could only be described as complete chaos. Given the hostility and demonstrated incompetence of the St. Lucie County Supervisor of Elections, we believe it is critical that a full hand recount of the ballots take place in St. Lucie County. We will continue to fight to ensure every vote is counted properly and fairly, and accordingly we will pursue all legal means necessary.
Murphy is leading in votes, according to exit polling, with 160,328 to West's 157,872. The district is the only House race in Florida that has yet to be called.
-- Elise Foley
11/07/2012 11:46 AM EST
Latino Voter Poll: Romney Campaign Hostile, Disinterested In Reaching Out
More than 55 percent of Latino voters thought the Romney campaign was hostile toward them -- a good indication of why he may have lost them so badly -- and 18 percent believed he had no interest in reaching out to them, according to an impreMedia-Latino Decisions poll released in full Wednesday morning.
The "election eve" poll was taken from Nov. 1 to Nov. 5, surveying Latinos who had either already voted or said they were certain they would do so. Results from 11 states were released late Tuesday evening and into early Wednesday.
ImpreMedia-Latino Decisions found that a record proportion of Latinos, 75 percent, supported President Barack Obama, while only 23 percent voted for GOP presidential nominee Mitt Romney, who conceded the election after losing the electoral college by more than 100 votes. National exit polls put Obama at 71 percent support from Latinos and Romney at 27 percent.
Obama likely fared better among Latinos in part because he seemed more interested in reaching out to them: 66 percent of those polled said they felt Obama truly cares about them. Twenty-three percent said Obama was hostile toward Latino voters.
Immigration reform proved pivotal, even though it wasn't the highest-ranking priority, with 57 percent of Latino voters polled saying they were less enthusiastic about Romney based on his positions on the issue.
See the full results here, including state breakdowns in Arizona, California, Colorado, Florida, Massachusetts, Nevada, North Carolina, Ohio and Texas.
-- Elise Foley
11/07/2012 10:47 AM EST
Tester Wins Re-Election
Also on HuffPost:
U.S. Citizens Head To The Polls To Vote In Presidential Election
SUBSCRIBE TO & FOLLOW UK POLITICS