Nadine Dorries has been suspended from the Conservative Party after it emerged she was planning to be absent from Westminster to appear on ITV's I'm a Celebrity... Get Me Out of Here, a senior party source said on Tuesday.
A 'tropical' storm had been gathering over Dorries' decision to suspend her parliamentary duties and head off to Australia for up to a month to take part in the reality TV show.
Dorries, 55, has already flown to Brisbane to prepare for the show but faced a deluge of criticism at home as news broke of her upcoming TV appearance.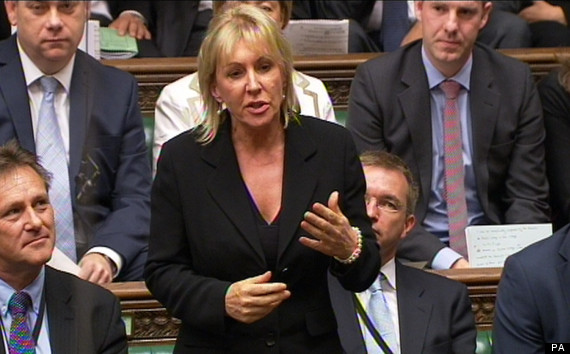 The Tory party were reportedly unaware of her decision to apear in the show
She would probably miss an EU budget vote and George Osborne's UK mini-budget by taking part in the reality show.
The Daily Mail's political editor James Chapman tweeted that an emergency meeting is to be held by her local party to discuss her future.
But the Mid Bedfordshire Conservative Association denied this was the case to the Huffington Post UK.
@LouiseMensch

Louise Mensch
Nothing sadder than a politician, or ex-politician, on any of those shows.
@Mell2806

Mell Handley
Anyone else who walked out of their job for a month to make a TV show would be sacked
#NadineDorries
The month-long programme sees viewers regularly voting out contestants which means how long Dorries misses rests entirely on her public popularity.
She will continue to collect her £65,000 MP's salary whilst in the jungle as well as a fee for appearing in the show, rumoured to be a maximum of £40,000.
LabourList were quick to highlight that Dorries apparence will cost the taxpayer at least £6,158 and possibly as much as £10,000.
Speaking to The Sun she said: "I'm doing the show because 16 million people watch it. If people are watching I'm A Celebrity, that is where MPs should be going.
"I'm not going in there to upset people, but I have opinions."
The show is famed for it's "Bushtucker Trials" which see contestants covered in insects, eating obscure offal and navigating their way through obstacle courses. When asked about her phobias by the Daily Mail she said: 'I'm frightened of rats, but then again I do work with them.'
Former Conservative MP Harry Greenway said: "This is outrageous. Her local constituency party should think very deeply as to whether she is putting them first or not.
"She is certainly making a very good case out for herself to be dumped as a candidate at the next election.
"Whatever fee she receives should go to charity, because her parliamentary pay won't stop during her absence," he added.
@davidschneider

David Schneider
Nadine Dorries. If you want to eat bugs etc, go for it! A woman has the right to do what she wants with her own body, isn't that right?
@acarmichaelmp

Alistair Carmichael
Nadine Dorries, I served with Lembit Opik, I knew Lembit Opik, Let me tell you, Nadine Dorries, you are no Lembit Opik.
Matthew Sinclair, chief executive of the TaxPayers' Alliance, said: "While she is being a Z-list celebrity, her constituents will be without an MP.
"There is serious work to do in Westminster which can make a real difference to the lives of her constituents. If she does not want that job she should get out of the way for someone who does."
His thoughts were echoed by senior Tories. Home Secretary Theresa May told ITV's This Morning programme: "Each individual Member of Parliament has to decide how they're going to do their job and it's up to Nadine to decide how she wants to do her job.
"Frankly, I think an MP's job is in their constituency and in the House of Commons."
The last politician to feature on the show was Lembit Opik who had the inglorious honour of being the second person voted off.
It looks like Dorries might have to overcome something even more challenging than a Bushtucker Trial before the show has even begun.
@samgadjones

Sam Jones
For their first stomach-churning challenge, I'm A Celebrity participants will have to spend a week in the Jungle with Nadine Dorries.