Huffington Post Picture Desk Live: Scroll down for the best news, entertainment, culture and sports pictures of the day, brought to you by The Huffington Post's own picture editors Elliot Wagland, Matthew Tucker and Tahira Mirza.
Follow us on Twitter for links to top pics featured on The Huffington Post.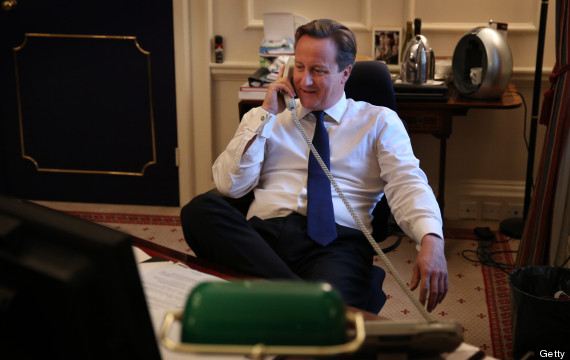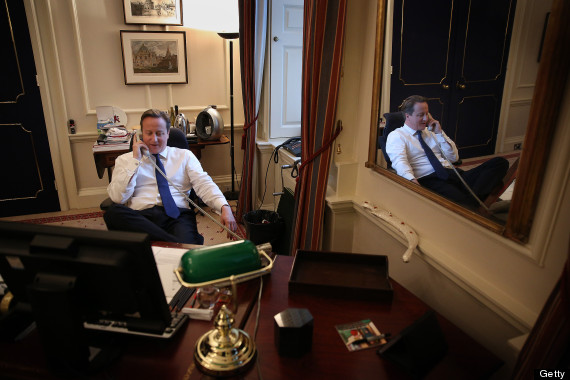 British Prime Minister David Cameron talks to US President Barack Obama on the telephone from his office in Downing Street on November 8, 2012 in London, England. The Prime Minister congratulated President Obama on his re-election victory.
Loading Slideshow
President Barack Obama and wife Michelle hold hands with Vice President Joe Biden and his wife Jill following Obama's victory speech to supporters in Chicago early Wednesday, Nov. 7 2012. (AP Photo/Jerome Delay)

Barack Obama

Jill Biden watches as Vice President Joe Biden is hugged by first lady Michelle Obama at President Barack Obama's election night party Wednesday, Nov. 7, 2012, in Chicago. President Obama defeated Republican challenger former Massachusetts Gov. Mitt Romney. (AP Photo/Nam Y. Huh)

Barack Obama, Michelle Obama, Sasha Obama, Malia Obama

President Barack Obama, accompanied by First Lady Michelle Obama and daughters Malia and Sasha arrive at the election night party Wednesday, Nov. 7, 2012, in Chicago. Obama defeated Republican challenger former Massachusetts Gov. Mitt Romney. (AP Photo/Carolyn Kaster)

Barack Obama

President Barack Obama looks at his daughter Sasha as he walks with his wife Michelle and daughter Malia at his election night party Wednesday, Nov. 7, 2012, in Chicago. President Obama defeated Republican challenger former Massachusetts Gov. Mitt Romney. (AP Photo/M. Spencer Green)

Barack Obama, Michelle Obama, Sasha Obama, Malia Obama

President Barack Obama, accompanied by First Lady Michelle Obama and daughters Malia and Sasha arrive at the election night party Wednesday, Nov. 7, 2012, in Chicago. Obama defeated Republican challenger former Massachusetts Gov. Mitt Romney. (AP Photo/Carolyn Kaster)

Confetti covers the stage after President Barack Obama speaks at his election night party Wednesday, Nov. 7, 2012, in Chicago. President Obama defeated Republican challenger former Massachusetts Gov. Mitt Romney. (AP Photo/=2121300183=)

Barack Obama, Michelle Obama, Jill Biden Joe Biden

President Barack Obama with First Lady Michelle Obama, Vice President Joe Biden and Jill Biden celebrate on stage at the election night party at McCormick Place, Wednesday, Nov. 7, 2012, in Chicago. Obama defeated Republican challenger former Massachusetts Gov. Mitt Romney.(AP Photo/Carolyn Kaster)

US-VOTE-2012-ELECTION-OBAMA

US President Barack Obama celebrates with First Lady Michelle Obama on stage on election night in Chicago on November 6, 2012. Obama swept to re-election, forging history again by transcending a slow economic recovery and the high unemployment which haunted his first term to beat Republican Mitt Romney. AFP PHOTO/Jewel Samad (Photo credit should read JEWEL SAMAD/AFP/Getty Images)

US-VOTE-2012-ELECTION-OBAMA

US President Barack Obama celebrates after delivering his acceptance speech ion Chicago on November 7, 2012. Obama swept to re-election, forging history again by transcending a slow economic recovery and the high unemployment which haunted his first term to beat Republican Mitt Romney. AFP PHOTO/Jewel SAMAD (Photo credit should read JEWEL SAMAD/AFP/Getty Images)

US-VOTE-2012-ELECTION-OBAMA

Confetti rains on the stage as US President Barack Obama celebrates his victory in the presidential election in Chicago on November 7, 2012. Obama swept to re-election, forging history again by transcending a slow economic recovery and the high unemployment which haunted his first term to beat Republican Mitt Romney. AFP PHOTO/Jim WATSON (Photo credit should read JIM WATSON/AFP/Getty Images)

US-VOTE-2012-ELECTION-OBAMA

US President Barack Obama and First Lady Michelle wave to supporters following his election victory in Chicago, Illinois on November 6, 2012. Obama swept to re-election, forging history again by transcending a slow economic recovery and the high unemployment which haunted his first term to beat Republican Mitt Romney. AFP PHOTO/Jewel Samad (Photo credit should read JEWEL SAMAD/AFP/Getty Images)

US-VOTE-2012-ELECTION-OBAMA

US First Lady Michelle Obama hugs President Barack Obama on stage following his election victory in Chicago, Illinois on November 6, 2012. Obama swept to re-election, forging history again by transcending a slow economic recovery and the high unemployment which haunted his first term to beat Republican Mitt Romney. AFP PHOTO/Jewel Samad (Photo credit should read JEWEL SAMAD/AFP/Getty Images)

US-VOTE-2012-ELECTION-OBAMA

US President Barack Obama waves to supporters following his victory speech on election night in Chicago, Illinois on November 6, 2012. Obama swept to re-election, forging history again by transcending a slow economic recovery and the high unemployment which haunted his first term to beat Republican Mitt Romney. AFP PHOTO/Jewel Samad (Photo credit should read JEWEL SAMAD/AFP/Getty Images)

US-VOTE-2012-ELECTION-OBAMA

US President Barack Obama smiles as First Lady Michelle Obama gives the thumbs-up following Obama's speech on election night November 6, 2012 in Chicago, Illinois. President Barack Obama swept to re-election Tuesday, forging history again by transcending a slow economic recovery and the high unemployment which haunted his first term to beat Republican Mitt Romney. AFP PHOTO/Jewel Samad (Photo credit should read JEWEL SAMAD/AFP/Getty Images)

US-VOTE-2012-ELECTION-OBAMA

(L-R) US First Lady Michelle Obama, US President Barack Obama, US Vice President Joe Biden and his wife Jill Biden celebrate on election night November 7, 2012 in Chicago, Illinois. Obama and Biden won re-election to a second 4-year term. AFP PHOTO / Saul LOEB (Photo credit should read SAUL LOEB/AFP/Getty Images)

US-VOTE-2012-ELECTION-OBAMA

(L-R) US First Lady Michelle Obama, US President Barack Obama, US Vice President Joe Biden and his wife Jill Biden celebrate on election night November 7, 2012 in Chicago, Illinois. Obama and Biden won re-election to a second 4-year term. AFP PHOTO / Saul LOEB (Photo credit should read SAUL LOEB/AFP/Getty Images)

US-VOTE-2012-ELECTION-OBAMA

US President Barack Obama (2nd L), First Lady Michelle Obama (L), Vice-President Joe Biden and Second Lady Jill Biden wave to supporters following Obama's speech on election night November 6, 2012 in Chicago, Illinois. President Barack Obama swept to re-election Tuesday, forging history again by transcending a slow economic recovery and the high unemployment which haunted his first term to beat Republican Mitt Romney. AFP PHOTO/Jewel Samad (Photo credit should read JEWEL SAMAD/AFP/Getty Images)

US-VOTE-2012-ELECTION-OBAMA

US President Barack Obama waves to supporters on election night November 7, 2012 in Chicago, Illinois. Republican Presidential candidate Mitt Romney has conceded the race to Obama. AFP PHOTO / Robyn Beck (Photo credit should read ROBYN BECK/AFP/Getty Images)

US-VOTE-2012-ELECTION-OBAMA

US President Barack Obama flanked by First Lady Michelle Obama (L) and Vice-President Joe Biden and Second Lady Jill Biden wave to supporters following Obama's speech on election night November 6, 2012 in Chicago, Illinois. President Barack Obama swept to re-election Tuesday, forging history again by transcending a slow economic recovery and the high unemployment which haunted his first term to beat Republican Mitt Romney. AFP PHOTO/Jewel Samad (Photo credit should read JEWEL SAMAD/AFP/Getty Images)

US-VOTE-2012-ELECTION-OBAMA

US President Barack Obama (2nd L), First Lady Michelle Obama (L), Vice-President Joe Biden and Second Lady Jill Biden wave to supporters following Obama's speech on election night November 6, 2012 in Chicago, Illinois. President Barack Obama swept to re-election Tuesday, forging history again by transcending a slow economic recovery and the high unemployment which haunted his first term to beat Republican Mitt Romney. AFP PHOTO/Jewel Samad (Photo credit should read JEWEL SAMAD/AFP/Getty Images)

US-VOTE-2012-ELECTION-OBAMA

US President Barack Obama waves to supporters beside US First Lady Michelle Obama after winning the 2012 US presidential election November 7, 2012 in Chicago, Illinois. Obama swept to a emphatic re-election win over Mitt Romney, forging new history by transcending a dragging economy and the stifling unemployment which haunted his first term. AFP PHOTO / Robyn Beck (Photo credit should read ROBYN BECK/AFP/Getty Images)

US-VOTE-2012-ELECTION-OBAMA

US President Barack Obama (2nd L), First Lady Michelle Obama (L), Vice-President Joe Biden and Second Lady Jill Biden wave to supporters following Obama's speech on election night November 6, 2012 in Chicago, Illinois. President Barack Obama swept to re-election Tuesday, forging history again by transcending a slow economic recovery and the high unemployment which haunted his first term to beat Republican Mitt Romney. AFP PHOTO/Jewel Samad (Photo credit should read JEWEL SAMAD/AFP/Getty Images)

Barack Obama

President Barack Obama hugs his family at his election night party Wednesday, Nov. 7, 2012, in Chicago. President Obama defeated Republican challenger former Massachusetts Gov. Mitt Romney. (AP Photo/Charles Rex Arbogast)

Barack Obama

President Barack Obama acknowledges the crowd at his election night party Wednesday, Nov. 7, 2012, in Chicago. President Obama defeated Republican challenger former Massachusetts Gov. Mitt Romney. (AP Photo/M. Spencer Green)

Barack Obama

President Barack Obama speaks at his election night party Wednesday, Nov. 7, 2012, in Chicago. President Obama defeated Republican challenger former Massachusetts Gov. Mitt Romney. (AP Photo/Pablo Martinez Monsivais)

Barack Obama

President Barack Obama kisses his wife Michelle as he walks out to the stage at his election night party Wednesday, Nov. 7, 2012, in Chicago. President Obama defeated Republican challenger former Massachusetts Gov. Mitt Romney. (AP Photo/Pablo Martinez Monsivais)

Barack Obama

President Barack Obama addresses the crowd at his election night party Wednesday, Nov. 7, 2012, in Chicago. President Obama defeated Republican challenger former Massachusetts Gov. Mitt Romney. (AP Photo/M. Spencer Green)

Barack Obama

President Barack Obama kisses his wife Michelle as he walks out to the stage with his daughters Malia and Sasha at his election night party Wednesday, Nov. 7, 2012, in Chicago. President Obama defeated Republican challenger former Massachusetts Gov. Mitt Romney. (AP Photo/Pablo Martinez Monsivais)

Barack Obama, Michelle Obama, Sasha Obama, Malia Obama

President Barack Obama waves as he walks on stage with first lady Michelle Obama and daughters Malia and Sasha at his election night party Wednesday, Nov. 7, 2012, in Chicago. Obama defeated Republican challenger former Massachusetts Gov. Mitt Romney. (AP Photo/Carolyn Kaster)

Barack Obama

President Barack Obama smiles during his speech at his election night party Wednesday, Nov. 7, 2012, in Chicago. President Obama defeated Republican challenger former Massachusetts Gov. Mitt Romney. (AP Photo/M. Spencer Green)

Michelle Obama

First lady Michelle Obama walks off the stage with her daughters Malia and Sasha before President Barack Obama speaks at his election night party Wednesday, Nov. 7, 2012, in Chicago. President Obama defeated Republican challenger former Massachusetts Gov. Mitt Romney. (AP Photo/Pablo Martinez Monsivais)

Barack Obama

President Barack Obama waves to his supporters at his election night party Wednesday, Nov. 7, 2012, in Chicago. President Obama defeated Republican challenger former Massachusetts Gov. Mitt Romney. (AP Photo/M. Spencer Green)

President Barack Obama speaks at his election night party, Wednesday, Nov. 7, 2012, in Chicago. President Obama defeated Republican challenger former Massachusetts Gov. Mitt Romney. (AP Photo/Jerome Delay)

Barack Obama

President Barack Obama waves at his election night party Wednesday, Nov. 7, 2012, in Chicago. President Obama defeated Republican challenger former Massachusetts Gov. Mitt Romney. (AP Photo/Nam Y. Huh)

Barack Obama

President Barack Obama speaks at his election night party Wednesday, Nov. 7, 2012, in Chicago. President Obama defeated Republican challenger former Massachusetts Gov. Mitt Romney. (AP Photo/Nam Y. Huh)

Barack Obama

President Barack Obama acknowledges the crowd at his election night party Wednesday, Nov. 7, 2012, in Chicago. President Obama defeated Republican challenger former Massachusetts Gov. Mitt Romney. (AP Photo/Nam Y. Huh)

Barack Obama

President Barack Obama waves to his supporters at his election night party Wednesday, Nov. 7, 2012, in Chicago. President Obama defeated Republican challenger former Massachusetts Gov. Mitt Romney. (AP Photo/M. Spencer Green)

Barack Obama

President Barack Obama walks out of the stage with his wife Michelle and daughters Sasha and Malia at his election night party Wednesday, Nov. 7, 2012, in Chicago. President Obama defeated Republican challenger former Massachusetts Gov. Mitt Romney. (AP Photo/M. Spencer Green)

Jon Tester Max Baucus

President Barack Obama hugs his wife Michelle and daughter Sasha as daughter Malia, left, looks on before speaking at his election night party, Wednesday, Nov. 7, 2012, in Chicago. President Obama defeated Republican challenger former Massachusetts Gov. Mitt Romney. (AP Photo/Jerome Delay)

Barack Obama

President Barack Obama and first lady Michelle Obama wave at his election night party Wednesday, Nov. 7, 2012, in Chicago. President Obama defeated Republican challenger former Massachusetts Gov. Mitt Romney. (AP Photo/Chris Carlson)

Barack Obama

President Barack Obama, first lady Michelle Obama, Vice President Joe Biden and Jill Biden acknowledge the crowd at his election night party Wednesday, Nov. 7, 2012, in Chicago. President Obama defeated Republican challenger former Massachusetts Gov. Mitt Romney. (AP Photo/Chris Carlson)

Barack Obama

President Barack Obama, first lady Michelle Obama, Vice President Joe Biden and Jill Biden wave at his election night party Wednesday, Nov. 7, 2012, in Chicago. President Obama defeated Republican challenger former Massachusetts Gov. Mitt Romney. (AP Photo/Chris Carlson)

President Barack Obama, right, applauds his wife Michelle and daughters Sasha and Malia as they leave the stage before speaking at his election night party, Wednesday, Nov. 7, 2012, in Chicago. President Obama defeated Republican challenger former Massachusetts Gov. Mitt Romney. (AP Photo/Jerome Delay)

Barack Obama

President Barack Obama hugs his daugher Sasha after his speech as his wife Michelle and daughter Malia gather on stage at his election night party Wednesday, Nov. 7, 2012, in Chicago. President Obama defeated Republican challenger former Massachusetts Gov. Mitt Romney. (AP Photo/Pablo Martinez Monsivais)

Barack Obama

President Barack Obama smiles at his election night party Wednesday, Nov. 7, 2012, in Chicago. President Obama defeated Republican challenger former Massachusetts Gov. Mitt Romney. (AP Photo/Chris Carlson)

Barack Obama, Joe Biden

President Barack Obama hugs Vice President Joe Biden after his speech at his election night party Wednesday, Nov. 7, 2012, in Chicago. President Obama defeated Republican challenger former Massachusetts Gov. Mitt Romney. (AP Photo/Pablo Martinez Monsivais)

Barack Obama, Joe Biden

President Barack Obama hugs Vice President Joe Biden as his daughter Malia and Sasha look on at his election night party Wednesday, Nov. 7, 2012, in Chicago. President Obama defeated Republican challenger former Massachusetts Gov. Mitt Romney. (AP Photo/Charles Rex Arbogast)

Barack Obama

President Barack Obama waves to the crowd of supporters at his election night party Wednesday, Nov. 7, 2012, in Chicago. President Obama defeated Republican challenger former Massachusetts Gov. Mitt Romney. (AP Photo/Charles Rex Arbogast)

Joe Biden, Barack Obama

Vice President Joe Biden greets President Barack Obama's daughters Malia and Sasha after President's speech at his election night party Wednesday, Nov. 7, 2012, in Chicago. President Obama defeated Republican challenger former Massachusetts Gov. Mitt Romney. (AP Photo/Pablo Martinez Monsivais)

President Barack Obama waves after delivering his victory speech to supporters gathered in Chicago early Wednesday Nov. 7 2012. (AP Photo/Jerome Delay)

Vice President Joe Biden holds on to President Barack Obama after delivering his victory speech to supporters gathered in Chicago early Wednesday Nov. 7 2012. (AP Photo/Jerome Delay)