Anyone feeling particularly tired this morning as they go online could be forgiven if wondering if it's still Halloween.
Google's new Google Doodle depicts a vampire stood before a castle - a suitably Gothic tribute to author Bram Stoker who, if only he shared the immortality of his most famous creation, would have been 165 today.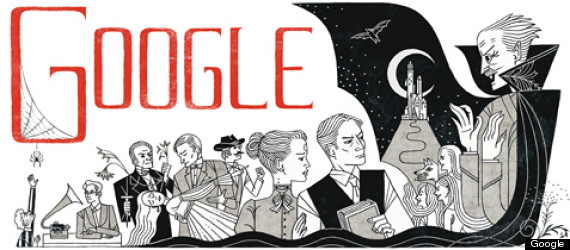 Stoker's 1897 novel Dracula introduced the world's most famous blood-sucking monster, the Count who attempts to leave Transylvania for England but first must battle Professor Abraham Van Helsin and his band of unhappy locals.
Although a sluggish seller when it was first released, Dracula was immediately hailed as a masterpiece and described by one newspaper reviewer as being more powerful that Mary Shelley's Frankenstein (released 79 years earlier in 1818), the novel with which is now competes as history's most famous example of Gothic horror fiction.
The myth of vampires dates as far back as prehistoric times but Stoker was the first to define the modern form of what is now a familiar creature: we can thank him for everything from Nosferatu to the more recent Twilight series.
Inspiration for the novel is believed to have risen from Stoker's time serving as a civil servant in Dublin Castle and from his friend Sir Henry Irving, a Shakespearean actor whose mannerisms provided the basis of the character.
Stoker died of a stroke in 1912 having written 18 other lesser-known books.
CLICK through the slideshow for a selection of the Google Doodlers' favorite doodles:
Google Doodlers Pick Their Favorite Doodles
Favorite Doodle: Moog synthesizer (interactive) Occasion: Robert Moog's 78th birthday "We've been playing with the Google Doodles for years, so it's seems fitting to let users play too. It was really fun geeking out with engineers to celebrate a patron saint of the nerdy arts."

Favorite Doodle: Freddie Mercury animation Occasion: Freddie Mercury's 65th birthday "I loved the opportunity to work with all the other doodlers, other animators within Google and Queen's manager to develop this video. It also didn't hurt that I was able to listen to the same 90 seconds of 'Don't Stop Me Now' and still love the song afterward."

Favorite Doodle: Drive-in Theater Occasion: 79th anniversary of the first drive-in movie "While I really enjoyed working on the Anniversary of the Drive-In Theater, I'd have to say the user reaction is what makes this my favorite doodle. It inspired a great sense of nostalgia as users shared on various social networks their own personal experiences, some even being nearly-forgotten childhood memories. We may have taken them to the show, but in the end, they were the stars."

Favorite Doodle: The Cyberiad Occasion: 60th anniversary of Stanislaw Lem's first publication, "The Astronauts" "One of my favorite aspects of working as a doodler is that I can often find projects that are an intersection of my various interests. In the case of this doodle, celebrating the first publication of esteemed Polish sci-fi author Stanisław Lem, I was able to combine my love for science fiction, video games, and pen & ink illustration to create a complex interactive world featuring characters from one of Lem's most beloved works, The Cyberiad."

Favorite Doodle: Polish grandparents Occasion: Grandparents Day 2012 "This doodle is one of my favorites because it captures a sentimental moment between proud grandparents and their grandchildren. Out for a slow stroll in the park, the grandparents make sure the children are bundled up, and in turn the little guy holding hands with grandpa imitates him by carrying his own 'walking stick' while grandma holds on to her little 'pierogi'. A good friend of mine is Polish and I've visited him twice, where his folks -- real Polish grandparents -- have welcomed me with the utmost hospitality."

Favorite Doodle: Particles Occasion: Google Instant launch "My favorite because it resulted from a collaboration of Google engineers from many different backgrounds. I still love to play with this because it's both fun and calming. It lives on in the header of the official Google Blog at http://googleblog.blogspot.com/"

Favorite Doodle: Braille Google Occasion: Louis Braille's 107th birthday "This one ran before I even joined the company so I have no idea who made it. There's a wonderfully fun simplicity to it. I remember seeing it when it ran and thinking that it was amazing how clearly recognizable the logo was, even without recognizable letters."

Favorite Doodle: ZX St. George Occasion: St. George's Day / the 30th anniversary of the ZX spectrum "A doodle celebrating St. George's Day while faithfully representing the constrained technical capabilities of a 30-year old machine, ZX Spectrum, which was the early computer many people started on. (Someone subsequently dug out their childhood Spectrum and put our doodle on it!)"

Favorite Doodle: Pac-Man (interactive) Occasion: 30th anniversary of Pac-Man "I'm a sucker for video games, and seeing how this doodle faithfully recreated the original pac-man even while re-making the map to be the Google logo was great."