Twelve-year-old Shaun (Charlie Jones) yearns to be far away from the walls of his sterile care home, on another continent with a "black daddy" where the Mangrove trees grow.
Joe Hammond's debut play Where The Mangrove Grows at Theatre503 is a heartbreaking portrait of children who fall between the cracks of society, failed not just by family, but by a system of care.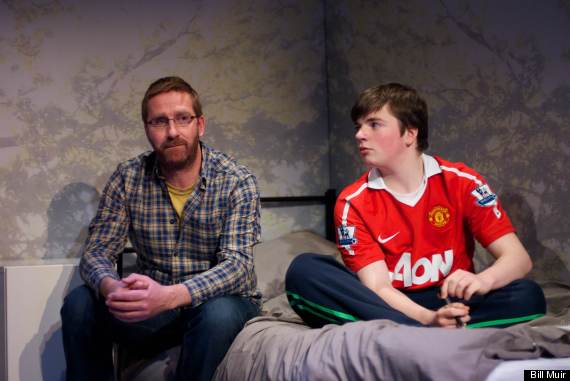 David Birrell (Mike) and Charlie Jones (Shaun)
The award-winning progressive Theatre503 have made a name for themselves bringing bold new plays to the public - The Mountaintop by Katori Hall moved through the theatrical ranks to the West End, with Samuel L. Jackson as its star on Broadway. The theatre's latest offering from Hammond, directed by Tamara Harvey, tackles the serious issues surrounding neglect.
Striving to find an adoptive family, Shaun is aided by care worker Mike (David Birrell), guiding the child on how to show the "real Shaun" to prospective parents.
The indifferent Shaun has more exotic pastimes - his new picture book; a colourful rich world in Africa where fisherman Charles (Mark Springer) basks in the sunshine with his happy wife and children.
Enchanted by the dream world, all Shaun talks about is Charles. Harmless make believe, until Charles steps through the bedroom window and into Shaun's life.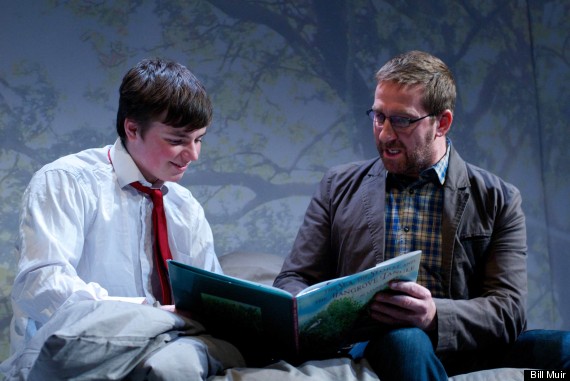 Charlie Jones (Shaun) and David Birrell (Mike)
With echoes of the fantastical world of Maurice Sendak's classic children's story Where The Wild Things Are, Hammond's play explores the power of imagination when a reality must be denied.
The subjects in Where The Mangrove Grows are not easy to bring to the stage. Just as Shaun is fascinated by the fictional Charles beckoning from the mangrove swamp, Mike is obsessed with the young Shaun. The care worker's complex character reveals itself with a measured performance from Birrell - like a fretful guardian with simpering calm tones, Birrell's chilling performance develops to create a cunning and controlling bully.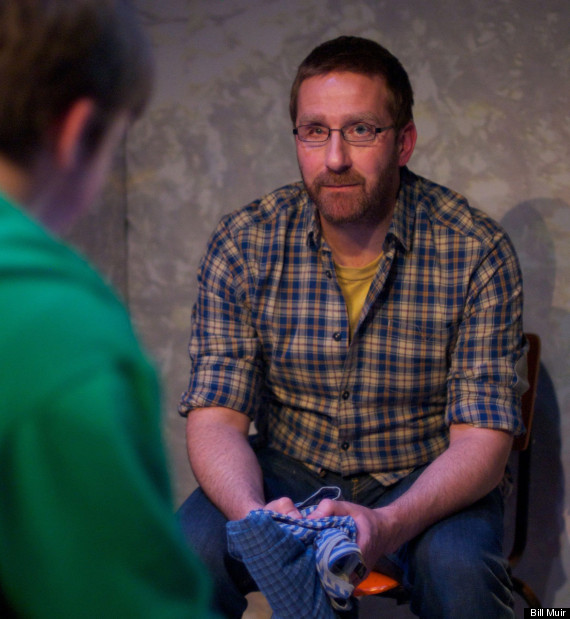 Jones' energised performance as Shaun gives the play a constant rhythm, with realistic allusions to his character's unstated behavioural problems. The young actor brings a heartbreaking innocence to the stage and a tear-jerking performance. Eastenders' loss is theatre's gain.
As Charlie, Springer's friendly and calm logic gives Shaun the respite he deserves - the best imaginary friend a boy could ever hope for.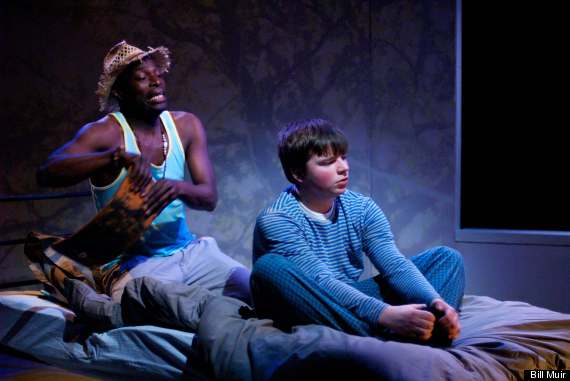 Mark Springer (Charles) and Charlie Jones (Shaun)
The stomach churning revelation of the full extent of Shaun's abuse initially feels an unnecessary plot device - does Shaun need to be living the worst imaginable hell for us to understand the desperation of his plight?
Hammond may not have intended his play to be topical, but as recent headlines show, the tragic truth is that child abuse is even more insidious than many of us realised. It would be a disservice to victims to temper any theatrical portrayal of the subject.
Hammond's conclusion, however, leaves the viewer feeling cold, with unresolved questions over what we are to take away from Where The Mangrove Grows.
A powerful, thoughtful and accomplished debut play - one which will make difficult viewing for anyone affected by the issues.
Where The Mangrove Grows is running at Theatre503, 6 Nov 2012 - 1 Dec 2012.
Take a look at all of HuffPost UK's theatre reviews:
HuffPost UK Theatre Reviews
SUBSCRIBE AND FOLLOW
Get top stories and blog posts emailed to me each day. Newsletters may offer personalized content or advertisements.
Learn more