A mother-of-two who feared she would not live to see her children grow up has lost more than half her body weight to be named Slimming World's Woman of the Year 2012.
Claire Alsop, 31, from Rotherham, South Yorkshire, ballooned to 21st 9lb and a dress size 26/28 after having her two children, Noah, six, and four-year-old Ruby.
She has lost a total of 11st 7.5lb since joining her local Slimming World club in January 2011 - despite being constantly surrounded by the celebration cakes she bakes for her friends and family.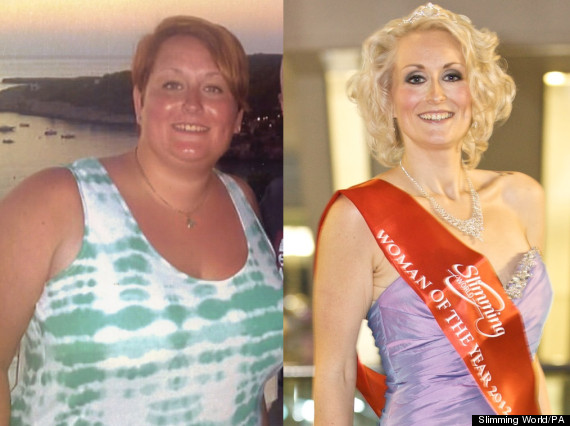 Claire Alsop, from Rotherham, pictured before and after she lost more than half her body weight
Ms Alsop said her weight was beginning to cause her problems with her health and made her worry about the future.
She said: "I was having severe health problems and I wasn't even 30.
"I couldn't stand up to make my cakes for more than 10 minutes before my back ached and I'd need to sit down.
"I started thinking about my 40th birthday and wondering how big I'd be then. Would I be 35st or even more? I thought 'Am I going to see my kids grow up? Will I ever meet my grandkids?' and I knew I had to do something."
Ms Alsop joined the Brinsworth Slimming World group with a friend after trying numerous other diets and meal replacement plans without success.
"It was my last chance before I went to the doctor's to ask for something more serious," she said.
Ms Alsop said she was amazed that she could still eat her favourite hearty British food and still lose weight. She lost 8lb in her first week and has since slimmed down to 10st 1.5lb and a dress size 10/12.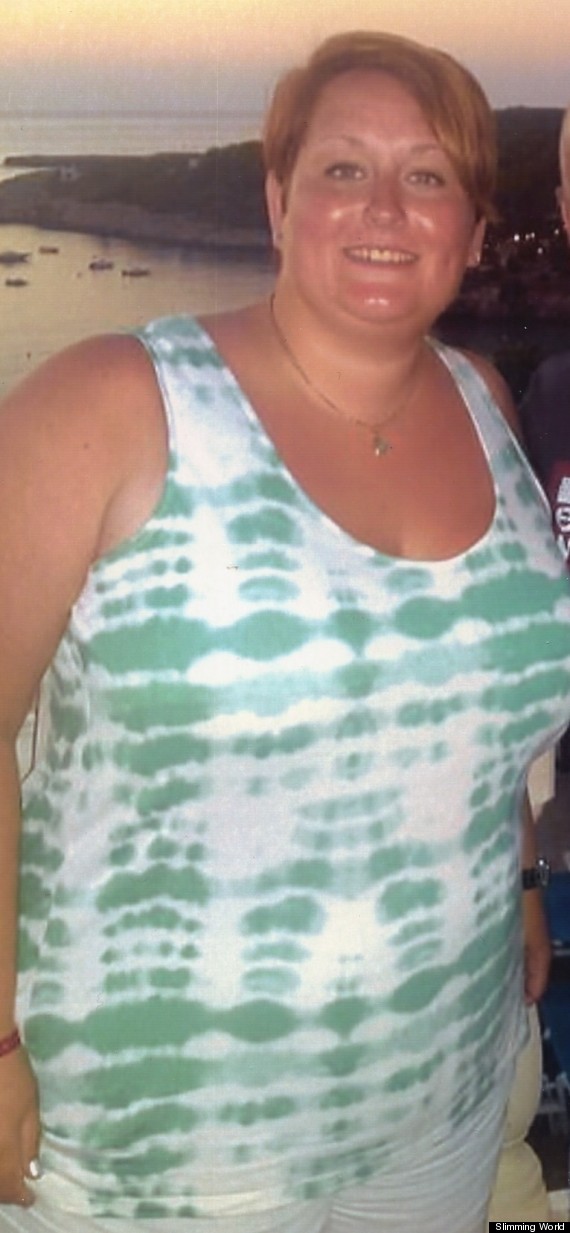 Claire Alsop has lost a total of 11st 7.5lb since joining her local Slimming World club
She said: "I always tell people that I've literally eaten myself thin because I have. I love hearty British food like steaks, stews, cottage pie - anything with potatoes - and I've still been able to eat all of my favourite meals just by cooking them a bit differently.
"It fits in perfectly with our day-to-day family life because we can all eat the same meals and I am never hungry."
She said she has even been able to continue baking cakes without it affecting her weight loss.
"Because I'm not hungry I don't feel the need to pick at the off-cuts of sponge or finish off the buttercream, but if I want to do that every now and again I can - no food's off limits, so I really can have my cake and eat it," she said.
"I make lower-fat cakes too and love swapping recipes with the other members at my Slimming World group."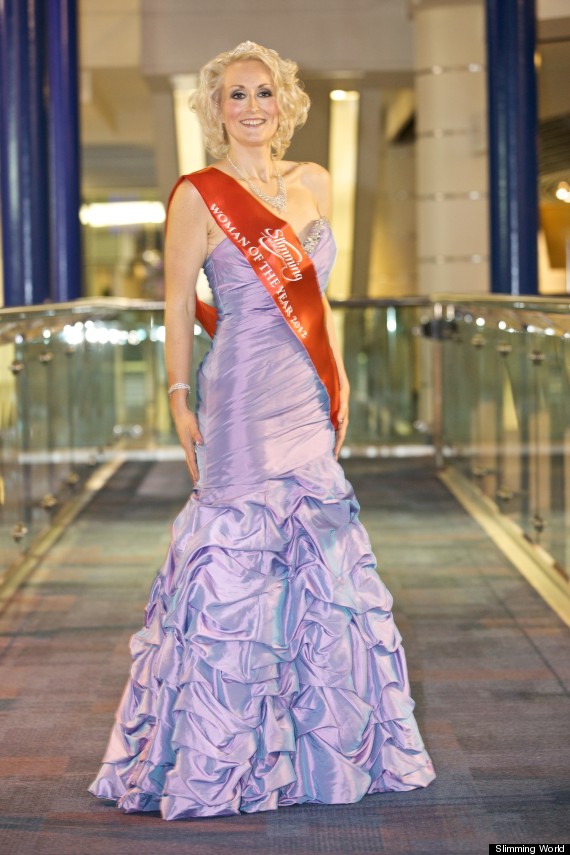 31-year-old Claire Alsop is Slimming World's Woman of the Year 2012
Ms Alsop said her weight loss has transformed her family life - allowing her to be more active with her children and seeing her husband Paul, 30, also losing weight.
She has taken up running and took part in a 10km race for a local cancer charity.
She said: "I didn't want my kids to be embarrassed or bullied because of my size. Now they've got parents they can be proud of.
"I used to let their lives pass me by but now I don't miss anything, we're out and about all the time - on the trampoline together or down the local park - I've got lots more energy.
"I'm participating in their lives now rather than spectating and they're healthier too - they love fruit."
She added: "I've realised that there's nothing you can't achieve if you put your mind to it."
Also on HuffPost:
Former 'Loose Women' star Denise Welch lost over two stone after becoming the face of LigherLife and taking up a new fitness regime in 2013.

At her thinnest Natalie wanted the whole world to know she'd lost weight. An inevitable work out DVD followed.

The Steps singer managed to shed the weight she gained after the band split, but then she fell pregnant and battled to lose it since.

Gastric-band-gate swept the nation when it was revealed Fern hadn't exactly told the truth about her weight loss.

Dawn French was always been known for being a bit on the larger side, and that's why we loved her. Well, there's less of her to love now as since her split with Lenny she's shed a fair few pounds.

That picture on the left actually scares us. It's like she wants us to motorboat in that cleavage. Bleugh.

Bristolian comic Justin Lee Collins has gone from rock-sized to rock star after dieting.

Former Emmerdale actress Pauline Quirke lost several stone after being told she was morbidly obese.

It was revealed that Geri's dramatic weight loss was due to an eating disorder. Luckily she's settled back to a healthy weight now.

He's the man of the moment on The X Factor, but after the original Take That split Barlow ballooned.

James Corden's role in One Man Two Guv'nors helped him to shift over five stone.

TOWIE's Gemma shed four stone on a bid to win Mick Norcross. She gave up the bags of crisps but didn't manage to bag the bloke. Good job she's got Arg now then.

Pete's frame isn't the only thing shocking here. WTF is with that hair? Anyway, Pete shed the pounds when he split with Jordan. We didn't hear anything about that?

Eh up, don our Kerreh look slim. Must 'av been on t'Weight Watchers.

Jack Osbourne has struggled a lot with his size and is still yo-yoing with his weight now.

Gerard Butler has never exactly been a porker, but he's swapped his stocky frame for a much leaner one.

Jessie Wallace looked unrecognisable after slimming down, but since returning to Easties, Jessie has regained Kat's curvier figure.

Superbad actor Jonah Hill made jaws drop across the world when he unveiled his new look at an awards bash. He's hoping to lose more too.

The once teeny weeny, leather-chaps wearing Christina Aguilera got tongues a-wagging when she ditched her slight frame.
LIKE HUFFPOST UK LIFESTYLE ON FACEBOOK | FOLLOW US ON TWITTER