When he's not on the football pitch you can usually find David Beckham enjoying a basketball game and he did just that yesterday when he went to see his beloved Lakers at the Staples Centre in LA.
And after being caught eyeing the cheerleaders at halftime during games in the past, it was eyes down for Becks on this occasion as he entertained himself with a ham sarnie instead.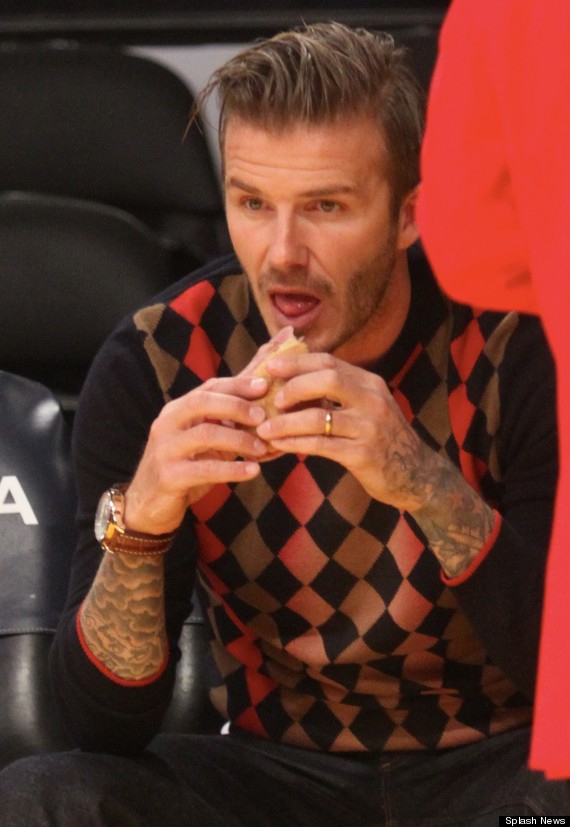 David tucks in
We wonder if Victoria made it for him?
Somehow we doubt it, but we wouldn't bet against Posh having a hand in choosing his outfit - a rather fetching diamond print jumper and jeans combo.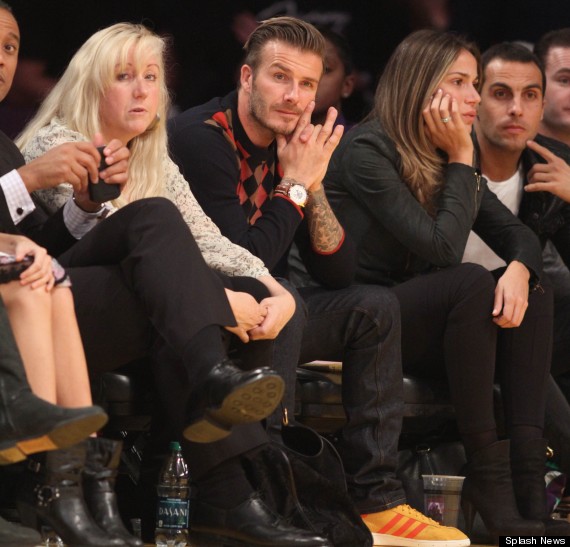 Enjoying the game David?
Speaking of Victoria, before the match David and his eldest son Brooklyn and baby daughter Harper attended a special presentation of Victoria's new fashion range.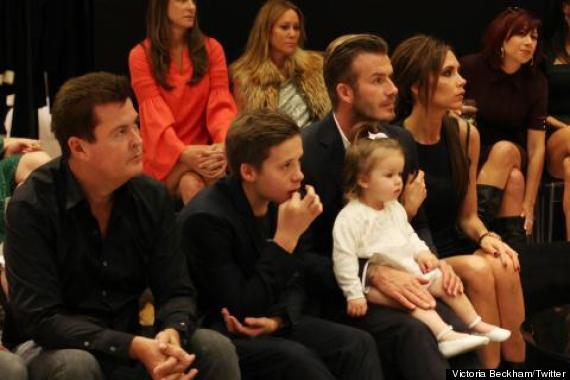 Family affair: Posh, Becks, Harper and Brooklyn at the fashion show
Posh tweeted a snap of the family on the front row of the catwalk show, which featured her latest collection for US store Neiman Marcus.
HUFFPOST UK CELEB ON FACEBOOK | FOLLOW US ON TWITTER
30 March 1993. Looking ridiculously fresh-faced in the under-18 England team.

26 March 1996. Apparently there were girlfriends before Posh - what?! Here's David with Julie Killilea at a film premiere in Bury.

10 February 1997. David's footballing fashion is largely beyond his control (hairbands aside) but he does make the kits look good!

19 May 1998. We're more used to David's outfits co-ordinating with Victoria's but Beckham and best mate Gary Neville look like peas in a pod on Mill Ride golf course.

11 June 1999. Top to toe matching leather outfits for a Versace store opening.

September 1999. David adds a pop of colour to an all black ensemble via a headscarf.

20 September 1999. The couple co-ordination continues with jeans and black tops backstage at a Whitney concert.

6 October 1999. Mr Beckham scrubs up well at the MOBO Awards in a well tailored suit and unbuttoned shirt.

January 2000. And just like that the hair has gone. David Beckham goes for a more grownup image as well as more jewellery. check out the sparkling stud earrings.

7 February 2000. A purple leather duster finishes a distinctive plum-coloured outfit at the Withnail & I charity premiere.

11 May 2000. Pristine whites for an outing in the Californian sun with son Brooklyn.

8 July 2000. Moving swiftly on...

31 August 2000. David Beckham demonstrates his fondness for jewellery at an England team press conference in Paris.

20 January 2001. Another matching outing for the couple. David wears a barely buttoned shirt and shiny trousers.

15 March 2001. A rare flirtation with bright colours.

23 May 2001. Beckham's new mohawk hairstyle came in for criticism during this England press conference.

18 July 2001. The stripes owe a debt of gratitude to Beetlejuice while the pose says 'nightclub bouncer' at this Police sunglasses promotion.

7 February 2002. A more relaxed promotional appearance for Police sees David in ripped denim and brown leather.

20 June 2003. David greets Japanese school children in oversized jeans and a fitted tshirt.

20 April 2004. Victoria puts a protective arm round her newly-shorn husband as he dons jeans and a blazer for a 19 Management party.

1 October 2004. Swapping football boots for flip-flops at a DVD launch.

3 June 2005. An exceptionally shiny suit coupled with a new hairstyle for the David Beckham Academy launch party.

7 September 2006. David accessorises his usual jeans and shirt with a waistcoat and baker boy hat - Oliver Twist chic?

18 June 2008. The ads had him wearing only his pants but David (sadly) managed a full suit for an Emporio Armani campaign.

5 May 2008. The couple turn on the red carpet glamour - Armani for Victoria and a classic tux for David.

4 June 2008. Beckham turns up to the opening of Gordon Ramsay's new West Hollywood restaurant dressed as a snooker player.

18 June 2008. However, you can see one of the advertising shots here.

3 August 2008. What can we say? The man loves his waistcoats. David Beckham picks up the Teen Choice Awards for Choice Male Athlete.

26 September 2008. The three piece suit is, perhaps, a piece too far as the couple launch their fragrance collection.

17 January 2009 Dark pinstripes suit the star although he doesn't look too pleased about being the centre of attention.

20 January 2009. A grey silk scarf makes Mr Beckham look rather debonaire at a Sky HD cocktail party.

11 June 2009. David Beckham speaks at an Emporio Armani product launch - the white shirt accentuates his tan.

18 January 2010. Oh dear. Just because the event is focused on shoes, it doesn't mean you shouldn't make the effort elsewhere!

12 June 2010. The England Ambassador looks ultra-smart in his suit as he shares a joke with the more casually attired Rio Ferdinand.

8 August 2010. David perfects the cool casual look at the 2010 Teen Choice Awards.

7 August 2010. Beckham greets Real Madrid players in navy blue.

15 December 2010. David takes suited and booted son Brooklyn to A Night of Heroes at the Imperial War Museum - the floppy hair and cheeky smile clearly run in the family!

29 April 2011. David Beckham wears head-to-toe Ralph Lauren for the royal wedding. The OBE makes for a fetching accessory although etiquette should see it occupying the left lapel.

18 May 2012. David Beckham holds the Olympic Flame.

20 May 2012. David Beckham watches the game between the Phoenix Coyotes and the Los Angeles Kings.

20 May 2012. Professional soccer player David Beckham, wife Victoria Beckham and sons Cruz, Romeo and Brooklyn in California.