Double denim can be a tricky trend to pull off, but being a seasoned style pro Kylie Minogue managed to do it with aplomb as she appeared on a US TV show yesterday.
Kylie - who has so far had mixed success in America - joined 'X Factor USA' host Mario Lopez on 'Exra', where she proved her most famous ass-et was still very much in tact.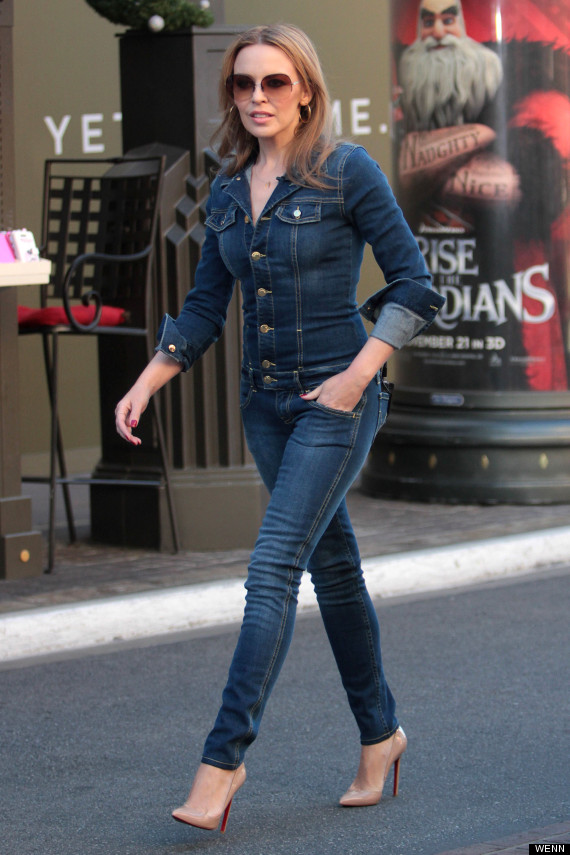 Getting down to some bump and grind, the 44-year-old's curves were perfectly highlighted by her choice of tight denim.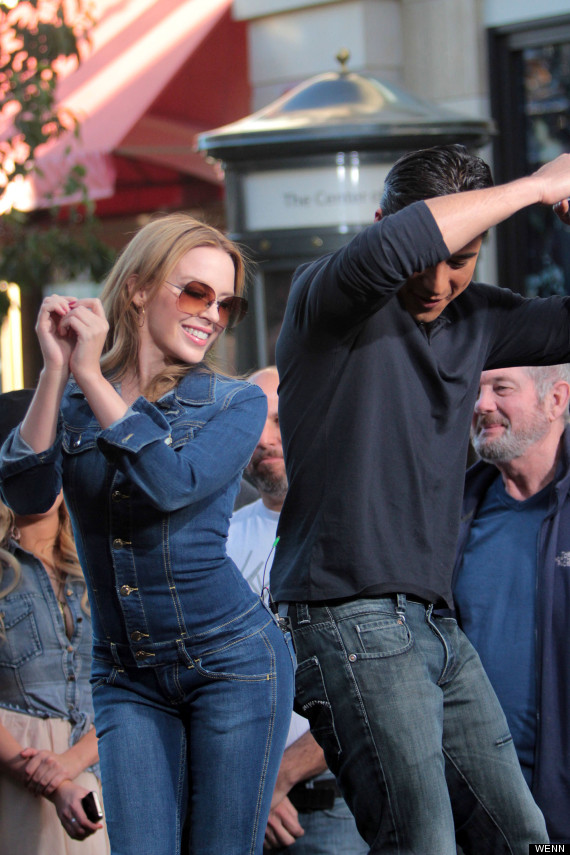 Kylie recently opened up to our cousins on the US version of The Huffington Post about how she finds being interviewed in the States difficult.
She told them: "It's a little different with you Americans because you have a different agenda, it's not like [in the UK] where I've been in people's living rooms every day for years - so, [doing interviews] can be refreshing at times.
"But having started doing this kind of thing at 18, I've been stung enough times to just be wary. I try to be open. I try to find a balance."
Style Evolution: Kylie Minogue
1980 Kylie rocked an 80s perm back in her Charlene from Neighbours days.

1989 What a look! The singer performed on Des O'Connor Tonight in a sequin embellished crop top and velvet cycling shorts.

1989 Kylie swapped the velvet shorts for some denim cut-offs at a summer roadshow in Exmouth.

1993 Purple jeans and a denim waistcoat were all the rage back in 1993.

1994 Is that Kylie with ginger hair? She tried out a rather different look for a charity perfomance in The Fiddler on the Roof. We're not convinced...

1999 Kylie stepped out in a floral number for the Ivor Novelli Awards.

2000 This is what we love Kylie for; sequins, thigh-high slits and metallic sandals. Kylie took centre stage on the red carpet at the MTV Movie Awards.

2001 Kylie popped on a sheer crop top for the Moulin Rouge premiere. Only Kylie would get away with flashing a leopard print bra underneath.

2004 Ms. Minogue arrived at the MTV Europe Awards in a delicate Dolce & Gabbana design.

2005 Kylie chose a simple LBD for the Elle Style Awards in 2005.

2005 No one impresses with their on-stage style like Kylie. She dazzled in a feather embellished design during her Showgirl tour in 2005.

2006 Kylie rocked Parisian chic in a cute two-piece suit after a trip the French capital.

2007 Pretty in purple, Kylie made an appearance at the Kylie Minogue Exhibition at London's Victoria & Albert Museum.

2007 Kylie opted for her favoured Dolce & Gabbana at the 2007 BAFTAs.

2007 With a new blonde crop and a figure-hugging Pucci dress, all eyes were on Kylie in New York City.

2007 Once again, Kylie rocked a daring Dolce & Gabbana design, this time at the 13 film premiere in Cannes. If you're going to wear a PVC and lace corset dress, why not complete the look with perspex platforms?!

2007 Is that Kylie or Marylin? The singer celebrated 20 years in the music industry at a party in London.

2007 Kylie made sure she dressed to impress as she picked up her Music Industry Trust Award in a stunning Dolce & Gabbana gown.

2008 She rocked a Scottish inspired gown at a Hollywood and Highland black tie gala in Los Angeles.

2008 Surpise, surprise, Kylie opted for a Dolce & Gabbana gown at the Elle Style Awards in 2008.

2008 Kylie embraced Hollywood glamour on at the Brit Awards in 2008. Love the blonde crop too.

2008 This outfit shouldn't work, but Kylie pulls off the neon skinny jeans and bagg t-shirt look perfectly.

2008 She looked lovely in a star embellished gown after receiving her OBE.

2009 The pop princess made a staggering six outfit changes at the 2009 Brit Awards. (She was the host after all). Our favourite look was this Grecian gown by Alexander McQueen.

2010 Kylie sported an LBD

2010 Kylie flaunted her figure backstage at the Emilio Pucci spring/summer 2011 show in Milan.

2010 We love Kylie's street style almost as much as her on-stage looks. We love this fringed jacket and suede boots ensemble.

2010 Kylie opted for futuristic over festive at Captial Radios's Jingle Bell Ball.

2011 We love this look. Kylie opted for a McQueen LBD and platform ankle boots at the Billboard Music Awards in Las Vegas.

2012 Kylie works casual biker chic out and about in London.