Huffington Post Picture Desk Live: Scroll down for the best news, entertainment, culture and sports pictures of the day, brought to you by The Huffington Post's own picture editors Elliot Wagland, Matthew Tucker and Tahira Mirza.
Follow us on Twitter for links to top pics featured on The Huffington Post.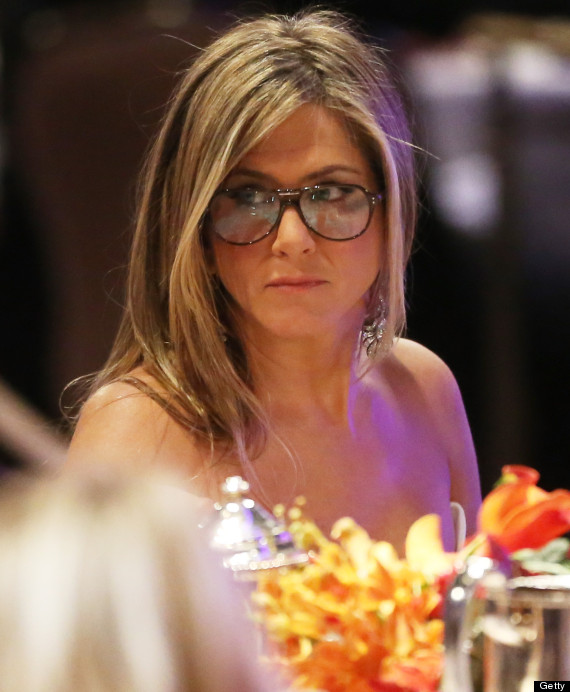 Actress Jennifer Aniston in the audience at the 26th American Cinematheque Award Gala honoring Ben Stiller at The Beverly Hilton Hotel on November 15, 2012 in Beverly Hills, California.
Loading Slideshow
26th American Cinematheque Award Honoring Ben Stiller - Show

BEVERLY HILLS, CA - NOVEMBER 15: Honoree and actor Ben Stiller accepts his award onstage during the 26th American Cinematheque Award Gala honoring Ben Stiller at The Beverly Hilton Hotel on November 15, 2012 in Beverly Hills, California. (Photo by Frederick M. Brown/Getty Images)

Justin Theroux, Jennifer Aniston

Justin Theroux and Jennifer Aniston attend the American Cinematheque 26th Annual Award Presentation To Ben Stiller 2012 at The Beverly Hilton Hotel on Thursday November 15, 2012 in Beverly Hills, California. (Photo by Todd Williamson/Invision/AP Images)

Christine Taylor, Jennifer Aniston

Christine Taylor and Jennifer Aniston attend the American Cinematheque 26th Annual Award Presentation To Ben Stiller 2012 at The Beverly Hilton Hotel on Thursday November 15, 2012 in Beverly Hills, California. (Photo by Todd Williamson/Invision/AP Images)

Ben Stiller

Honoree Ben Stiller accepts award onstage during the American Cinematheque 26th Annual Award Presentation To Ben Stiller 2012 at The Beverly Hilton Hotel on Thursday Nov. 15, 2012 in Beverly Hills, California. (Photo by Todd Williamson/Invision/AP Images)

Jennifer Aniston

Jennifer Aniston speaks onstage during the American Cinematheque 26th Annual Award Presentation To Ben Stiller 2012 at The Beverly Hilton Hotel on Thursday November 15, 2012 in Beverly Hills, California. (Photo by Todd Williamson/Invision/AP Images)

26th American Cinematheque Award Honoring Ben Stiller - Show

BEVERLY HILLS, CA - NOVEMBER 15: Honoree and actor Ben Stiller accepts his award onstage during the 26th American Cinematheque Award Gala honoring Ben Stiller at The Beverly Hilton Hotel on November 15, 2012 in Beverly Hills, California. (Photo by Frederick M. Brown/Getty Images)

26th American Cinematheque Award Honoring Ben Stiller - Show

BEVERLY HILLS, CA - NOVEMBER 15: Honoree and actor Ben Stiller accepts his award onstage during the 26th American Cinematheque Award Gala honoring Ben Stiller at The Beverly Hilton Hotel on November 15, 2012 in Beverly Hills, California. (Photo by Frederick M. Brown/Getty Images)

26th American Cinematheque Award Honoring Ben Stiller - Show

BEVERLY HILLS, CA - NOVEMBER 15: Honoree and actor Ben Stiller accepts his award onstage during the 26th American Cinematheque Award Gala honoring Ben Stiller at The Beverly Hilton Hotel on November 15, 2012 in Beverly Hills, California. (Photo by Frederick M. Brown/Getty Images)

26th American Cinematheque Award Honoring Ben Stiller - Show

BEVERLY HILLS, CA - NOVEMBER 15: (L-R) Actors Eugene Levy and Martin Short speak onstage during the 26th American Cinematheque Award Gala honoring Ben Stiller at The Beverly Hilton Hotel on November 15, 2012 in Beverly Hills, California. (Photo by Frederick M. Brown/Getty Images)

26th American Cinematheque Award Honoring Ben Stiller - Show

BEVERLY HILLS, CA - NOVEMBER 15: Honoree and actor Ben Stiller accepts his award onstage during the 26th American Cinematheque Award Gala honoring Ben Stiller at The Beverly Hilton Hotel on November 15, 2012 in Beverly Hills, California. (Photo by Frederick M. Brown/Getty Images)

26th American Cinematheque Award Honoring Ben Stiller - Show

BEVERLY HILLS, CA - NOVEMBER 15: (L-R) Honoree and actor Ben Stiller in the audience with actors Jennifer Aniston and Justin Theroux at the 26th American Cinematheque Award Gala honoring Ben Stiller at The Beverly Hilton Hotel on November 15, 2012 in Beverly Hills, California. (Photo by Frederick M. Brown/Getty Images)

26th American Cinematheque Award Honoring Ben Stiller - Show

BEVERLY HILLS, CA - NOVEMBER 15: Actress Christine Taylor speaks onstage during the 26th American Cinematheque Award Gala honoring Ben Stiller at The Beverly Hilton Hotel on November 15, 2012 in Beverly Hills, California. (Photo by Frederick M. Brown/Getty Images)

26th American Cinematheque Award Honoring Ben Stiller - Show

BEVERLY HILLS, CA - NOVEMBER 15: Honoree and actor Ben Stiller holds his award during the 26th American Cinematheque Award Gala honoring Ben Stiller at The Beverly Hilton Hotel on November 15, 2012 in Beverly Hills, California. (Photo by Frederick M. Brown/Getty Images)

26th American Cinematheque Award Honoring Ben Stiller - Show

BEVERLY HILLS, CA - NOVEMBER 15: Honoree Ben Stiller accepts his award onstage during the 26th American Cinematheque Award Gala honoring Ben Stiller at The Beverly Hilton Hotel on November 15, 2012 in Beverly Hills, California. (Photo by Frederick M. Brown/Getty Images)

26th American Cinematheque Award Honoring Ben Stiller - Show

BEVERLY HILLS, CA - NOVEMBER 15: Actress Christine Taylor speaks onstage during the 26th American Cinematheque Award Gala honoring Ben Stiller at The Beverly Hilton Hotel on November 15, 2012 in Beverly Hills, California. (Photo by Frederick M. Brown/Getty Images)

26th American Cinematheque Award Honoring Ben Stiller - Show

BEVERLY HILLS, CA - NOVEMBER 15: Actress Christine Taylor speaks onstage during the 26th American Cinematheque Award Gala honoring Ben Stiller at The Beverly Hilton Hotel on November 15, 2012 in Beverly Hills, California. (Photo by Frederick M. Brown/Getty Images)

26th American Cinematheque Award Honoring Ben Stiller - Show

BEVERLY HILLS, CA - NOVEMBER 15: Actress Christine Taylor onstage during the 26th American Cinematheque Award Gala honoring Ben Stiller at The Beverly Hilton Hotel on November 15, 2012 in Beverly Hills, California. (Photo by Frederick M. Brown/Getty Images)

26th American Cinematheque Award Honoring Ben Stiller - Show

BEVERLY HILLS, CA - NOVEMBER 15: Actress Christine Taylor speaks onstage during the 26th American Cinematheque Award Gala honoring Ben Stiller at The Beverly Hilton Hotel on November 15, 2012 in Beverly Hills, California. (Photo by Frederick M. Brown/Getty Images)

26th American Cinematheque Award Honoring Ben Stiller - Show

BEVERLY HILLS, CA - NOVEMBER 15: (L-R) Actors Eugene Levy and Martin Short speak onstage during the 26th American Cinematheque Award Gala honoring Ben Stiller at The Beverly Hilton Hotel on November 15, 2012 in Beverly Hills, California. (Photo by Frederick M. Brown/Getty Images)

26th American Cinematheque Award Honoring Ben Stiller - Show

BEVERLY HILLS, CA - NOVEMBER 15: Actress Christine Taylor speaks onstage during the 26th American Cinematheque Award Gala honoring Ben Stiller at The Beverly Hilton Hotel on November 15, 2012 in Beverly Hills, California. (Photo by Frederick M. Brown/Getty Images)

26th American Cinematheque Award Honoring Ben Stiller - Show

BEVERLY HILLS, CA - NOVEMBER 15: Actress Jennifer Aniston speaks onstage during the 26th American Cinematheque Award Gala honoring Ben Stiller at The Beverly Hilton Hotel on November 15, 2012 in Beverly Hills, California. (Photo by Frederick M. Brown/Getty Images)

26th American Cinematheque Award Honoring Ben Stiller - Show

BEVERLY HILLS, CA - NOVEMBER 15: Actor Justin Theroux speaks onstage during the 26th American Cinematheque Award Gala honoring Ben Stiller at The Beverly Hilton Hotel on November 15, 2012 in Beverly Hills, California. (Photo by Frederick M. Brown/Getty Images)

26th American Cinematheque Award Honoring Ben Stiller - Show

BEVERLY HILLS, CA - NOVEMBER 15: Actor Justin Theroux speaks onstage during the 26th American Cinematheque Award Gala honoring Ben Stiller at The Beverly Hilton Hotel on November 15, 2012 in Beverly Hills, California. (Photo by Frederick M. Brown/Getty Images)

26th American Cinematheque Award Honoring Ben Stiller - Show

BEVERLY HILLS, CA - NOVEMBER 15: Actress Jennifer Aniston speaks onstage during the 26th American Cinematheque Award Gala honoring Ben Stiller at The Beverly Hilton Hotel on November 15, 2012 in Beverly Hills, California. (Photo by Frederick M. Brown/Getty Images)

26th American Cinematheque Award Honoring Ben Stiller - Show

BEVERLY HILLS, CA - NOVEMBER 15: Actress Jennifer Aniston speaks onstage during the 26th American Cinematheque Award Gala honoring Ben Stiller at The Beverly Hilton Hotel on November 15, 2012 in Beverly Hills, California. (Photo by Frederick M. Brown/Getty Images)

26th American Cinematheque Award Honoring Ben Stiller - Show

BEVERLY HILLS, CA - NOVEMBER 15: Actress Laura Dern speaks onstage during the 26th American Cinematheque Award Gala honoring Ben Stiller at The Beverly Hilton Hotel on November 15, 2012 in Beverly Hills, California. (Photo by Frederick M. Brown/Getty Images)

26th American Cinematheque Award Honoring Ben Stiller - Show

BEVERLY HILLS, CA - NOVEMBER 15: Actor Andy Dick speaks onstage during the 26th American Cinematheque Award Gala honoring Ben Stiller at The Beverly Hilton Hotel on November 15, 2012 in Beverly Hills, California. (Photo by Frederick M. Brown/Getty Images)

26th American Cinematheque Award Honoring Ben Stiller - Show

BEVERLY HILLS, CA - NOVEMBER 15: Actor Jack Black speaks onstage during the 26th American Cinematheque Award Gala honoring Ben Stiller at The Beverly Hilton Hotel on November 15, 2012 in Beverly Hills, California. (Photo by Frederick M. Brown/Getty Images)

26th American Cinematheque Award Honoring Ben Stiller - Show

BEVERLY HILLS, CA - NOVEMBER 15: Actress Jennifer Aniston speaks onstage during the 26th American Cinematheque Award Gala honoring Ben Stiller at The Beverly Hilton Hotel on November 15, 2012 in Beverly Hills, California. (Photo by Frederick M. Brown/Getty Images)

26th American Cinematheque Award Honoring Ben Stiller - Show

BEVERLY HILLS, CA - NOVEMBER 15: Actress Laura Dern speaks onstage during the 26th American Cinematheque Award Gala honoring Ben Stiller at The Beverly Hilton Hotel on November 15, 2012 in Beverly Hills, California. (Photo by Frederick M. Brown/Getty Images)

26th American Cinematheque Award Honoring Ben Stiller - Show

BEVERLY HILLS, CA - NOVEMBER 15: Actor David Cross speaks onstage during the 26th American Cinematheque Award Gala honoring Ben Stiller at The Beverly Hilton Hotel on November 15, 2012 in Beverly Hills, California. (Photo by Frederick M. Brown/Getty Images)

26th American Cinematheque Award Honoring Ben Stiller - Show

BEVERLY HILLS, CA - NOVEMBER 15: Producer Jeffrey Katzenberg speaks onstage during the 26th American Cinematheque Award Gala honoring Ben Stiller at The Beverly Hilton Hotel on November 15, 2012 in Beverly Hills, California. (Photo by Frederick M. Brown/Getty Images)

26th American Cinematheque Award Honoring Ben Stiller - Show

BEVERLY HILLS, CA - NOVEMBER 15: Actress Jennifer Aniston speaks onstage during the 26th American Cinematheque Award Gala honoring Ben Stiller at The Beverly Hilton Hotel on November 15, 2012 in Beverly Hills, California. (Photo by Frederick M. Brown/Getty Images)

26th American Cinematheque Award Honoring Ben Stiller - Show

BEVERLY HILLS, CA - NOVEMBER 15: Producer Jeffrey Katzenberg speaks onstage during the 26th American Cinematheque Award Gala honoring Ben Stiller at The Beverly Hilton Hotel on November 15, 2012 in Beverly Hills, California. (Photo by Frederick M. Brown/Getty Images)

26th American Cinematheque Award Honoring Ben Stiller - Show

BEVERLY HILLS, CA - NOVEMBER 15: Actress Jennifer Aniston speaks onstage during the 26th American Cinematheque Award Gala honoring Ben Stiller at The Beverly Hilton Hotel on November 15, 2012 in Beverly Hills, California. (Photo by Frederick M. Brown/Getty Images)

26th American Cinematheque Award Honoring Ben Stiller - Show

BEVERLY HILLS, CA - NOVEMBER 15: Actress Jennifer Aniston speaks onstage during the 26th American Cinematheque Award Gala honoring Ben Stiller at The Beverly Hilton Hotel on November 15, 2012 in Beverly Hills, California. (Photo by Frederick M. Brown/Getty Images)

26th American Cinematheque Award Honoring Ben Stiller - Show

BEVERLY HILLS, CA - NOVEMBER 15: Director Jay Roach speaks onstage during the 26th American Cinematheque Award Gala honoring Ben Stiller at The Beverly Hilton Hotel on November 15, 2012 in Beverly Hills, California. (Photo by Frederick M. Brown/Getty Images)

26th American Cinematheque Award Honoring Ben Stiller - Show

BEVERLY HILLS, CA - NOVEMBER 15: Actor Justin Theroux speaks onstage during the 26th American Cinematheque Award Gala honoring Ben Stiller at The Beverly Hilton Hotel on November 15, 2012 in Beverly Hills, California. (Photo by Frederick M. Brown/Getty Images)

26th American Cinematheque Award Honoring Ben Stiller - Show

BEVERLY HILLS, CA - NOVEMBER 15: Actress Laura Dern speaks onstage during the 26th American Cinematheque Award Gala honoring Ben Stiller at The Beverly Hilton Hotel on November 15, 2012 in Beverly Hills, California. (Photo by Frederick M. Brown/Getty Images)

26th American Cinematheque Award Honoring Ben Stiller - Show

BEVERLY HILLS, CA - NOVEMBER 15: Actor Will Ferrell speaks onstage during the 26th American Cinematheque Award Gala honoring Ben Stiller at The Beverly Hilton Hotel on November 15, 2012 in Beverly Hills, California. (Photo by Frederick M. Brown/Getty Images)

26th American Cinematheque Award Honoring Ben Stiller - Show

BEVERLY HILLS, CA - NOVEMBER 15: Actor Will Ferrell speaks onstage during the 26th American Cinematheque Award Gala honoring Ben Stiller at The Beverly Hilton Hotel on November 15, 2012 in Beverly Hills, California. (Photo by Frederick M. Brown/Getty Images)

26th American Cinematheque Award Honoring Ben Stiller - Show

BEVERLY HILLS, CA - NOVEMBER 15: Actor Will Ferrell speaks onstage during the 26th American Cinematheque Award Gala honoring Ben Stiller at The Beverly Hilton Hotel on November 15, 2012 in Beverly Hills, California. (Photo by Frederick M. Brown/Getty Images)

26th American Cinematheque Award Honoring Ben Stiller - Show

BEVERLY HILLS, CA - NOVEMBER 15: Actress Laura Dern speaks onstage during the 26th American Cinematheque Award Gala honoring Ben Stiller at The Beverly Hilton Hotel on November 15, 2012 in Beverly Hills, California. (Photo by Frederick M. Brown/Getty Images)

26th American Cinematheque Award Honoring Ben Stiller - Show

BEVERLY HILLS, CA - NOVEMBER 15: Actress Laura Dern speaks onstage during the 26th American Cinematheque Award Gala honoring Ben Stiller at The Beverly Hilton Hotel on November 15, 2012 in Beverly Hills, California. (Photo by Frederick M. Brown/Getty Images)

26th American Cinematheque Award Honoring Ben Stiller - Arrivals

BEVERLY HILLS, CA - NOVEMBER 15: Actress Carolina Crescentini attends the 26th American Cinematheque Award Gala honoring Ben Stiller at The Beverly Hilton Hotel on November 15, 2012 in Beverly Hills, California. (Photo by David Livingston/Getty Images)

26th American Cinematheque Award Honoring Ben Stiller - Arrivals

BEVERLY HILLS, CA - NOVEMBER 15: Actress Kym Karath (L) and guest attend the 26th American Cinematheque Award Gala honoring Ben Stiller at The Beverly Hilton Hotel on November 15, 2012 in Beverly Hills, California. (Photo by David Livingston/Getty Images)

26th American Cinematheque Award Honoring Ben Stiller - Arrivals

BEVERLY HILLS, CA - NOVEMBER 15: Actor Martin Short attends the 26th American Cinematheque Award Gala honoring Ben Stiller at The Beverly Hilton Hotel on November 15, 2012 in Beverly Hills, California. (Photo by David Livingston/Getty Images)

26th American Cinematheque Award Honoring Ben Stiller - Photo Op

BEVERLY HILLS, CA - NOVEMBER 15: (L-R) Actors Eugene Levy and honoree Ben Stiller pose with the American Cinematheque Award during the photo op at the the 26th American Cinematheque Award Gala honoring Ben Stiller at The Beverly Hilton Hotel on November 15, 2012 in Beverly Hills, California. (Photo by Frederick M. Brown/Getty Images)

26th American Cinematheque Award Honoring Ben Stiller - Show

BEVERLY HILLS, CA - NOVEMBER 15: (L-R) President of the American Cinematheque Henry Shields Jr. congratulates Sydney Pollack Award honoree and Chicago International Film Festival Founder and Artistic Director Michael Kutzaonstage during the 26th American Cinematheque Award Gala honoring Ben Stiller at The Beverly Hilton Hotel on November 15, 2012 in Beverly Hills, California. (Photo by Frederick M. Brown/Getty Images)

26th American Cinematheque Award Honoring Ben Stiller - Photo Op

BEVERLY HILLS, CA - NOVEMBER 15: Actor Eugene Levy (L) and honoree Ben Stiller attend the photo op at the the 26th American Cinematheque Award Gala honoring Ben Stiller at The Beverly Hilton Hotel on November 15, 2012 in Beverly Hills, California. (Photo by Frederick M. Brown/Getty Images)

26th American Cinematheque Award Honoring Ben Stiller - Cocktail Party

BEVERLY HILLS, CA - NOVEMBER 15: Actresses Christine Taylor (L) and Jennifer Aniston attend the 26th American Cinematheque Award Gala honoring Ben Stiller at The Beverly Hilton Hotel on November 15, 2012 in Beverly Hills, California. (Photo by Frederick M. Brown/Getty Images)