A private Indian university plans to open a campus for 15,000 foreign students in London, it was announced on Monday, as Boris Johnson continued his whirlwind tour of the country to promote links with the UK.
Amity University said it hopes to attract the brightest students and academics from around the world to its new residential campus in the capital. It is understood that if the proposals go ahead the campus could cost up to £100m.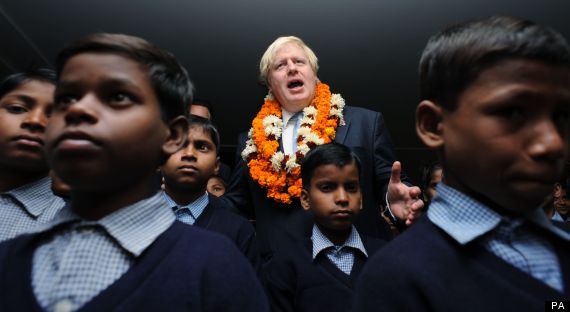 London mayor Boris Johnson meets students and pupils during a visit to Amity University in Uttar Pradesh near Delhi
Chancellor Atul Chauhan has also received the vocal backing of the London mayor, who described the proposals as "exciting". Addressing an audience at Amity's campus in Delhi, Johnson added that City Hall will now work "as hard as we can to make your dream a reality".
Sources close to the mayor said the Greater London Authority had land available and would be working with the university to see whether any of the sites would be suitable.
His support came as Chauhan, a prominent Indian academic, said he had chosen London as the venue for the campus as he had fond memories of studying engineering at University College, and then finance at the London School of Economics.
He said: "It will be a very large campus. This will be a residential campus and a huge, very-built up campus in London. It will attract the best students, the best faculty members and the best researchers from around the world and make London the hub for Amity."
With tougher student visa restrictions introduced last year to prevent bogus colleges being used as a cover by low-skilled workers abusing the system to work in the UK, Chauhan will need the mayor's support.
Overseas students must now be able to speak good English, cannot work more than 20 hours a week whilst studying, and must leave the UK when they graduate unless they can secure a job earning more than £20,000-a-year.
The restrictions have already had an effect. Overseas applications were down 9% this year and are expected to fall 25% in the next academic year.
Professor Geoff Rodgers, pro-vice chancellor at Brunel University, was at Monday's event in Delhi. He said Brunel had already seen the numbers of foreign students applying drop off.
He said: "We are disappointed that we are going to have less overseas students because that makes Brunel a less attractive place to study.
"We would like to see the restriction on students who want to work in the UK after they have studied to be removed so that they can have a couple of years to work in the UK. That part of the offer is quite attractive to overseas students. That is then good for the economy so the government should consider the possibility of allowing them to stay for a couple of years to work."
Earlier, the mayor said the new restrictions were an effort by the coalition government to amend the mistake Labour made when allowing migrants from EU member states into the UK in 2004.
He said the policy of stricter rules on student visas was targeting the wrong area of the immigration problem.
Johnson said he was worried that many Indian students were now choosing Canada, Australia and the United States instead, and London would lose out as the £2.5 billion they bring in to the UK every year would inevitably shrink.
He said: "In 2004, Labour basically decided to take the brakes off and that led to all sorts of unforeseen consequences. Immigration wasn't properly controlled and the government is trying to sort out an immigration problem, and there is certainly an immigration problem, but you have got to make sure you target the right area.
"I think higher education, which has traditionally attracted very bright people and is good for the London economy, is not the area to do it.
"London was founded by a bunch of pushy immigrants - the Romans. There wasn't a London at all until immigrants came. The important point is that sectors in London that have always been strong should continue to benefit from talent from abroad and I don't want them to be the accidental victims of a policy that was really designed to counteract a mistake a decade ago."
The mayor has also written to home secretary Theresa May asking for safeguards to be put in place to protect the investment international students make to the British economy.
By co-incidence, May, a strong proponent of the tougher restrictions, is in India this week.
SUBSCRIBE AND FOLLOW
Get top stories and blog posts emailed to me each day. Newsletters may offer personalized content or advertisements.
Learn more