Padding out of the snow, this Arctic fox blends almost completely into the blank landscape behind him.
The image, snapped by photographer Anna Henly, was a highly commended entry for the Veolia Environment Photographer of the Year competition in 2007.
We're tempted to write something tenuous here about how the cold weather is making us think of baby polar bears, penguins and all things cute and fluffy, but it all seems a bit tenuous when an image is this majestic.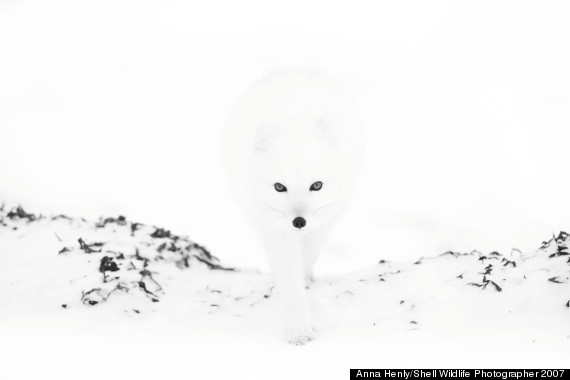 Submitted in the Nature in Black & White category, the shot was captured using a Canon EOS 1 Ds Mark II.
"They were patrolling the beach looking for food. One spotted me, emerging out of the mist, and came so close I could have stroked its fur."
Now in its 48th year, the awards are judged by a panel of industry-recognised professionals, and the images, submitted by professional and amateur photographers alike, are selected for their creativity, artistry and technical complexity.
Veolia Environnement Wildlife Photographer Of The Year 2012
SUBSCRIBE TO & FOLLOW UK DAILY BRIEF