David Cameron and Jeremy Hunt have been exonerated by Lord Justice Leveson's report into the press, despite widespread criticism they were too close to News International.
Responding to the news, Cameron told MPs those who alleged the Conservatives had done a deal with Murdoch - including former Labour prime minister Gordon Brown - should apologise.
He endorsed the report but said he had "serious concerns" of any statutory underpinning of the media, clearing the way for a split in the coalition about how to respond to the Leveson Inquiry.
Ed Miliband has said the Labour "unequivocally supports" the inquiry's recommendations.
The Leveson Inquiry's report said there was "no evidence" of any deal between Cameron and Murdoch - and cleared him of impropriety.
"The evidence does not, of course, establish anything resembling a 'deal' whereby News International's support was traded for the expectation of policy favours," the report said.
"All of those involved strenuously deny that there was a deal whether express or implied. The documents do not gainsay them. Nor do the coalition government's actions in government," Leveson notes of the prime minister.
However the report does note Cameron went to "great lengths" to woo the Murdoch's.
In the report Leveson also points out that former News International chief executive Rebekah Brooks - who sent Cameron text messages saying they were "in this together" - was aware of Andy Coulson's appointment as Cameron's press chief while the Conservatives were in opposition.
Vince Cable, however, was criticised for the incident in December 2010 when he told two undercover journalist he had declared "war" on Rupert Murdoch.
Leveson said the "unguarded remarks" created the "appearance of bias."
Brooks and Cameron went to the same "mulled wine, mince pie" party on Boxing Day during that same month.
The report said News Corp's bid to take control of BSkyB came to Jeremy Hunt's department "in a crisis not of their making" following Murdoch's action.
Despite Leveson hearing about Hunt's extensive text contact with News Corp's lobbyist Frédéric Michel, the report praises Hunt's objectivity.
Hunt comes into criticism for failing to supervise his special adviser Adam Smith, creating a "serious hidden problem" in the Government's handling of the affair.
The report argues Smith failed to ensure Cabinet Office "guidance on quasi-judicial decision making" was followed when he was "faced with the intimacy, charm, volume and persistence" of Michel.
On the appointment of Andy Coulson, who appeared in court in relation to charges surrounding corruption of public officials on the same day the report was published, Leveson questions why George Osborne approached a man who had published reports of him socialising with a prostitute.
"It was Mr Osborne who proposed that Mr Coulson should be approached. At first glance, it might be thought surprising that Mr Osborne should have made this particular suggestion.
"As the editor of the News of the World (NoTW), Mr Coulson had been responsible for a damaging front page headline about Mr Osborne: "TOP TORY, COKE AND THE HOOKER," the report notes.
He adds the jailing of one of the News of the World journalists over phone hacking could lead to questions about why Osborne wanted to appoint Coulson.
"That Mr Coulson had resigned in response to the conviction and imprisonment of one of his journalists added yet another reason to question why it was that Mr Coulson's name came to Mr Osborne's mind."
Leveson says the relationship between politicians and the press has been too close "over the last 30-35 years, and probably much longer."
However he says relations between politicians and the press should not "give rise to any legitimate public concern."
SEE ALSO: Leveson Says British Press 'Wreaked Havoc With Lives Of Innocent' As He Calls For New Regulatory Body

The Key Findings On Regulation, Celebrities, Rupert Murdoch And Jeremy Hunt
29/11/2012 14:03 GMT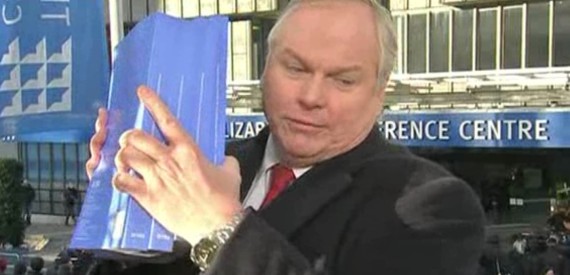 Adam Boulton shows the size of the Leveson report which consists of over 2000 pages
29/11/2012 13:43 GMT
Read The Full Report
The report has now been published online. You can read it here:
29/11/2012 13:42 GMT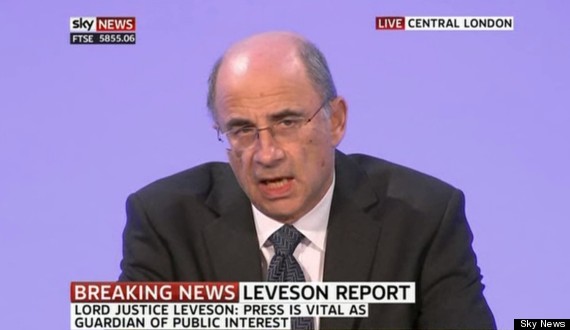 Lord Leveson delivers his speech
29/11/2012 13:36 GMT
And he said politicians of all parties had developed "too close a relationship with the press in a way which has not been in the public interest".
29/11/2012 13:36 GMT
The judge said the press had ignored its own code of conduct in a way that had "wreaked havoc with the lives of innocent people" on far too many occasions over the last decade.
29/11/2012 13:36 GMT
He said there had been a "recklessness in prioritising sensational stories", irrespective of the harm that may be caused.
29/11/2012 13:36 GMT
Lord Justice Leveson today called for legislation to underpin a "genuinely independent and effective system of self-regulation" for the press.
29/11/2012 13:32 GMT
Leveson Report Published
In his report on press standards and ethics, Lord Justice Leveson has called for legislation to provide "an independent process to recognise the new self-regulatory body and reassure the public that the basic requirements of independence and effectiveness were met".
29/11/2012 13:21 GMT
@ JGForsyth :

Does the Leveson report come under one in, one out? If the coalition regulates newspapers, does it have to de-regulate another industry?
29/11/2012 12:46 GMT
@ politicshomeuk :

Sir Ming Campbell says there's "a division of opinion in the Coalition, a division of opinion in the Conservative party" on #leveson.
SUBSCRIBE TO & FOLLOW UK POLITICS